Authors
School
Professor
Global Goals
Keep this story going! Share below!
Summary
The company that we found which stood out to us is called Karmic Seed. The company's innovation is to recycle. It is a zero waste company. The company is directly related to five of the seventeen sustainable development goals which include responsible consumption and production, climate action, life below water, and life on land.
Innovation
The company's innovation is to recycle material like unused produce and greenery into cutlery, bowls and plates. Karmic Seed's innovative products include leaf plates to coconut bowls to wheat drinking straws. This business innovation is a new kind of product that helps the environment become more sustainable.
The founders of the company are Neena Gupta and Arpan Soni. The founders of the company were inspired by their trip to India in which they saw a vast amount of pollution and the burning of natural resources. They worked with local artisans and craftsman, who were incredibly passionate about agricultural waste, to create their products. They were driven to help their country, villages, and the environment prosper. The final result was their current product line of environmentally friendly alternatives to plastic wear.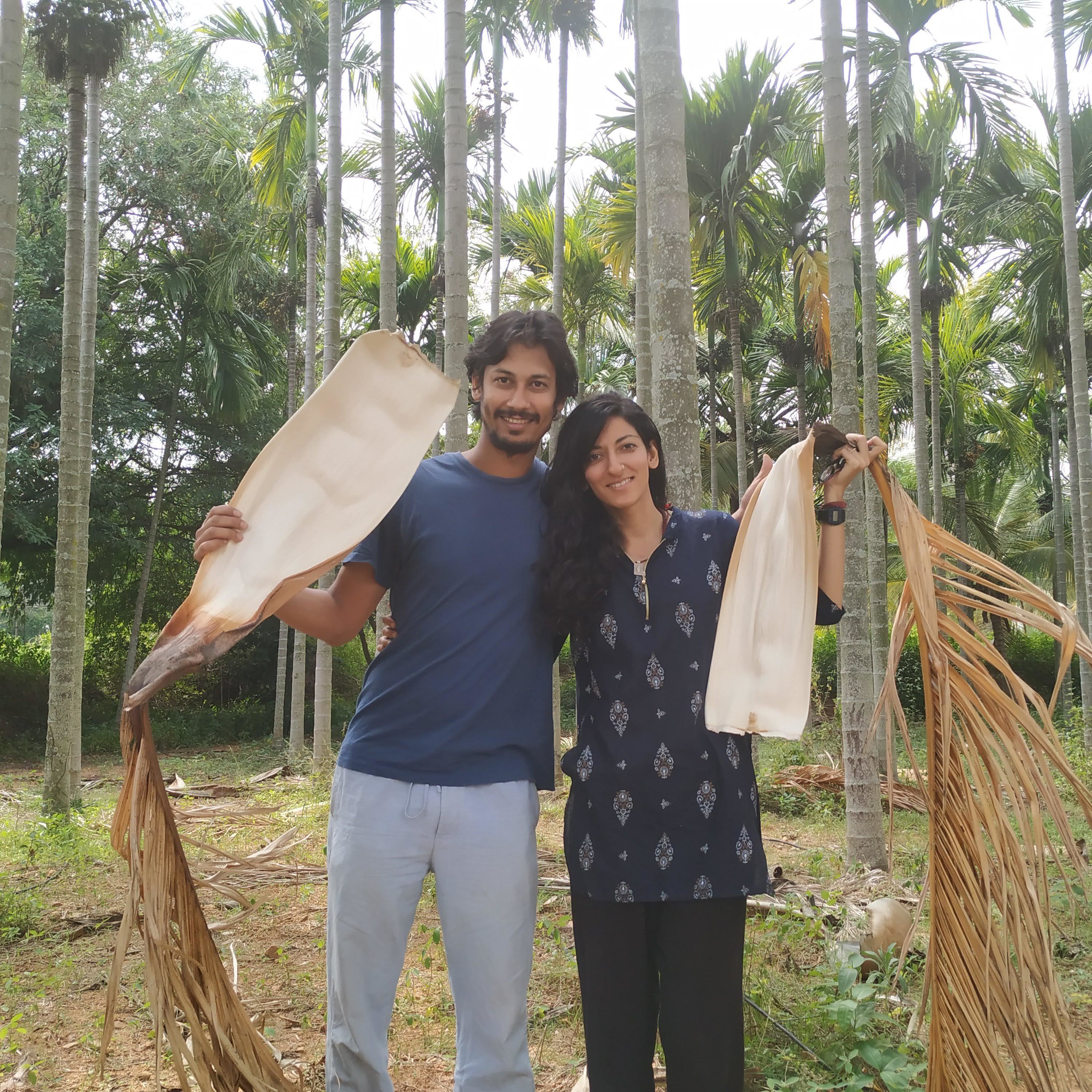 Inspiration
The innovation emerged when after Mrs. Neena Gupta, the CEO of Karmic Seed, traveled to the village she grew up in her home country and discovered that since the country had no plastic or Styrofoam, every kitchen utensil was made from agricultural waste. Because agricultural byproducts are the most Eco-friendly products in the world, Mrs. Gupta could not understand why these resources were not being used in increasing amounts every day instead of being burnt away. In her interview Mrs. Gupta stated "that we just had to find a better way to reduce pollution and re-use resources".
Overall impact
Short and long term effects take place on the business and society . Short term effects include popularity due to the creativity of such product tied with the backstory for the origin of such products. Those who buy the first products of Karmic Seeds would be the first to experience new alternatives to plastic and would spread word about the company and its story. In addition, sales would lead to small steps toward the cleansing of the environment. Even though Karmic Seed is one company, its products would decline the use of a lot of plastic, which in the long run, adds up to represent a significant movement. Long term effects include a more organized powerful company. As of now, the company is ran by two main individuals who dedicate all their time to ensure their quality of products is to the best. In the long term, more sales and popularity would lead to more people willing to work for the company which would lead generally to more output. More items would also be created due to better resources and the company could grow to produce more new and creative products.
There is no concrete data yet of how much they have helped the environment because the company is still new. But according to the ceo's they have said that they "have created thousands of recycled utensils and plates, saving tons of waste from being burned and causing pollution into the environment" They are a zero-waste company and according to the ceo's " are 100 percent clean and beneficial for the environment." There is zero waste created from the innovation.
Business benefit
This innovation helps the business succeed because it makes them stand out by being environmentally friendly. Since we are living in a time where being environmentally friendly is more appreciated they will surely get more customers to help the earth become more sustainable. Because the products of the company are beneficial for the environment they stand out which causes them to sell more products.
The company is based in Clifton, NJ but operate online. They are self-funded and are 2 employees with their products being manufactured in India. They have a couple of stores and bodegas in the US where they sell their merchandise.
Social and environmental benefit
The products are also 100 percent biodegradable so it verifies Karmic Seeds mission statement of a healthy alternative to various plastic objects. The success of the products will also lead to the creation of various new products such as Areca Palm Leaf Tableware.
Karmic seeds products has qualitative impacts on business and the environment. Environment greatly benefits from Karmic Seeds because air pollution is targeted and decreased. In addition, Karmic Seeds promote a plastic free environment using biodegradable products, thus lowering plastic pollution. Promoting a plastic free environment also encourages society to use safer alternatives in order to decrease the harm caused in the environment. In addition, it motivates society to keep a safer background for future generations. Karmic Seed products such as wheat drinking straws and coconut bowls benefit the company itself by making the company have a good reputation as a company trying to target issues present in society.
Interview
Arpan Soni, Co-CEO
Business information

Karmic Seed
Clifton, New Jersey, Worldwide
Year Founded: 2017
Number of Employees: 2 to 10
Work with the most sustainable products made from agricultural waste in an effort to reduce single-use plastic, restore the environment and create social change. Work in the villages of India with micro-entrepreneurs, craftsmen, artisans, non–government organizations, and self-help groups,