When Fashion meets Sustainability
Rouka by Sreejith Jeevan
Overview
Rouka, a label set up by Sreejith Jeevan, seeks to provide sustainable clothing for everyone. The brand intends to form a corridor between those who makes the clothes and those who buy them. Rouka focuses on skill development and empowerment of the community at large.
Authors
Sara Jacob
Ashly Shaji
Lumin Alex
School
Rajagiri Centre for Business Studies
Professor
Timothy Palmer
Innovation
Rouka was established in 2013, in Kochi, India by Sreejith Jeevan a graduate from the National Institute of Design, Ahmendabad and the École nationale Supérieure des Arts Décoratifs, Paris.
Rouka meaning 'bodice' in Malayalam and 'corridor' in Japanese, tries to connect the weavers who painstakingly makes the clothes to the buyer who enjoys the fruits of their labour. The brand predominantly focuses on the development of sustainable clothing, it intends to make the buyer more aware and conscious of what they are buying and to present customers with an option to switch to more eco-friendly and sustainable products when it comes to fashion.
"The greatest innovation of the brand lies in the designs we create; we use design as a tool to create products affordably with minimal waste generation. Affordability doesn't necessarily mean that the clothes have to be cheap, we have to give something back to the artisans who have created the clothes so customers are encouraged to buy clothes at the price they actually deserve," said Sreejith Jeevan.
Everything made under the label will at least have one element of sustainability incorporated into it. Keeping in mind the amount of waste generated while creating fast fashion, sustainable brands are gaining popularity now. Rouka focuses on using natural fabrics and hand skills for their designs. Sustainable fashion today also deals with recycled or upcycled clothes, clothes made out of waste materials or clothes that help artisans or encourage skill development which is akin to education.
As part of sustainability, Rouka in June 2019 launched a collection of clothes for newborns. The collection was inspired by the zero-waste ideology. Rouka believes in not wasting fabric as every small piece takes a lot of time and resources to make. "We embrace a concept of zero waste products so that there is little waste that is created in the process", said Sreejith Jeevan. Initially the brand focused on using waste clothes to create appliqué and textures on garments which was a beautiful value addition technique. This year however the label decided to bring out a collection for infants using waste materials to properly utilize the waste generated for a better cause.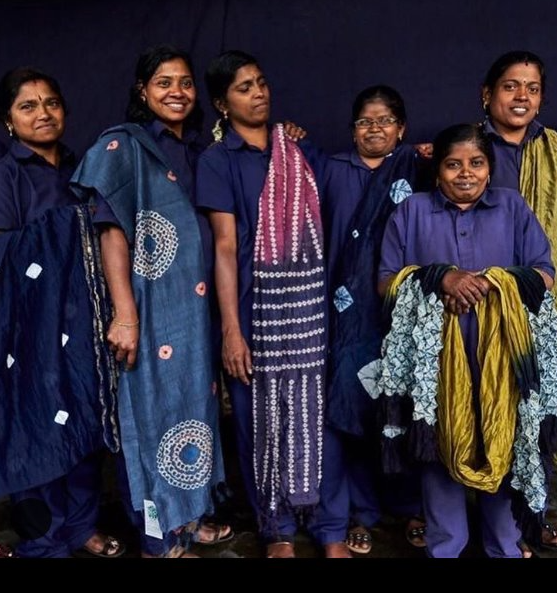 Inspiration
Rouka believes that clothes should be made with love, that fashion is timeless, and that it touches people. Just like food tastes better when made with love, clothes created with love becomes more meaningful for the buyer. Like food, clothes also form a part of our everyday lifestyle.
Rouka was established in order to create designer clothes for the local people of Kochi, to introduce to them different nuances of fashion. Rouka, simply means a corridor that connects people who makes the clothes to those who wear them. The brand using design as a tool intends to create sustainable clothing for everyone.
"Textiles have had a very big role to play in the history of India. Textiles and clothes have often been representative of the cultural diversity of the country. Often our past experiences and culture shapes the way we dress and this is the reason why I wanted to set up something local, which would also cater to the global audience", said Sreejith Jeevan.
Overall impact
India is a global manufacturing hub for textiles and apparel, developing rapidly with the growing international and domestic demand. The global textiles market is projected to reach $1.3 trillion by 2025 and the domestic market for textiles is expected to grow to $223 billion by 2021. The industry is also critical in terms of income and employment generation and contributes to 5 percent of the country's GDP.
The critical part is the fact that 60 percent of the Indian textiles are cotton based, and cotton cultivation consumes 25 percent of the world's pesticides. The processing of textiles generates huge quantities of waste sludge which in turn pollutes the waters. Textile is also the third biggest contributor of dry waste in most Indian states. These alarming figures shows how important it is to switch to sustainable clothing.
However, with rising awareness of these challenges, globally and in the Indian context, brands and manufacturers are willing to make a shift to circularity. This would mean building a fashion industry that focuses on optimal utilisation of fabrics, improve recycling and upcycling.
Rouka as a brand is making the customers realize the importance and consequences of their buying decisions. The brand is trying to instigate a culture in which customers think before they purchase – not just about the sustainability aspect but also about how much value the customer gets while purchasing a product. "It is important for a consumer to understand the fact that a linen shirt decays in two weeks while a polyester shirt takes 200 years to do so", said Sreejith Jeevan.
Artisans are dependent on middle men to sell their products, these middle men however make money by exploiting the weavers by purchasing their products at very cheap rates and selling them to consumers at high prices. Clothing brands like Rouka are today trying to break this dependency, they are trying to bring the artisans out of this vicious cycle by providing them a platform to showcase their designs and reach their customers. Rouka helps artisans develop their skillset and create clothes and sell them to consumers in a profitable manner. With every design the brand creates, it showcases the fact that people from the rural backgrounds can also influence and impact the latest trends in fashion.
Business benefit
The sustainable element of the brand has definitely increased its credibility and popularity in Kochi. The whole idea of being a conscious customer has been taken up by the populace. The brand also has a great backing from the artisans' community, especially aspiring women in the rural areas. The brand's collaboration with the Chendamangalam handloom weavers during the time of the floods and after has also increased its popularity and strengthened its consumer base. Rouka has established itself as a socially sensitive brand which helps to empower the community with every innovation they make.
Social and environmental benefit
Five young designers at Lakmé Fashion Week's Summer/Resort 2018 edition joined hands with the USHA Silai School, a community-based initiative founded in 2011 that empowers women to become entrepreneurs, to create a harmonious collection that coalesced the visions of the designers and the karigars. These ensembles are now being retailed under a newly launched label and are being stocked alongside other premium brands in Delhi.
Rouka's Sreejith Jeevan lent his expertise to artisans from USHA Silai's Puducherry cluster. From educating the artisans to recognise the beauty around them to translating it into garments that not only developed their tailoring skills but also honed their entrepreneurial drive.
The idea was to focus on skill and USHA Silai has been doing that for a long time. Many of the women have ventured out of their comfort zone and have been successful in setting up their own units. This initiative also seeks to revive the various skill sets which would otherwise become extinct. Blind modernism is not what should be achieved, conscious strategies should be employed for development.
"The whole premise of this initiative was to address the issue of migration and the decentralization of production — a lot of migrant workers live in deplorable conditions in cities when they could actually be doing the same thing in their own villages with a lot more dignity. Fashion could grow to become much more sustainable with such collaborations; imagine a large retailer adopting villages with the required setup, marketing strategy and customers all in place. It would actually be a design utopia if you ask me", said Sreejith Jeevan.
Rouka in collaboration with few other fashion stores in Kerala also helped the Chendamangalam handloom weavers during the devastating flood that drowned Kerala in 2018. Rouka set up campaigns to help these weavers sell their products and helped them rebuild their looms. The brand still continues to work with them and helps them to develop and promote their products.
Interview
Sreejith Jeevan, Owner
Keep this story going! Share below!
Rouka by Sreejith Jeevan
Kochi, Kerala, IN
Business Website: https://www.rouka.in
Year Founded: 2013
Number of Employees: 11 to 50
Rouka, a fashion label launched by Sreejith Jeevan, interweaves the effervescent traditions of India with contemporary fashion. The label speaks for sustainable clothing, and acts as a bridge that empowers both the weaver and the wearer. Rouka, is not just a label, it focuses on sustainable fashion, skill development of artisans, and empowerment of the community at large.