When Farming and Software Meet
FARMERS FRESH ZONE
Overview
FarmersFZ is a multichannel marketplace platform which bridges the gap between rural farmers and urban consumers to provide healthy, premium quality and pesticide free vegetables from fields to the table. Customers can order products through the website www.farmersfz.com.
Authors
Ponny Jose
James Aby
Yaseen k Mohammed
School
Rajagiri Centre for Business Studies
Professor
Timothy Palmer
Innovation
Either through door delivery or sale through outlets, farm-fresh products are reaped and distributed to customers within 24 hours of harvest. Through pre-booking, the company delivers only fresh produce thus avoiding cold storage or freezer-like storage facilities. One reason agriculture is not viable to farmers is its inefficient supply chain – merely 30% of what consumers pay goes to farmers. FarmersFZ's unique model encourages farmers to use technology to track and use best practices and rewards them with better prices while customers get complete transparency about the foods they eat and its traceability. This allows them to "know the farmer' who is growing their vegetables and fruits.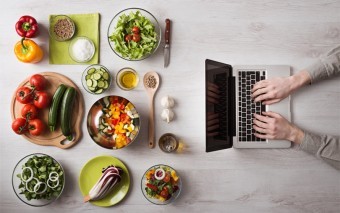 Inspiration
Farmers Fresh Zone was founded by Pradeep P S, a graduate in Computer Science. The monotony of working full time as a web developer and the thirst to find a larger market for the agricultural produce from his household in Mala, Thrissur, motivated this 26 year old to take shovel. His father was a farmer and once he tried to sell 200 kg of bottle gourd in the market. He was offered only one Indian rupee (roughly USD $0.70) per kilogram. Disturbed by this, Pradeep decided to create something that would take his family farm's produce directly to households, where it would be appreciated.

Encouraged by interest from his colleagues and friends in buying the freshest produce from Kadambode, Pradeep's idea crystallized. Putting his technical coding skills to work, the website was launched. Thus was born the online store and app "FarmersFZ."

Overall impact
India is the second largest producer of Fruits & Vegetables (F&V) after China and the 300 million tone F&V market is estimated at over 4 lakh crore. Moreover nearly 95 percent of this belongs to unorganized general trade, operating through local vegetable vendors sourcing from traditional mandis and multiple intermediaries. "With the right mix of technology and enabling market access, we believe there is potential to transform the value chain of all fresh produce crops. Through our platform, we are helping the rural farmers turn profitable and directly reach out their customers," says Haani, the Business Development manager of FarmersFZ.

For customers Farmersfz.com is an e-commerce site , but for farmers it is an attractive option to sell their products without the costly intervention of intermediaries. Farmers from Thrissur, Idukki, Pathanamthitta, Palakkad and Wayanad are now part of this network. The company further benefits rural farmers by conducting ongoing market studies from consumers about purchase habits and preferences and alerts farmers about the needs of prospective customers. Through this market feedback, farmers are able to produce the vegetable sought after in the market during a particular harvesting period.
Business benefit
FarmersFZ started small by limiting distribution to tech employees working in Kochi's Infopark. The company was able to test the waters by targeting highly educated employees who see the health benefits of high quality, local fruits and vegetables. The company started with only 50 regular customers.

Now, the four year old company is meeting the food needs of over 10,000 customers in the city of Kochi by connecting them with 350 local farmers. The company is targeting a turnover of INR 20 crore (USD $2.8 million) by 2020. The company will continue to see benefits from scale through 2024 as they add seven Indian cities to their network connecting 20 lakhs (2 million) customers and 25 thousand potential farmers.

FarmersFZ spectacular growth has been fueled by significant interest from the venture capital community. They have been backed by investor groups like Indian Angel Network (IAN), Malabar Angels Network (MAN - Kerala) & Native Angels Network (NAN - Madurai).

Social and environmental benefit
FarmersFZ benefits farmers and society through three major goals:
1. Make sure that each farmer is getting rewarded for his/her hard work.
2. Inspire the young "NewGen" farmers.
3. Ensure customers get non-toxic, pure and fresh vegetables at a lower price than traditional distributions provide.
Attaining these goals will provide many benefits to Indian society. The company is encouraging farmers to produce organically, thereby avoiding chemical fertilizers and adding cow dung as an important micronutrient for farming. Most farmers in the network follow Good Agricultural Practices (G.A.P). Additionally, the company does not rely on plastic in delivering products to customers.
Apart from attaining the company's self sufficiency, FarmersFZ aspires to create Agro-IT careers by fusing agriculture and technology. Agritech industry in India has become a booming field with numerous startups working with technologies such as data analytics, machine learning and satellite imaging enabling farmers to maximize their output. With nature in abundance, there is a significant potential in agriculture which is yet to be tapped.
Interview
Haani Hashim SVP, AVP Business Development
Keep this story going! Share below!
FARMERS FRESH ZONE
KOCHI, KERALA, IN
Business Website: https://www.farmersfz.com/
Year Founded: 2015
Number of Employees: 51 to 200
Farmers fresh zone is an online – offline venture designed and implemented for vegetables and fruits. This venture was founded in 2015 by Mr. Pradeep P S. As the business name suggests, fresh, high quality, toxic free vegetables and fruits are made available for their customers. The business connects rural producers with urban consumers. FarmersFZ maintains a complete balance by equally considering the producer side and consumer side. An e-commerce platform is enabled for the customer to choose their likes from the many offerings.