AirTM Wealth Preservers in Latin America
Authors
School
Professor
Global Goals
Keep this story going! Share below!
Summary
AirTM is a revolutionary company that creates an automated wallet system for Latin Americans who seek to keep their money in an online currency that is more easily transferable to other currencies in South America, as well as protecting the individual's wealth against the extreme depreciation of Latin American currencies. This also allows families to send money home to each other, while also providing financial opportunities to invest in crypto currencies. AirTM strives to create opportunities for financial freedom for millions of Latin Americans.
Innovation
AirTM found a need for a solution to help Latin Americans avoid keeping local currencies, due to their volatility and depreciation, while also creating a system that allows individuals to visit different countries in South America and use their money with the same ease that the Euro has when traveling in the European Union. The business was founded on the basis of protecting individuals from financial harm and to provide opportunities to improve people's lives through smart financial actions. The CEO originally worked in a San Francisco based organization, Uphold, when he began to notice the issues Venezuela had with their currency. Eager to help, he first developed AirTM with the service to allow Venezuelans to easily exchange Venezuelan currency for AirTM's currency which would be more stable. As the company grew, it began expanding its services and now includes features such as a giveaway based on the usage of the app, which awards money to allow users to pursue their own financial freedom.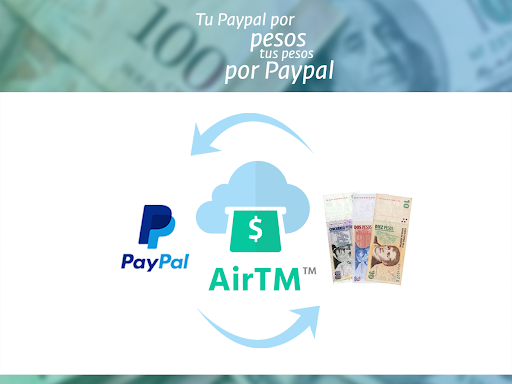 Inspiration
The CEO was working for a company in San Francisco called Uphold that allows users to trade and sell the major digital currencies. The CEO then realized that in Venezuela the people were losing money because of the deflation of their currency. In Venezuela and a lot of Latin American countries, there is a lot of political instability which leads to fluctuation in the value of a country's currency. He wanted to provide a solution to the instability of local currencies in Venezuela and other Latin American countries so he created AirTM so that the people could build wealth, gain new opportunities, and have more financial freedom.
Overall impact
AirTMs platform provides a lot of benefit to society because it helps people in politically / economically unstable places keep the money that they earn and have the peace of mind knowing that its value will be safe. AirTMs platform does not directly have an effect on the environment, but one indirect effect it can have is that because it trades cryptocurrency, that can promote the usage and mining of the currency which is documented as negatively impacting the environment because of the high power usage. In the short term, AirTM provides its users with the benefit of making quick exchanges to save their money and build wealth. These users are what AirTM calls wealth preservers because they have money in a local currency and want to exchange it for a stronger currency to preserve their wealth for the future. In the long term, AirTM benefits communities and citizens of Latin America by giving them job opportunities and financial freedom. With the online centralized platform, people in Latin America now have the unique opportunity to make money online from home as opposed to the traditional jobs of the past. By saving money they have the opportunity to buy things like land or homes to build for the future. They have seen an impact of their product because of the stories of people buying homes and land because of their innovation.
Some concrete evidence to support the success of AirTMs innovation is that they are active in 163 countries across the globe with more than 510,000 users. Those users who are benefitting from the currency exchange platform have made around 2.7 million transactions through AirTM and it is estimated that around $10 million dollars of currency are exchanged each month through the platform with a majority of those transactions coming from countries in Latin America which is good for the citizens of those countries to ensure their money has value.
Business benefit
AirTMs currency exchange platform has been extremely beneficial to the company and has led to its rapid growth over the last 5 years. Since the company's creation, the platform has amassed 500,000 users across 163 countries and over 2.7 million transactions have been made through AirTM. Additionally, because of the company's continued success, they have secured over 25 million dollars in funding from Stellar Development Foundation, Coinbase Ventures, Blueyard Capital, and many more investors.
Social and environmental benefit
AirTMs platform will have a strong societal impact in countries with devaluing fiat currencies. By allowing users an easier way to access more stable currencies, AirTMs platform will increase the amount of money in local communities, boosting those economies. This will in turn create more opportunities and give better financial freedom to Latin Americans and people all over the world.
Interview
Manuel Angel Hakim, Head of Growth
Business information
AirTM
Mexico City, MX
Year Founded: 2015
Number of Employees: 51 to 200
AirTM helps you protect your money in digital dollars without losing value from unstable currencies or possible devaluations. You can send and receive money anywhere, faster than a bank transfer and with free market rates. Spend online anywhere, with Mastercard or Visa. They allow you to be paid from freelancer platforms or directly from clients. Convert your money stuck in e-wallets to cash in your bank.