Waste Free (before it was cool)
The Stone Store
Overview
The Stone Store aims to provide local, organic, and ethically sourced products with minimal impact on the environment. The innovation they have in order to help achieve this goal is to have a zero-waste policy. This helps to solve Sustainable Development Goal #13: Climate Action, but it also helps to support other SDG's such as #11: Sustainable Cities and Communities as well as #3: Good Health and Well-being.
Author
Derek Hyde
School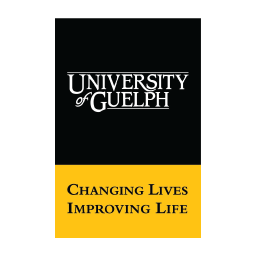 University of Guelph
Professor

Ruben Burga
Innovation
Since opening in the early 1970's, The Stone Store has committed to ethically sourcing their products in a way that benefits the local community and the environment. They do this by implementing zero waste initiatives while providing healthy alternatives in order to reduce their carbon footprint. Even though this comes with extra work and often times extra costs, management has decided to put their company values before profitably.
Local products are preferred when deciding what to stock the shelves with; about 90% of the produce is from Ontario during the summer months. This has many benefits as there is less of an impact on the environment due to less transportation. By producing organic products, the business promotes more sustainable practices that help maintain soil quality for future generations. Vegan and gluten-free alternatives are available to ensure that healthy options are readily available for everyone. In addition, they place importance on ethically sourcing their products, meaning that they research the suppliers in which they use to ensure production is sustainable and cruelty free. Moreover, The Stone Store places their ethical and moral values first. For instance, following their ethical practices, the store does not carry krill oil because that industry is threatening ocean ecosystems. This is due to the fact that krill are an important food source for whales and overall ocean wildlife.
The Stone Store is proud to emphasize the zero-waste lifestyle platform they provide consumers with. Products are sold with minimal or no waste and a preference for no packaging is the priority. This is accomplished by selling products that can only be sold with reusable containers, allowing customers to bring in their own container and ordering food in bulk, reducing packaging from suppliers.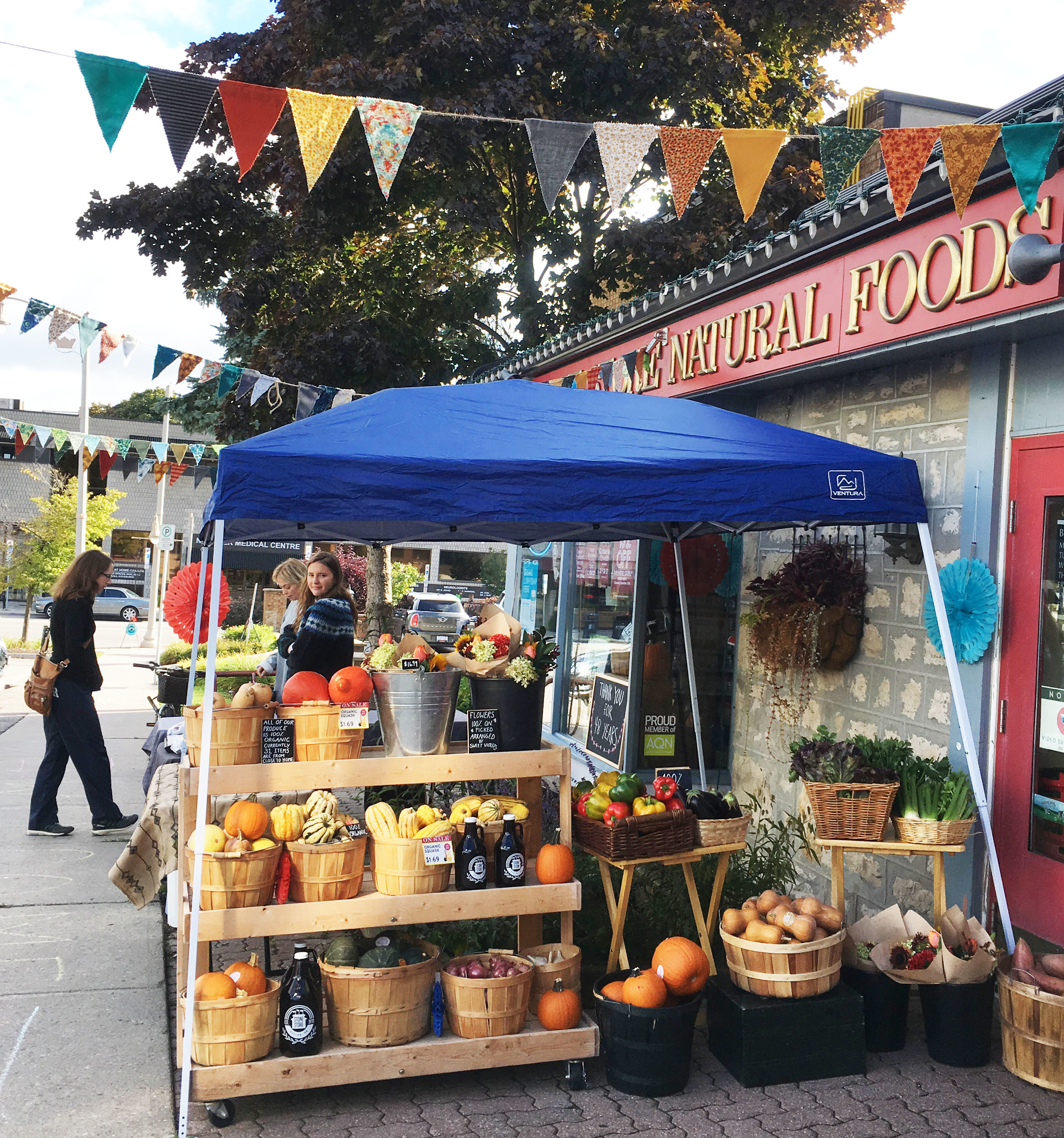 Employees of the Stone Store taking a break for a photo at the storefront, located in downtown Guelph, ON.
Inspiration
The Stone Store was opened 49 years ago by two women who are very passionate about good food and the environment. With neither having any background in business, they followed their passion for local, organic, and low packaging food. As a start up, they were responsible to carry out all business operations from ordering the food to sweeping the floors. When asked what their motivation was to start the store, it was all about getting back to the basics: "I got swept along with the tide. I joined in on the natural food industry when many people I knew, particularly from Guelph did the same in the 70s in reaction to when the plastic age really took off. I joined the movement that was already happening."
In the beginning, part of the reason that they were so successful is because of the large European contingency in the city. These are the customers that really responded since they were used to stores like this in Europe. At this time, Guelph also had a recycling store and they seemed to be one step ahead of everyone else in terms of environmental awareness. This made it easy to hire good people who shared the same values and grow the business to where it is today, but it wasn't without some challenges along the way. Being a company that is driven by consumers, there have been many fluctuations in demand and they had to respond to in order to maintain their clientele during this time. As a result of their passion and determination, they were able to get through it and they have seen their business go in a full circle. For example, 50 years ago there was high demand for bulk hair products but demand backed off significantly since then, so they stopped offering it. Recently, bulk personal hair products are back on high demand so the idea has been returned.
Overall impact
In the short term, the local economy is benefited due to the local sourcing of products. This ensures that the money is kept in the local economy and supports other local businesses through the multiplier effect. The Stone Store has built many relationships with suppliers over the years which is then passed on to customers and mutual trust is formed. Upon opening, customers came all the way from Ottawa to shop at this store. Nowadays, consumers have gotten to a point where they don't even have to read labels for products because of the mutual trust that has been developed. By holding true to their values, the customers know that they are going to be getting a product that is good quality and ethically sourced.
In the long term, the environment is a key stakeholder that is benefited from their innovations. The zero-waste innovation The Stone Store implements has a ripple effect across the supply chain that will inevitably lead to benefits to the ultimate consumers. By selling their customers the ability to live a zero-waste lifestyle, this means suppliers must uphold to produce the products with zero waste. For example, some of the hair and skin care product creators were sending their products in a lot of packaging. The owners got on the phone right away to let them know that they will not be ordering any more until a sustainable solution is developed. This has forced companies to think more about their environmental impact and as a result, the hair and skin care product producers now use corn starch packaging. They are also recommending that suppliers take back their containers and reuse them. So far, one company only offers this service but they are hoping for more.
Business benefit
This innovation has benefited the business because it has attracted customers who are passionate about the environment, and has encouraged a strong relationship with their customer base. Even though the cost may be slightly higher than traditional products, people are willing to pay for it because it aligns with their values. It is becoming clear that the younger generation is more aware of where their products come from, and for this reason, I think the sales at The Stone Store will be in good shape going forward.
The Stone Store has partnered up with an HR company to ensure a healthy culture within their staff and customers. Employees have a voice within the company and their opinions are valued to help shape day to day operations. The Stone Store also provides paid training to ensure their staff are up to date with the latest in sustainability practices. In combination with this and their passion for what they do, they are fortunate to have low employee turnover.
This innovation has also helped for marketing purposes even though it was not their intention. For example, about 15 years ago they started to sell European style shopping bags that were very strong and therefore reusable. This was a relatively new idea at this time and they decided to sell them at cost because they really wanted people to use them. The bags have "The Stone Store" printed on them and it wasn't long before they were seen everywhere. This had a large role in creating awareness for their brand. From this perspective, their CSR strategy has increased the demand for their products.
Social and environmental benefit
The innovation of a business that promotes a zero waste lifestyle has benefited the environment immensely. Providing consumers with a platform to be waste free will keep garbage out of the landfill and limit pollution. The Stone Store has also taken many steps to limit their environmental impact. In terms of choosing suppliers, extra efforts are made by researching in order to ensure suppliers are eco-conscious. On the disposal side, the store produces minimal trash and they take pride in separating what can be recycled and what cannot. Each month, about $400 is spent in order to have cardboard recycled properly. All food waste is distributed to local farmers or used in a local composting program. Other initiatives are taken in order to create a sustainable environment, such as the investment into high efficiency LED lighting for the entire store.
The Stone Store gives back to the community in a large way each and every year. A portion of profits made are put back into the community through various groups, schools, music programs, and festivals. One of the biggest causes that they support is an organization called Yorklands which helps to save 76 acres at the east end of Guelph. They feel it is important to give back to the community that helps support them, which is a large factor in determining which groups to support.
Interview
Brenda Aherne, Co-owner
Keep this story going! Share below!
Established in 1973, The Stone Store is Guelph's original organic store. With a focus on healthy, local, ethical, and environmentally friendly products, The Stone Store is passionate about serving customers in the neighborhood who share these values.