Urban Agricultural Innovation
WaterFarmers
Overview
WaterFarmers' innovation is that they have developed a self-sufficient year-round Passive Greenhouse. They take used shipping containers and convert them into functioning greenhouses. Garrett Tribble describes it as, "an insulated, clean box with heaters and exhaust fans supplied" so that depending on what customers want to grow, they can "fine tune all that with the controllers we supply". The innovation directly contributes to the following SDG's: #2 Zero Hunger, #11 Sustainable Cities and Communities and #12 Responsible Consumption and Production.
Authors
Harkirat Khunkhun
Nicole Evans
Ryan Landreville
Stephanie Guhl
Mitch Riddell
School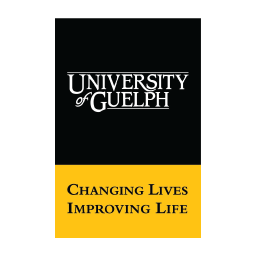 University of Guelph
Professor

Ruben Burga
Innovation
WaterFarmers are able to provide a space for urban agriculture by building Passive Greenhouses out of shipping containers. WaterFarmers also are able to modify the design to meet any of their customer's needs depending on desired crop and production quantities. Garrett notes that they wanted to design a greenhouse with "way less labour requirement in terms of skills to run". Using scientific techniques, they attempt to maximize the natural environment to provide heating or cooling to the greenhouse as required. They optimize solar energy and they also use thermal mass barrels (water barrels) to hold heat. Another used passive technology is the windows that open themselves based on the expansion of wax seals. The wax expands when the internal temperature reaches a certain point. This allows the greenhouse to cool in the summer so less energy is required for fans and other cooling systems.
WaterFarmers currently have multiple greenhouses set up in urban communities to provide quality food production all year round. By supporting low-income areas with healthy, sustainable food sources, they are contributing towards both the Zero Hunger goal and the Sustainable Cities and Communities goal. In addition to working towards SDG # 2 & #11, community centers such as Scadding Court in Toronto have used these greenhouses to demonstrate how food resources can be managed responsibly to ensure sustainable consumption and production (SDG #12). They also use the greenhouses to offer agricultural training and skills development to people in the local community.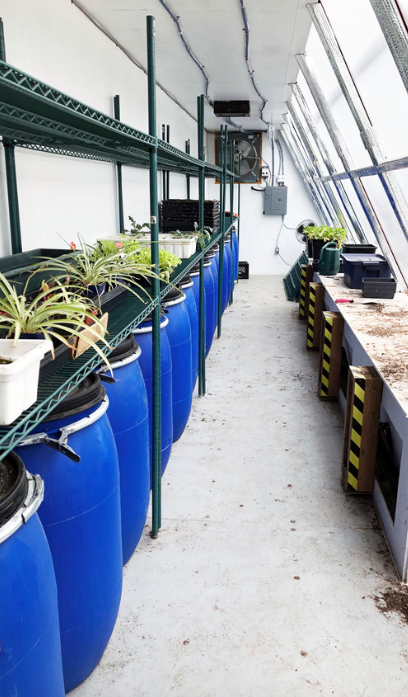 Inspiration
The innovation of the Passive Greenhouse relates directly to the mission that "WaterFarmers exists to support the next generation of farmers and growers". The original idea came about through a combination of concepts and experience. WaterFarmers began creating designs for a greenhouse when they partnered with the Scadding Court Community Centre in Toronto. The community centre wanted to take a used shipping container and to convert it into an urban greenhouse. To help with the initial design and construction, founders, Evan Bell and Garrett Tribble partnered with a professor from OCAD, Ian Clarke. Ian had already built an urban greenhouse which made him an ideal contact and expert. Ian was able to provide the innovators with thoughts on the overall product and the help with the design of the PasCon 1. Using Evan's aquaponics background, Garrett's landscaping and agriculture knowledge and Ian's greenhouse expertise, WaterFarmers was able to design the PasCon 1.
Garrett also noted that one of the reasons they started the company was because there was a market demand for economical temporary greenhouses. Customers wanted something that had, "low square footage and [was] possibly a temporary growing space". It was a mix of demand and the companies prior experience that led to the creation of the Pascon 1 Passive Greenhouse design.
Ultimately, WaterFarmers wanted to get people connected with nature and their food. Garrett recognizes that we have an innate sense that makes us want to be closer to nature, known as "biophilia". Garrett also states that the "dream would be that there would be a plethora of these shipping containers all over the place, at schools, retirement centers and community centers. For people to do small scale agriculture and just get connected with their food."
Overall impact
The Passive Greenhouse allowed WaterFarmers to grow as a business and create more connections with local communities. WaterFarmers was originally focused on Aquaponics however made the transition into Urban Agriculture because of greater opportunities to drive change within Canada. So far, WaterFarmers have completed 2 community projects and have plans for many more in the future. They supplied the greenhouses to Scadding Court Community Centre in Toronto and the Urban Farm Complex in the City of Hamilton. The farm in Hamilton has also employed 5 or 6 people, showing how the greenhouse has helped to create jobs and give back to the local economy. The Passive Greenhouses have opened the door to working with municipalities and other community institutions, and to further these relationships going forward.
Additionally, the Passive Greenhouse helps improve food security by reducing our dependence on grocery stores and the agriculture industry. Garrett stated that the Passive Greenhouse will, "improve access and availability of good healthy foods, and show people how to grow their own food". The Passive Greenhouses are also improving food security for local residents. By building the Passive Greenhouse in a low-income area in Hamilton, "this program has helped provide food to a community that did not have easy access to a grocery store".The Passive Greenhouse helps with sustainability issues in the short and long term because it produces good quality food all year round for years to come.
Business benefit
The sale of Passive Greenhouses has become the primary driver of their business. The construction and sale of these greenhouses are embedded in WaterFarmers' business model and has become normal part of operations. The sale of Passive Greenhouses have allowed WaterFarmers to establish a rich network of potential clients and sustainable business partners. This has also allowed WaterFarmers an ability to sell their additional products and services outside of the Passive Greenhouse. There is a growing demand for locally sustainable initiatives and this product allows them to further pursue these opportunities. By having the experience working for municipalities, WaterFarmers can also leverage this knowledge when taking on larger projects.
Another benefit is that the Passive Greenhouse struck an interest amongst some commercial growers. This is a huge business benefit for WaterFarmers because they are increasing their potential market. Having the opportunity to expand further into the public and commercial sector is a huge advantage as you are growing your business. One of the reasons for WaterFarmers' success is that their greenhouses are 2-3 times cheaper than those of their competitors. This conservative pricing strategy has allowed WaterFarmers to sell their product to a wider range of clients.
Social and environmental benefit
WaterFarmers Passive Greenhouses have provided lots of benefit to society and the environment. The impact of the Passive Greenhouse on society is that is helps with sustainability issues and increases community engagement. The Passive Greenhouse helps with sustainability issues because it is a product that is able to produce good quality food all year round. The Passive Greenhouse enables community members to have access to a sustainable food source year-round.
Another benefit that Garrett points out is that many of the community centers where the greenhouses are located have begun to offer "skills training programs for [local] at-risk youths". The Passive Greenhouse is helping to foster community engagement and impact the local culture. This a benefit to the society because it gives young people a place to go and put their energy towards a positive goal, all while learning valuable skills for the future. By empowering people in the community and encouraging sustainable practices, the Passive Greenhouses will continue to have an impact on society.
WaterFarmers have made a product that is very energy efficient and promotes sustainability which has created a positive environmental impact. It is energy efficient by using scientific techniques to maintain a desired temperature. These techniques include angling windows to maximize the sunlight, using thermal mass barrels to hold heat and wax seals to improve ventilation. These measures allow the greenhouse to keep a desired temperature so less energy is required for heating or cooling systems. The greenhouses are also made with sustainability in mind. They are made from used shipping containers demonstrating WaterFarmers' resourcefulness and focus on sustainability. Furthermore, this innovation promotes local agricultural practices. By increasing the local food supply, the communities have the ability to buy more locally produced foods. This allows local communities to lower their carbon footprint as they can purchase local produce instead of foreign produce.
Interview
Garrett Tribble, Co-Founder, Project Manager
Keep this story going! Share below!
WaterFarmers is a firm specializing in designing and building urban agriculture, indoor farming, and ecological landscaping projects. WaterFarmers exists to support the next generation of farmers and growers. They work with businesses, individuals, and community organizations to develop and build solutions appropriate for their growing needs.