Unpackaged Future: Fostering a Zero-Waste Supply Chain
Nada
Overview
Nada's vision is "an unpackaged future: a lighter world that values a food system free of excess and waste to support the health of both people and planet." Nada's innovation—fostering a zero-waste supply chain—is a radical change to our world's current food system that relies on industrial agriculture and single-use packaging. Their holistic lens aligns with Goal 12 of the Sustainable Development Goals, which seeks to ensure sustainable consumption and production patterns.
Author
Christie McLeod
School
York University- Schulich School of Business
Professor
Charles Cho
Innovation
Reducing and eliminating waste throughout the supply chain means changing how foods are purchased by retailers and sold to consumers. Nada, which operates as a retail store in Vancouver, Canada, works with suppliers to purchase goods using reusable containers instead of in packaging. To sell these goods package-free, shoppers weigh their containers before filling them and the weight of the container is deducted from the total weight of the product at the time of purchase. While shoppers are encouraged to bring their own reusable containers, donated containers are also available for free and reusable items are also available for purchase. Their in-house café also prevents waste by using imperfect and surplus food to create menu items, and Nada has also partnered with local organizations to donate surplus food to those in need.
Nada's efforts to alter our food system are directly aligned with ensuring sustainable consumption and production patterns, which is one of the 17 Sustainable Development Goals. For instance, this goal calls for halving global food waste per capita at both retail and consumer levels: Nada's model allows consumers to buy only as much of an item as they need (instead of the prescribed amount in pre-packaged items), and Nada purchases extra and imperfect food from farmers to further divert waste. Nada's package-free model also aligns with the goal's target to "substantially reduce waste generation through prevention, reduction, recycling and reuse." This goal also includes a public education component to increase awareness and understanding about lifestyles that are in harmony with nature, which Nada embodies through its model as well as its community outreach events, in-house workshops, and participation and leadership in the zero-waste community.
The Nada store bustling with customers ready to buy package-free items!
Inspiration
While working as a marine biologist, Nada's Founder and CEO, Brianne Miller, made a startling connection: many of the ocean's problems were related to our world's food system. She had seen how pesticide and fertilizer runoff caused by industrial agriculture created large dead zones in anoxic areas in both the Gulf of Mexico and the Gulf of St. Lawrence. She had witnessed the abundance of plastic pollution caused by single-use items floating in our oceans, and she had studied how increased tanker and shipping container traffic, a popular method of transporting goods and produce, impacted the Southern Resident killer whale population's ability to communicate and forage.
"The problem was so prevalent and so visible in some remote field sites that I had been at," Brianne stated. With a clear understanding of these problems that had been either caused or exacerbated by our food system, she decided to do something about it. In 2015, Nada was incorporated.
"It [Nada] didn't actually really start out as a zero-waste idea, it started out as more of a store to support a more just and sustainable food system," she stated. "I realized that a lot of the impacts or a lot of the problems that many different species that I was studying were somehow the direct or indirect result of our food system."
Overall impact
Nada's package-free business model looks beyond consumers and addresses the whole supply chain. Purchasing their goods using reusable containers has required working closely with suppliers to build zero waste principles into their businesses, which could drive further change in their operations with other retailers.
Sourcing from local farms and businesses also supports the sustainability of smaller operations as viable alternatives to industrial agriculture and multinational retail companies. Nada's sourcing criteria ensure they have a thorough understanding of the products they are selling, providing consumer confidence in buying ethical and sustainable products. While each operational decision has immediate impacts, such as the diversion of waste, together, Nada's model provides a viable and profitable alternative to our current food system. Most traditional grocery stores in Canada and other countries source goods and produce that are shipped around the world, frequently by boat, generating massive amounts of emissions and creating ocean noise that disrupts marine species, and the packaging involved in purchasing and selling these goods creates plastic pollution.
Nada demonstrates that we do not need to buy and sell our food this way. Locally, this allows their suppliers and customers to lessen their food waste, but it also provides a compelling model for others to follow.
Business benefit
For its first three years, Nada operated as a pop-up shop, prior to launching its first permanent retail location in Vancouver, Canada in June 2018. During this time, it facilitated countless community outreach events and grew a large customer base and following. As Brianne detailed, this meant they had thousands of customers ready to buy their groceries from them by the time Nada's retail store opened.
Nada is Vancouver's first package-free grocery store, creating a new service in a progressive city known for its environmental values. Within six months of launching, they had created twenty-five new jobs. They have been featured in the New York Times, the Huffington Post, the Globe & Mail, and several other media outlets, and their online following is formidable—they have nearly 16,000 followers on Instagram and another 10,000+ followers (combined) on their Facebook and Twitter accounts.
This impressive media coverage and social following have occurred without spending any money on traditional marketing, largely because Nada has taken the required but often mundane task of grocery shopping and made it exciting again. Nada often receives e-mails from their customers who have been impressed and overjoyed by their experience shopping at Nada. While many consumers are attracted by the environmental and societal values inherent in Nada's business, there is also a fun novelty factor that attracts consumers to their store and café.
Nada is frequently asked whether buying and selling goods package-free reduces its business costs; the answer is product-specific. There are greater cost-savings on goods that are traditionally packaged in a glass jar, such as spaghetti sauce, as the packaging makes up a larger proportion of the total cost of the product. For items with minimal or lightweight packaging, such as spaghetti, however, there are little cost-savings by purchasing the item package-free.
Social and environmental benefit
A recent study found that 58 percent of all food in Canada is wasted and that most of this waste occurs at the industrial level. While many traditional grocery stores discard surplus or imperfect food, Nada's in-house café, which diverted 320 kilograms of food waste in two months, and their partnerships to donate food to those in need, have kept Nada from sending any food waste to landfills!
Nada's efforts also lessen the environmental impacts of our food system. For instance, sourcing local goods reduces the greenhouse gas emissions caused by transport—they have prevented 950 kilograms of emissions from food alone—and eliminates ocean noise. Sourcing organic goods prevents pesticide and fertilizer run-off from entering the ocean, and operating package-free also eliminates the generation of plastic pollution.
Nada also prevents consumer waste caused by single-use and packaged items, diverting 30,565 containers from landfills to date. Allowing consumers to buy only as much as they need is estimated to save a family $1,500 a year on average. Beyond these short-term impacts, Nada is facilitating a shift in individual consumer behaviour that can lead to collective societal changes.
As Brianne stated, Nada tries "to encourage people to make small changes that collectively really do add up. We don't need a small handful of people doing things perfectly and being completely zero-waste... we need millions of people making small changes that add up."
Interview
Brianne Miller, Founder, CEO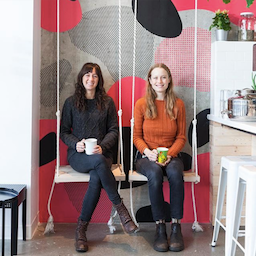 Keep this story going! Share below!
Nada is a package-free grocery store located in Vancouver, Canada. They sell foods and personal care items that are local, organic, and responsibly sourced, and have an in-house café which serves foods and beverages.