Uncommon Ground: Innovative Chicago Sustainability
Uncommon Ground
Overview
Uncommon Ground operates two sustainable restaurants and a brewery located in Chicago, Illinois. The brewery, Greenstar Brewing, is the first certified organic brewery in Illinois. One of the locations is home to the first certified organic rooftop farm in the country. As one of the most sustainable restaurants in America, the company has used its reputation to spread sustainable methods and help other groups be more sustainable. Uncommon Ground believes that sustainability is integral to its business and has become a big part of the decisions the company makes.
Author
Michael Hasselquist
School

Loyola University Chicago
Professor
Nancy Landrum
Innovation
In 1991, Helen and Michael Cameron started Uncommon Ground as a series of small espresso bars, with the first location on the ground floor of the Century Mall. After the success of the coffee bars, they opened a small cafe which began the process of Uncommon Ground becoming a full-fledged restaurant. After a full renovation to the cafe, Uncommon Ground was able to become the restaurant it is today which allowed the development of a menu that focuses on products that are local and in season. A local mentality and a love of the arts drove collaborations with artists, musicians, farmers, and businesses in the community and Uncommon Ground has built relationships with farmers and businesses in the community.
Uncommon Ground is contributing to several of the United Nations Sustainable Development Goals. Uncommon Ground is contributing to Goal 12: Responsible Consumption and Production. Uncommon Ground has a certified organic rooftop garden and organic brewery. The restaurant uses furniture made of recycled and repurposed materials. Uncommon Ground uses spent grain from its brewery in the bread and some is returned to farmers for their use.
Uncommon Ground is in line with Goal 2: Zero Hunger. The goal is to end hunger, achieve food security and improved nutrition, and promote sustainable agriculture. Uncommon Ground contributes to this goal with its rooftop farm, sustainable sourcing of natural produce, and finally with brewery and farming internships, which are aimed to promote sustainable food and consumption in the communities surrounding the restaurant locations.
Goal 3: Good Health and Wellbeing. The restaurant sources food from local farms with no genetically modified organisms (GMOs) and industrial pesticides.
Finally, Uncommon Ground aligns with Goal 11: Sustainable Cities and Communities. The restaurant has formed close partnerships with businesses that have fostered a tighter working system between restaurants, farmers, and others in the supply chain.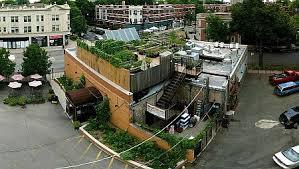 Inspiration
The owners were inspired by a love for food that is fresh, seasonal, and local. From personal experience, they knew that the fresher the food is the better it tastes. They wanted to create the best quality food prepared from locally-sourced ingredients. The organic certifications for the company came about not of necessity but because that is how the owners believe food should be grown and eaten. They saw they had an open, sunny rooftop where they could grow the type of garden that would inspire many delicious menu items.
Overall impact
Uncommon Ground has been able to support the local community including farmers, artists, and musicians. One of the goals is to make the Chicago neighborhood of Rogers Park the most sustainable in the city. The company plans to do this by sharing its methods of sustainability with other organizations in Rogers Park. Uncommon Ground has started to share its rooftop gardening techniques with other parts of the city as well.
Business benefit
People really liked the fresh food. After the initial growth into a restaurant, the business doubled their capacity three times. This popularity allowed them to add a second restaurant. Replacing paper towels with hand driers saved roughly $1000 per month. Switching from halogen to LED lightbulbs saved $500 per month. Using solar thermal panels allowed them to cover 10% of the total electric costs for the business.
Social and environmental benefit
Uncommon Ground creates many social benefits. The company supports local and independent farmers instead of larger industrial agricultural companies. In the restaurants, Uncommon Ground hangs art from local Chicago artists and features local musicians. Helen is also a large supporter of the rooftop farming movement, helping implement the process in Paris, France hoping the trend will eventually make its way to Chicago in the near future.
Uncommon Ground creates many environmental benefits. This stems from the company's commitment to local and organic food. The rooftop farm efficiently uses space that would not have been utilized for any other purpose. This efficient use of space means there is less transportation of produce, resulting in reductions in greenhouse gas emissions. The company's organic farming practices do not use harmful pesticides or synthetic fertilizers.
Interview
Helen Cameron, Owner & Founder
Keep this story going! Share below!
Uncommon Ground is a sustainable Chicago restaurant focused on providing healthy, great-tasting food while promoting sustainability.