Tierra Viva Tierra Viva Innovation / Innovación Tierra Viva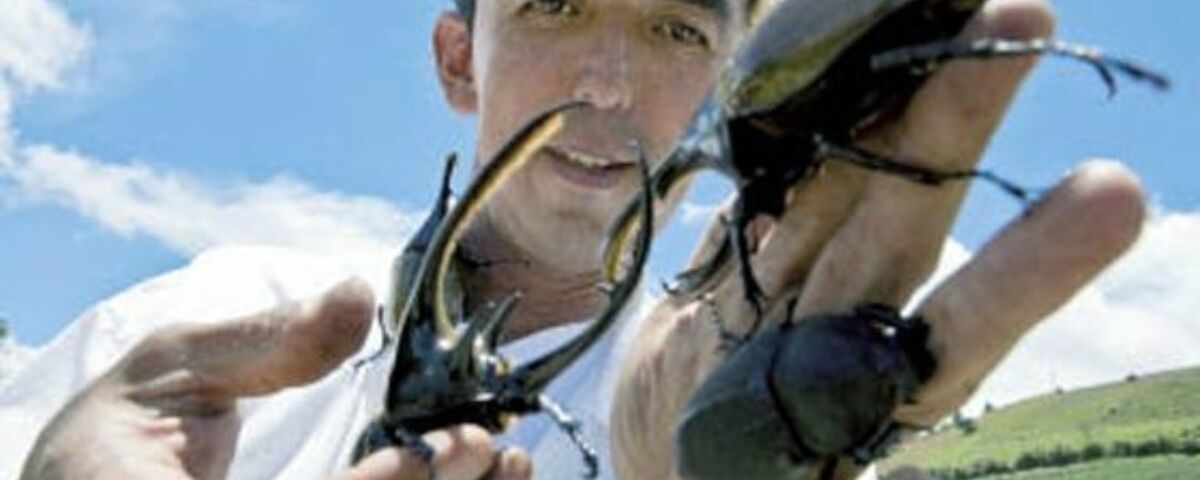 Authors
School
Professor
Global Goals
Keep this story going! Share below!
Summary
Currently, the treatment of organic solid wastes is a big problem for cities. According to studies by Penagos et al (2011), "Urban organic solid waste constitutes about 70% of the total volume of waste generated." Conventional treatments of these waste, currently implemented, only partially solve the problem given the magnitude of it and sometimes turn out to be only a transformation from one mode of pollution to another, such as generation of leachate in landfills and generation of toxic gases in incineration processes. For Germán the problem has not been addressed in a sustainable way even though there are alternatives such as his beetles "... we have the tool to solve Doña Juana or Mondoñedo problems (landfills), at that scale, we have no problem because with the mass balance that I have developed I can make a plant where I transform a kilo of waste or I can transform the 3000 tons of waste that Bogotá handles daily..."
Penagos José, Adarraga Jaime, Aguas Daniela, Molina Eddier (2011). Reduction of Organic Solid Waste in Colombia through Liquid Composting. Foundation DIALNET. https://dialnet.unirioja.es/servlet/articulo?codigo=6579711
----------------------------------------------------------------------------------------------------------------
En la actualidad el tratamiento de residuos sólidos orgánicos es un gran problema para las ciudades. Según estudios de Penagos et all (2011), "Los residuos sólidos orgánicos urbanos constituyen cerca del 70% del volumen total de desechos generados". Los tratamientos convencionales de éstos, hasta ahora implementados, solucionan apenas de manera parcial el problema dado la magnitud del mismo y en ocasiones resultan siendo solo una transformación de un modo de contaminación a otro, tales como generación de lixiviados en rellenos sanitarios y generación de gases tóxicos en los procesos de incineración. Para German el problema no se ha abordado de manera sostenible aun cuando existen alternativas como los son sus escarabajos "…tenemos la herramienta para solucionar Doña Juana o Mondoñedo (rellenos sanitarios), a esa escala, no tenemos problema porque el balance de masas que yo he desarrollado puedo hacer una planta donde transformo un kilo de residuos o puedo transformar las 3000 toneladas que maneja diariamente Bogotá…"
Penagos José, Adarraga Jaime, Aguas Daniela, Molina Eddier (2011). Reducción de los Residuos Sólidos Orgánicos en Colombia por medio del Compostaje Líquido. Fundación DIALNET. https://dialnet.unirioja.es/servlet/articulo?codigo=6579711
Innovation
Tierra Viva is a biotechnological innovation that takes to an industrial scale a natural ability of beetles to decompose organic matter, as Germán explains: "unlike earthworms or biological composting processes, here we have a metabolism and in the digestive tract of beetle larvae, which are the ones that consume the waste, there are millions of microorganisms that fix and decompose the matter ... it's what was discovered at the Universal de La Habana."
The patent is unique in Colombia and has been had since 2002, there are other business initiatives for the breeding of beetles, but Tierra Viva is the only company in Colombia and almost in the world which has achieved to do it from organic solid waste. The process follows the beetle's biological cycle, where the larvas use organic waste as a substrate in an average period of 4 months, during which time they reach sexual maturity, and they can reproduce to start another biological cycle and so on. In Germán's own words: "I didn't invent beetles, I invented the method of raising them with good quality from organic waste."
The fertilizer produced is completely organic and of high quality since the elements of vegetal nutrition, both minor and major, are available and are very composed and does not require the additional use of amendments to prepare the soil ..."our fertilizer is something similar to going to a forest, to a native jungle, subtracting the mus or the natural fertilizer that generates the dynamic process of the life cycle and that is why it is called organic beetle fertilizer" The fertilizer is marketed through the company's website and has its corresponding ICA registration.
The strategy to scale the model is through franchising. For Germán, the most important requirement is that franchisees "speak the same language" of Tierra Viva. Under this model, Tierra Viva completely accompanies the implementation of the process and supplies the larvas as the main differentiating element, however in contrast to the conventional franchise model, Tierra Viva renounces a part of its profits and requires that the franchisee contribute an equal percentage to be destined to investment in the environment.
----------------------------------------------------------------------------------------------------------------
Tierra Viva es una innovación biotecnológica que lleva a una escala industrial una capacidad natural de los escarabajos de descomponer la materia orgánica, como explica German: "a diferencia de las lombrices o procesos biológicos de compostaje, acá tenemos un metabolismo y en el tracto digestivo de las larvas de escarabajo, que son las que consumen los residuos, hay millones de microorganismos que fijan y descompone la materia…es lo que se descubrió en la Universal de La Habana".
La patente es única en Colombia y se tiene desde el 2002, existen otras iniciativas empresariales para la crianza de escarabajos, pero Tierra Viva es la única empresa en Colombia y casi en el mundo que ha logrado hacerlo a partir de residuos sólidos orgánicos. El proceso sigue el ciclo biológico del escarabajo, donde las larvas usan como sustrato los desechos orgánicos en un periodo promedio de 4 meses, tiempo en el cual alcanzan la madurez sexual y pueden reproducirse para iniciar otro ciclo biológico y así sucesivamente. En palabras de German: "yo no inventé los escarabajos, inventé el método de criarlos con buena calidad a partir de residuos orgánicos",
El abono producido es completamente orgánico y de alta calidad dado que los elementos de nutrición vegetal, tanto menores como mayores, están disponibles y son muy compuestos y no requiere el uso adicional de enmiendas para preparar el suelo…"nuestro abono es algo similar a ir a un bosque, a una selva nativa, sustraer el mus o el fertilizante natural que genera el proceso dinámico del ciclo de vida y que por eso se llama abono orgánico de escarabajo" El abono se comercializa a través de la página web de la compañía y cuenta con su registro ICA correspondiente.
La estrategia para escalar el modelo es a través de la franquicia. Para German, el requisito más importante es que los franquiciados "hablen el mismo idioma" de Tierra Viva. Bajo este modelo, Tierra Viva acompaña completamente la implementación del proceso y suministra las larvas como el principal elemento diferenciador, sin embargo en contraste con el modelo de franquicia convencional, Tierra Viva renuncia a una parte de su utilidad y exige que el franquiciado aporte un porcentaje igual para ser destinado a la inversión en el medio ambiente.
Inspiration
This initiative was really born in the year 2000 with a research project by Germán when he studied the specialty in environmental chemistry at the UIS (Industrial University of Santander) ..."there, by the impulse of a professor from Australia who sais: let's calculate how much industrial ecology has been applied in Colombia, and it is really observed that it is very little, then I start raising worms to transform waste from chicken roasteries." Based on this research, Germán found that beetles do an important biological work in the degradation of matter, that there are more than 375,000 species in the world and that there was not much information about it, except for some references of tribes in Asia and Egypt that cultivated beetles with elephant dung. From this, Germán has a phD candidate in environmental sciences from the University of Havana and with one of his tutors expert in environmental toxicology, they share the concern for the bioaccumulation of toxic waste in soil and food due to the use of chemical fertilizers and in 2002 he founded Tierra Viva, as a company to develop and produce organic fertilizers with beetles taking advantage of the fact that in Colombia there are at least 500 species of them and the demand for these insects in different countries of the world.
----------------------------------------------------------------------------------------------------------------
Esta iniciativa nace realmente en el año 2000 con un proyecto de investigación de Germán cuando cursa la especialidad en química ambiental en la UIS (Universidad Industrial de Santander)…"allí, por impulso de un profesor de Australia quien dice: vamos a calcular cuánto de ecología industrial se ha aplicado en Colombia, y realmente se observa que es muy poco, entonces yo empiezo a criar lombrices para transformar residuos de asaderos de pollos". Con base a esta investigación, German encontró que los escarabajos hacen un trabajo biológico importante en la degradación de la materia, que existen más de 375.000 especies en el mundo y que no existía mucha información al respecto, salvo algunas referencias de tribus en Asia y Egipto que cultivaban escarabajos con el estiércol de elefante. A partir de esto, German tiene una candidatura para doctorado en ciencias ambientales de la Universidad de la Habana y con uno de sus tutores experto en toxicología ambiental, comparten la preocupación por la bioacumulación de residuos tóxicos en los suelos y alimentos debido al uso de fertilizantes químicos y en 2002 funda Tierra Viva, como empresa para desarrollar y producir abonos orgánicos con escarabajos aprovechando que en Colombia existen mínimo 500 especies y la demanda de estos insectos en diferentes países del mundo.
Overall impact
The company Tierra Viva is committed to reducing the negative impact per capita of cities, especially with the attention to air quality and municipal waste management, (SGD No. 11), through the process of reusing organic solid waste, as food for beetle larvae. From the feces generated by these larvae, THE COMPANY Tierra Viva, produces an organic fertilizer, through a clean process and with zero emissions of greenhouse gases into the atmosphere.

This organic fertilizer is currently used by farmers to nourish the soils before and during the process of planting and growing food, in a much more friendly way with environment (SGD NO. 12) and responsible for human health by generating much healthier food, avoiding the bioaccumulation of chemical elements in food, contributing to the health and well-being of people (SDG No. 3).
Throughout its existence, Tierra Viva has treated 10,000 tons of organic waste with its innovation, which has attenuated an equivalent of 42,000 tons of CO2 that with the usual treatment would have gone into the atmosphere. In this way, Tierra Viva contributes to the climate action initiative (SDG No. 13)
In the Germán's own words, "The processing of organic solid waste in the face of the environmental problems of the planet is enormously linked to the processing of waste of organic origin, since, of more than 21,000 million tons of waste generated on the planet per year, hardly a percentage is recycled and on the other hand the waste of organic origin does NOT have an adequate treatment system".
----------------------------------------------------------------------------------------------------------------
La empresa Tierra Viva está comprometida con la reducción del impacto negativo per carpita de las ciudades, especialmente con la atención de la calidad del aire y la gestión de los desechos municipales, (ODS Nº 11), a través del proceso de reutilización de los residuos sólidos orgánicos, como alimento para larvas de escarabajos. A partir de las heces generadas por estas larvas, LA EMPRESA Tierra Viva, produce un abono orgánico, mediante un proceso limpio y con cero emisiones de gases de efecto invernadero a la atmosfera.
Este abono orgánico, actualmente es utilizado por los campesinos para nutrir los suelos antes y durante el proceso siembra y cultivo de alimentos, de una manera mucho más amigable con el ambiente (ODS Nº 12) y responsable con la salud humana al generar alimentos mucho más saludables, evitando la bioacumulaciòn de elementos químicos en los alimentos contribuyendo con la salud y bienestar de las personas (ODS Nº 3).
A lo largo de su existencia, Tierra Viva ha tratado 10.000 toneladas de residuos orgánicos con su innovación, lo que ha atenuado en un equivalente de 42.000 toneladas de CO2 que con el tratamiento habitual hubiesen ido a la atmosfera. De esta manera contribuye con la iniciativa de acción por el clima (ODS Nº 13).
En palabras de German "el procesamiento de los residuos sólidos orgánicos frente a la problemática ambiental del planeta está enormemente ligada al procesamiento de residuos de origen orgánico, ya que, de más de 21.000 millones de toneladas de residuos generados en el planeta por año, escasamente se recicla un porcentaje y de otra parte los residuos de origen orgánico NO tienen un sistema de tratamiento adecuado".
Business benefit
The financial sustainability of Tierra Viva has been a challenge, the large-scale applications of this technology go through local government entities which have non-transparent interests in the award of contracts for the treatment of urban waste, in the words of Germán, "I would already be throughout the country if I had accepted the proposal of a politician to pass the project in 150 million when in reality the cost was of 100 million." However, there has been a successful experience in the municipality of Saboya (Boyacá) in 2001 where the project won a research award in the recycling category by the Ministry of the Environment. For this reason, in August 2019, the company incorporated the Kmushicoin cryptocurrency into the business model, in order to globalize and monetize this contribution to the environment. The currency uses the blockchain technology and it started being worth 0.10 USD and to date it has already passed the threshold of 3.90 USD in just two years, with a cost of 2.70 USD, becoming an important leverager of economic value generation and which is largely due to the presence of the currency in more than 100 countries. Through this currency, both fertilizer and beetles are marketed, and donations can be received from anywhere in the world.
----------------------------------------------------------------------------------------------------------------
La sostenibilidad financiera de Tierra Viva ha sido todo un desafío, las aplicaciones a gran escala de esta tecnología pasan por los entes gubernamentales locales que tienen intereses no transparentes en la adjudicación de contratos para el tratamiento de desechos urbanos, en las mismas palabras de German: "yo ya estaría en todo el país si hubiera aceptado la propuesta de un político de pasar el proyecto en 150 millones cuando en realidad el costo era de 100 millones". Sin embargo se ha tenido una experiencia exitosa en el municipio de Saboya (Boyacá) en 2001 donde el proyecto ganó premio de investigación en categoría reciclaje por el Ministerio del Medio Ambiente. Por este motivo, en agosto de 2019, la empresa incorporó al modelo de negocio la criptomoneda Kmushicoin, con el fin de globalizar y de paso monetizar este aporte al medio ambiente. La moneda usa la tecnología block chain e inicio valiendo 0.10 USD y a la fecha ya pasó el umbral de los 3.90 USD en solo dos años, con un costo de 2.70 USD, convirtiéndose en un importante apalancador de generación de valor económico y el cual se debe en gran medida a la presencia de la moneda en más de 100 países. A través de esta moneda se comercializa tanto el abono, como los escarabajos y se pueden recibir donaciones de cualquier parte del mundo.
Social and environmental benefit
According to Germán's estimates, "Since 2002 and in a staggered manner, a total of 10,000 tons of organic waste that could cause greater environmental damage were stopped being taken to the Pirgua landfill." Currently, the process of transforming organic waste into Tierra Viva receives 15 tons of waste per week and transforms it entirely into organic fertilizer for beetles, which also stops producing CO2 for the environment. It is estimated a generation of 4.2 Ton of CO2 for each ton of organic waste, therefore the 10,000 tons of waste processed by Tierra Viva through its existence have contributed an equivalent of 42,000 tons of CO2 that stopped being produced (http://energia-on.com/reduzca-su-huella-de-carbono/).
Additionally, the organic fertilizer of beetles represents a unique product of its kind since it is composed with the same natural nutritive elements that produce the jungles and forests of the planet.
In the Tierra Viva facilities, the environment has been restored with trees that in 6 years have measures that exceed 6 meters and a DBH higher than the trees planted in traditional conditions. In the words of Germán, "The environmental impact produced by the use of conventional organic fertilizer Vs. organic fertilizer of beetles, is measured mainly by the generation of alternatives and concrete actions in food security, increasing food production by 20% more than the use of conventional fertilizers".
----------------------------------------------------------------------------------------------------------------
Según las estimaciones de German "desde el año 2002 y de forma escalonada se dejaron de llevar al relleno sanitario de Pirgua un total de 10.000 toneladas de residuos orgánicos que pudieran causar un daño ambiental mayor". En la actualidad el proceso de transformación de los residuos orgánicos en Tierra Viva, recibe por semana 15 toneladas de residuos y los transforma en su totalidad en abono orgánico de escarabajos, lo que también deja de producir CO2 para el medio ambiente. Se estima una generación de 4.2 Ton de CO2 por cada tonelada de residuos orgánicos, por lo tanto las 10.000 toneladas de residuos procesados por Tierra Viva a través de su existencia han aportado un equivalente de 42.000 toneladas de CO2 que dejaron de producirse. (http://energia-on.com/reduzca-su-huella-de-carbono/).
Adicionalmente, el abono orgánico de escarabajos representa un producto único en su género ya que está compuesto con los mismos elementos nutritivos naturales que producen las selvas y bosques del planeta. En las instalaciones de tierra viva se ha restaurado ambientalmente el entorno con árboles que en 6 años cumplidos tienen medidas que superan los 6 metros y un DAP superior a los árboles sembrados en condiciones tradicionales. En palabras de German "el impacto ambiental que se produce por el uso del abono orgánico convencional Vs. el abono orgánico de escarabajos, está medido principalmente por la generación de alternativas y acciones concretas en seguridad alimentaria, aumentando en 20% más la producción de alimentos respecto al uso de abonos convencionales".
Interview
German Viasus Tibamoso, Principal CEO
Business information
Tierra Viva
Tunja, Boyacá, CO
Year Founded: 19
Number of Employees: 11 to 50
Tierra Viva, is a company founded in 2002 by Germán Viasus Tibamoso, with a vision of care for the environment. It is a biotechnological initiative that takes advantage of the transformative capacity of beetles to convert vegetal organic solid waste and animals solid waste into organic fertilizer of high quality and effectiveness. Being a process of biotechnological transformation, the company is located in the industrial sector and currently has 14 employees. Additionally, beetles can be marketed as pets all over the world and highly desired especially in Japan.
In the Germán's own words, "Tierra Viva is the company that since 2002 is taking actions in favor of the environment that seeks sustainable development for humanity since we use the organic waste that are generated in activities to feed beetles, which are marketed as pets in different parts of the world".
-----------------------------------------------------------------------------------------------
Tierra Viva, es una empresa fundada en 2002 por German Viasus Tibamoso con una visión de cuidado por el medio ambiente. Es una iniciativa biotecnológica que aprovecha la capacidad transformadora que tienen los escarabajos para convertir residuos sólidos orgánicos vegetales y animales en abono orgánico de alta calidad y efectividad. Al ser un proceso de transformación biotecnológico la empresa se ubica en el sector industrial y en la actualidad cuenta con 14 empleados. Adicional, los escarabajos pueden ser comercializados como mascotas en todo el mundo y muy apetecidos especialmente en Japón.
En palabras de German "Tierra Viva es la empresa que desde 2002 está acometiendo acciones a favor del medio ambiente que busca un desarrollo sostenible para la humanidad ya que usamos los residuos orgánicos que se generan en actividades para alimentar escarabajos, los cuales se comercializan como mascotas en diferentes lugares del mundo".