The Telehealth App Nobody Saw Coming
NYP OnDemand
Overview
NYP OnDemand helps solve the good health and well-being of the UN SDGs. The telehealth app, NYP OnDemand is a new technology innovation that reaches outside the boundaries of a hospital and allows people ill or not to reach out to medical professionals in a fast, user-friendly way. This application allows drastic reductions in office and emergency room wait lines along with a contact-free mode of communication with physicians for added safety due to the current Covid-19 pandemic.
Authors
Jihaad Boyd
Valdin Amos
Tenzin Woeser
Vinisha Kapadia
Yashil Patel
School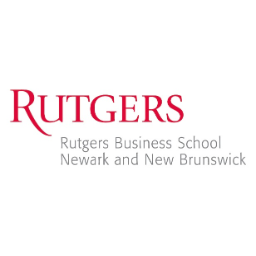 Rutgers Business School
Professor
Joseph Markert
Innovation
NYP OnDemand is an innovative and on-demand telehealth app created by the New York Presbyterian hospital to provide patients access to world-class healthcare. This app can be easily downloaded on your phone and has the ability to connect you directly with a physician for consultation on various ailments ranging from infections to conjunctivitis. According to the official Weill Cornell Medicine website, this app was released in 2016 and pioneered in the telehealth revolution. Through the collective efforts of multiple departments within the hospital including the technology department, senior leadership, and various physicians; this app was able to successfully come into fruition.
According to Doctor Steve Corwin, the current president and CEO of NYP, "At NewYork-Presbyterian, we are looking to redefine the intersection of technology and healthcare and our new digital health platform is our way of strengthening traditional telehealth services", therefore, this new app was developed to innovate the realm of healthcare. Regarding the impact of this innovation, this technology has been implemented during the Covid-19 pandemic to diagnose patients who believe they may have the virus, but are in search of a physician's consultation. This technology is linked to UN Sustainable development goals because it is a viable solution to inequalities within the healthcare industry. According to the Weill Cornell Medicine official website, this app was funded by a philanthropic partnership with Rita E. Hauser and Gustave M. Hauser in addition to the use of NYP cash reserves. Through this partnership, they were able to use the resources to develop this wonderful app.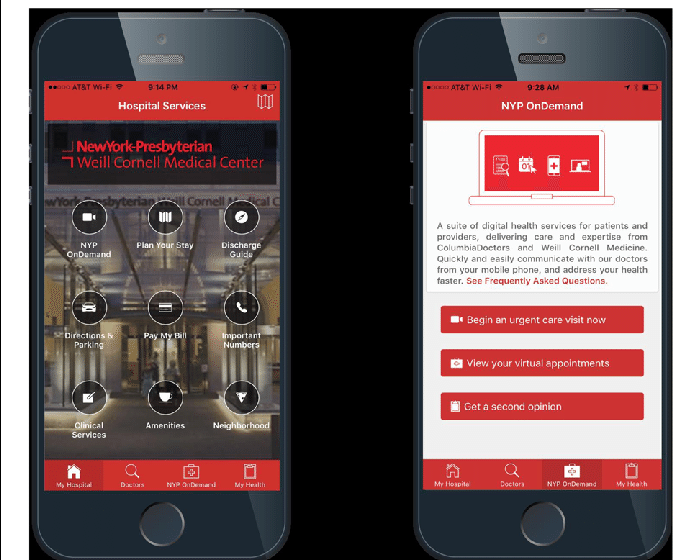 Inspiration
As the number 1 ranked hospital in New York state, New York-Presbyterian hospital is at the forefront of the medical industry. During an interview with Dr. Lee Goldman, they stated that "When patients visit Columbia Doctors at New York-Presbyterian, they know they will see outstanding physicians who will combine the latest technologies with highly personalized care and caring. This new suite of digital health services will help to maintain and enhance that experience"; this goes to show that the inspiration for this innovation was to improve the overall patient experience. Moreover, the creation of this app could not have been possible without the collective effort of multiple departments, generous donors, and support from senior leadership.
According to our interview with Rinchen Namgyal, a current Budget manager, he stated that "This app is a wonderful innovation which offers patients easier access to world-class healthcare"; this statement goes to exemplify the patient-focused culture of NYP. As a new father, he explained to us how this innovation is a step in the right direction and he is optimistic about the future of healthcare in a world where his son will grow up. According to the official NYP website, "In 1909 William Van Duzer Lawrence recognized the need for an outstanding community hospital after his son fell ill with appendicitis and had to be transported by baggage car to New York City."; now more than a century later, the introduction of this on-demand app has made access to quality healthcare easier than ever.
Overall impact
The implementation of telehealth services in NYP is provided through an app called "NYP OnDemand." It is a user-friendly app that can be used to get on-demand consultation from a trained physician. The implementation of this technology will be able to greatly benefit society during this Covid-19 pandemic. The use of this technology allowed for patients with nonlife-threatening cases to seek physician consultation while mitigating the risk that may arise from an in-person hospital visit.
In the short term, this technology does require an initial investment. Nevertheless, this technology will have a positive ROI through access to more patients and the expansion of hospital capabilities. In the long term, this technology allows for patients to have easier access to physicians while from the comfort of their homes. According to the NYP, telehealth technology's goal is to provide quality services to more customers than would otherwise without the technology.
Business benefit
The telehealth technology has been significantly beneficial to NYP as it now reduces the risk of employees contracting COVID-19. The technology has given doctors more access to patients than ever before. NYP can give quality consultations and issue prescriptions without having patients leave the comfort of their homes. This innovation has a big impact on NYP finances as stated by Budget manager Rinchen Namgya during an interview "Within the budget department, we now must account for the allocation of our funds into this investment and along with other various expenses." It is this allocation of funds that allow for on-demand technical assistance services so that people who are not tech-savvy can access the technology.
During the interview with Rinchen Namgyal, he said that "the implementation of this technology has changed various aspects of the company structure." The technology has expanded the way NYP hires by looking for people with the interpersonal skills to give the best customer service through their platform. They have also trained their current employees to better exercise their skills when using their technology. This is added value to the workforce at NYP as employees now have the knowledge and experience to handle telehealth services. With this added value NYP now has a competitive advantage over competitors.
Social and environmental benefit
Telehealth technology has given more people access to doctors than ever before. People can access quality consultation and receive a prescription without leaving the comfort of their homes. Today, this is even more crucial due to COVID-19 as it reduces the risk of contracting the virus by physically going to the hospital.
Society benefits from this innovation through diversification of patient care that caters to different patient needs. Transportation costs to and from the doctor can now be avoided. People will now find the time to see a specialist about any health issues because it is now easily accessible.
Interview
Richen Namgyal, Finance Analyst
Keep this story going! Share below!
NYP OnDemand allows people to reach out via app to hospitals and medical professions to receive assistance in whatever way they need. It helps people of all ages and whoever needs help.