10Pwr The Solar Standard of Living in Haiti
Authors
School
Professor
Global Goals
Keep this story going! Share below!
Summary
10Power provides clean, renewable, and reliable energy to communities that lack access to electricity. 10Power does so through project development and finance for commercial-scale solar installations. They have a market-based approach that allows customers to expand operations and create employment opportunities.
Innovation
Sandra Kwak founded 10Power to bring clean, renewable, and reliable energy to Haiti. Haiti is one of the places with the most expensive electricity and has the lowest accessibility to electricity. 10Power partners with local solar installers and implements training with a focus on gender empowerment in the pursuit of their mission to great regenerative international development through sustainable innovation. The goal in Haiti is to advance economics with an environmental platform and creating opportunities for the local community. She hopes to expand her efforts in Haiti to other countries around the world. Kwak had various investors that helped her kickstart the business. One investor helped guide her through the process of applying to become a B Corporation. She was very passionate about creating a company that has a lasting impact and that addresses various United Nations Sustainable Development Goals.
Kwak used her background in sustainability and technology to create a company that provides renewable energy to areas where it is difficult to obtain. "In Haiti, 10Power is working with local installers with a gender empowerment lens to develop, finance, install, operate, and maintain commercial-scale solar projects." Her company's value proposition is that it offers financing options for these solar projects so that renewable energy is easier to obtain.
To create an opportunity for women in solar energy, 10Power partnered with Haiti tech. Kwak met with the director of Haiti Tech and offered to provide fieldwork for women in Solar Technology. She created a program where female students from Haiti Tech were able to get experience, which later expanded to men as well. Since this partnership, 10Power has brought on a full-time intern and three women from Haiti Tech. 10Power also launched a women's solar installer training program in Haiti, to work with solar technicians from Haiti tech. The focus on gender empowerment was something new, as people don't usually see that in Haiti.
Kwak was motivated by one of her sustainability graduate courses called Products and Services. She wanted to use her knowledge and her background in sustainability and technology to create a world that she wanted to live in. She came up with the idea of 10Power as an innovative solution that will address gender inequality, poverty, and climate change.
Before starting 10Power, Kwak created a map of all of the countries in the world looking at the cost of electricity and access to electricity. She then started visiting countries with low access and high cost. Kwak found that Haiti has some of the most expensive electricity while also being some of the most expensive. Kwak visited Haiti where she met with Haitian business owners and solar providers while taking on a "humble learner perspective." The humble learner perspective allows a focus on local communities because "the people in the community already know way more about the challenges and solutions." After talking to business owners and solar providers, she found "that while everyone acknowledges there is lots of sun and a lot of businesses see the benefit of switching to solar there's not appropriate financing in the marketplace." The understanding was that even though it is cheaper over time to use solar energy, no businesses in Haiti have the means to switch upfront. Out of this problem came the solution, which is 10Power. 10Power can provide financing for the switch to solar energy for Haitian businesses, so they can still save money and use clean, affordable energy. Sandra stated, "One of the value propositions that 10Power brings to the Haiti market is financing and access to capital."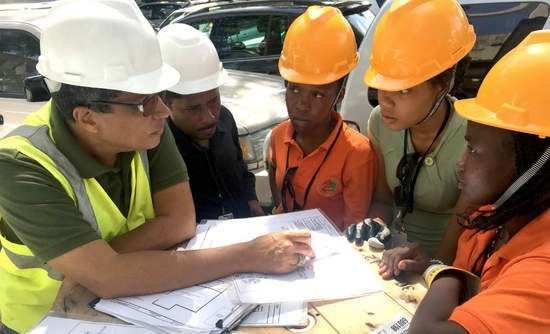 Inspiration
Kwak has received her MBA in Sustainability from Presidio Graduate School. She has previously worked at AutoGrid and Pacific Gas & Electric, and also co-founded Powerzoa, a clean technology startup. Her studies and professional experiences helped prepare her to start her own sustainable business. 10Power combines her knowledge of both Big Data and regenerative practices to develop solar projects in Haiti. Kwak's idea of starting in Haiti also surged when she started doing a graph listing the places in which energy was not widely available and was very expensive; Haiti being one of the top ones. When asked about her inspiration Sandra explained, "There was this moment where I felt like this inspiration came down on a little golden thread from the universe and like landed in my head. And it was basically the confluence of issues I was super frustrated with and wanting to create a big picture solution that addressed gender inequality, poverty, this widening rich-poor gap in our country as well as internationally."
Sandra's goal is to motivate people to do businesses differently. She stresses the idea that she wants to prove to all businesses that they can still profit while building sustainable businesses. In addition to this, she wants to provide energy for those countries where energy is not widely available and really expensive. When she was in the beginning stages of the business, she created a chart of all the countries in the world and their access to power in relation to its cost. This helped her narrow down Haiti as a starting point because it has some of the lowest rates of power access in the world, as well as the most expensive. Another motivating factor for doing the innovation was creating business models that truly serve the triple bottom line. As a for-profit company 10Power can generate a profit while also serving people and the planet.
Overall impact
With the help of 10Power, solar panels were built and placed onto the United Nations' Haiti headquarters. 10Power is also in the process of building and installing solar panels onto a local hospital in Haiti that currently runs on diesel, which is a toxin that is harmful to the planet and humans. For business, this means that the provided power can form an improved infrastructure that can support business in Haiti. Furthermore, 10Power has helped increase access to water and sanitation services as a result of the increased access to power. This means that businesses can benefit from water and sanitation access, which will benefit both society and the economy.
One of the impacts of this innovation is hiring more women, people of color, and other underemployed populations. Another impact is working with suppliers who are majority-owned by women or individuals from underrepresented populations or located in low-income communities. This has a direct impact on the communities in Haiti where 10Power works. In addition, 10Power can bring energy to those who need it. Kwak explained, "I wanted to do something that was more socially focused. So blending technology and innovation as well as [a] social benefit and helping people. So that's how 10Power was born." 10Power can provide affordable clean energy on a large scale to aid in creating local jobs and economic growth.
As 10Power brings solar energy to Haitian communities, renewable and clean energy is being used. As a result, the infrastructure in those communities continues to improve. With solar energy being used over diesel, emissions and other particulate matter are not being released into the atmosphere. 10Power also is offsetting carbon dioxide emissions.
In addition, 10Power was named B-Corp Best for the World Environment in 2019 for the company's sustainable business practices. 10Power has helped improve sanitation and water access throughout Haiti. This year the company successfully completed a solar-powered water desalination plant.
The short term effects of this innovation were an increase in access to sustainable power throughout many Haitian communities. Additionally, the company was able to boost the local economy by providing increased access to electricity and sanitation services, as well as help create jobs for local engineers. The long term effects of this innovation are that other companies can replicate this business model to create a positive impact on both society and the environment. In addition, 10Power can expand its operations into other areas where power has low access and high costs. Kwak chose to be a for-profit company over a non-profit because she wants to change the way businesses are run and demonstrate you can make money while doing good.
Kwak explained in the interview that part of 10Power's purpose is to demonstrate to the industry that a sustainably focused for-profit business can succeed in the market, while also delivering on their sustainability goals. It's clear that based on this mission, 10Power has thus far been a successful model for the sustainable power industry. Furthermore, Kwak mentions, "What we found is that everyone acknowledges there is lots of sun and lots of businesses see the benefits of switching to solar but many businesses don't have the money up front to pay for 100% of solar...." However, thanks to the flexibilities offered by 10Power, more and more businesses are upgrading to solar.
Business benefit
The direct business benefit of providing finance to Haitian businesses is that it allows 10Power to be a for-profit company. 10Power also provides financing and access to capital. They can then pay for the panels on day one, and the consumer can pay back over time, resulting in the constant business between 10Power and those it provides to.
In partnering with local businesses, 10Power can help the local economies. While there is an abundance of NGO's in Haiti, and many of them come from a good place, Kwak stated that "it actually winds up displacing local entrepreneurship. So I think it's important that we create market-based solutions and that we move to markets that are more restorative." 10Power can help local businesses as well as the work of solar technicians by working in local Haitian communities.
Social and environmental benefit
10Power benefits the local communities of Haiti, by providing access to clean and affordable energy while fostering a way fostering gender parity within the solar field. 10 Power enables these communities to incorporate solar energy into local businesses. In terms of the environment, the usage of solar will reduce the usage of other energy sources, like the massively-used diesel. The use of diesel is known for not only being harmful to the environment but being harmful to people's lungs as well. In recent times, Kwak has worked with local hospitals to provide them with solar energy due to COVID-19. Finally, Kwak mentioned that she has American engineers and Haitian engineers working really closely every day, this allows both countries to contribute to one another for making a better future.
Interview
Sandra Kwak, CEO, Founder
Business information
10Pwr
San Francisco & Port Au Prince, California, US
Year Founded: 2015
Number of Employees: 11 to 50
10Power works together with local partners to develop and finance commercial-scale solar projects in Haiti, making renewable energy affordable and accessible for tangible improvements in livelihood and prosperity. The company views renewable energy as the key to provide access to clean water, gender empowerment, livelihood improvement, education, and technology. 10Power is a for-profit, social impact enterprise. They reinvest revenue to grow their positive impact on the communities they serve.