Sustainable Vegan Chocolate
Tuanis Chocolate
Overview
Tuanis Chocolate takes their idea of fair trade and makes it up close and personal. Their close relationship with the indigenous Bribri people of Costa Rica soon sprouted a vegan chocolate company that also contributes to the sustainability of Chicago. Having an industrially symbiotic relationship with the other companies of Plant Chicago allows for their beautiful chocolate to be made with as few inputs and negative outputs as possible.
Authors
Owen Lang
Carrigan Jehling
Alex Baertschi
School

Loyola University Chicago
Professor
Nancy Landrum
Innovation
Founded by Jon Spurgeon and Martin Rhyne in 2015, Tuanis Chocolate was created from the idea to bring Costa Rican chocolate to America. While it is some of the highest quality chocolate, it was rare to find due to the difficulty of transportation and possibly just the fact that companies do not pursue relationships with indigenous people. But, with a hands-on approach, Jon and Martin were able to secure a deal with the Bribri tribe. Now, they are able to buy cacao directly from the tribe and take it back to Chicago. They are currently buying 2000+ pounds of cacao per transaction. Their relationship with the Bribri tribe led them to base their business around fair payments for the farmers and support for the community via school supplies and funding.
Tuanis Chocolate is contributing to several of the Sustainable Development Goals. Tuanis is working towards Goal 1: No Poverty by providing higher than fair trade payments for the Bribri tribe as well as working with their community and providing additional funding for local community services. Tuanis also contributes to Goal 4, Quality Education, by providing funds to help open schools, supply the Bribri with resources, and provide education on effective and sustainable farming. Next, Gender Equality (Goal 5) is being supported as the Bribri are somewhat of a matriarchal society. In their tribe, women oversee the farming and fermentation processes of the cacao beans, giving them a more equal role than women hold in traditional societies. Tuanis is also contributing to Goal 8, Decent Work and Economic Growth, by paying the Bribri farmers much higher than "fair trade" values for their cacao. Tuanis is also the Bribri's only American buyer and Tuanis goes directly to the Bribri to work out their deals face-to-face. In terms of the environment, another goal Tuanis contributes to is Goal 11: Sustainable Cities and Communities. Tuanis sells mainly to small local businesses and is a tenant of Plant Chicago. Plant Chicago is a community of businesses that practice industrial symbiosis for the circular economy, meaning that there are little to no negative externalities and byproducts are used as inputs by another company. This approach decreases waste and helps promote sustainability. Eventually, all of the energy used by Tuanis Chocolate will come from an anaerobic digester which will be powered by biomass waste from other companies within Plant Chicago. Finally, Tuanis is helping to implement is Goal 12, Responsible Production and Consumption, by purchasing from a sustainable farm, importing cacao only once a year, pursuing zero waste, offering a vegan product, using only three ingredients, and using minimal packaging.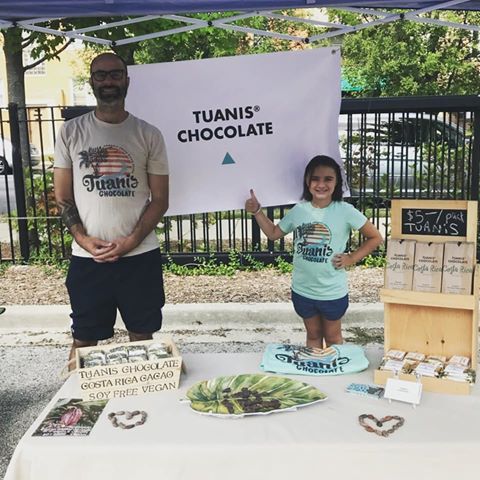 Inspiration
The original inspiration for this company was based entirely on the cacao. The founders saw a sustainable market that was run by the Bribri tribe that was not being used to its full potential and have made a business out of it. After this original idea, much more inspiration followed. Their business became a way to help support the Bribri tribe and their sustainable farming practices. Through their chocolate, they have funded education and occupations within the indigenous community.
Their next inspiration comes from a place of sustainability. Since moving into Plant Chicago, they have assumed control of their own production which results in less waste and an opportunity for increased production.
Overall impact
Tuanis Chocolate has several impacts. With the Bribri people, they have supported hundreds of jobs at the farms and supported thousands of people throughout the community. Tuanis has worked through the process with the Bribri so they are able to legally export their product from Costa Rica.
Tuanis is also one of the few companies that can boast entirely vegan chocolate. Most chocolate is made with refined sugar which is created by passing unrefined sugar through charred animal bones. Tuanis uses unrefined sugar, which is one of only three ingredients in their product. Using only cacao, cacao butter, and unrefined sugar, they are able to make their entire vegan chocolate product.
Finally, Tuanis is creating a more sustainable community through Plant Chicago. They are using less nonrenewable energy and are able to put their byproducts back into a circular closed loop system.
Business benefit
Tuanis Chocolate currently has 3 employees that make, process, package, and distribute the chocolate. The company's profits are expected to increase rapidly based on its production schedule for 2019. Right now, Tuanis Chocolate is mostly found in local businesses around Chicago, as well as one in Oregon. By remaining local, Tuanis helps support the growth of small businesses and the local economy. While the company is still very small, by communicating and working directly with the Bribri tribe, it has been able to set its product apart from others. Since Tuanis is the only company currently buying from the Bribri, they offer a unique taste of Costa Rican chocolate that is near impossible to find in the United States; this unique product creates an uncontested market niche for Tuanis.
Social and environmental benefit
Tuanis Chocolate has a strong social impact within the Bribri community through funding education and sustainable farming practices. Tuanis builds a relationship with buyers through personalized deliveries to each customer. Spurgeon stresses the importance of relationships with customers because sometimes their passion for making sustainable chocolate can only come through in person.
Tuanis Chocolate has a strong environmental impact through reduced waste, use of renewable energy, and promotion of sustainable farming practices. Since they took over their own means of production, they now have more control and can operate more sustainably pursuing zero waste, industrial symbiosis with other tenants of Plant Chicago, and working toward the circular economy.
Interview
Jon Spurgeon, Co-Founder
Keep this story going! Share below!
Tuanis Chocolate is a sustainable vegan chocolate producer that uses cacao from Coasta Rica. They pay higher than fair trade prices to the people of the BriBri Tribe who provide the cacao, as well as providing education and supplies to the tribe.