Grundfos Sustainable Products and Solutions of Water
Authors
School
Professors
Global Goals
Keep this story going! Share below!
Summary
Grundfos has the technology and solutions to make a significant contribution to sustainable water access and use. From purifying surface water for drinking to making water available in water-stressed areas, they offer partnership-based business models.
The company also develops technology and processes to treat, recycle, and reuse wastewater in the most energy-efficient way, actively contributing to SDG 6: Clean Water and Sanitation, and making a difference.
Innovation
The innovation is an Integrated Water Management System that can provide reliable water in a sustainable way in rural and urban locations. The specific name of the innovation is AQTap, which was developed by Grundfos to meet the challenges for sustainable water supply. The AQTap is an intelligent water dispenser that works with solar energy and a water management system (also developed by Grundfos) that is simple and intuitive to use.
Grundfos made it possible to provide water in rural communities by developing the AQTap which can be connected in three different ways:
1. To the water network of the community (if possible and available).
2. To AQTap water kiosks that are supplied to groundwater systems or a surface water treatment system.
3. The water kiosk is connected to a water tank supplied by groundwater or treated surface water using proven Grundfos solar driven pumps and, if required, a Grundfos AQpure water treatment system.
Once they have installed the specific solution needed, any person can use it to buy water with an intelligent card called WaterCard. People pay in advance for water credits that will appear on the WaterCard and then go to any AQTap, place the WaterCard in the slot to see the balance and water price. They then push a button to start tapping water, push again to stop tapping water and the system will automatically charge the balance account.
This innovation clearly meets several UN SDGs such as:
6. Clean Water and Sanitation: Grundfos provides a purification water system for the community which can be integrated to the AQTap water management system.
3. Good Health and Well-Being: Grundfos is providing clean water in rural communities which has improved the health and well-being of the people in the communities. It has reduced diarrhea cases by 45% in two years.
7. Affordable and Clean Energy: The price of the water in the AQTap system is as low as possible due to the solar energy system that works with the AQTap water system.
11. Sustainable Cities and Communities: The AQTap water management system makes the villages, communities and rural areas sustainable. In addition, it helps the government provide a solution for those communities where water system infrastructure was not available.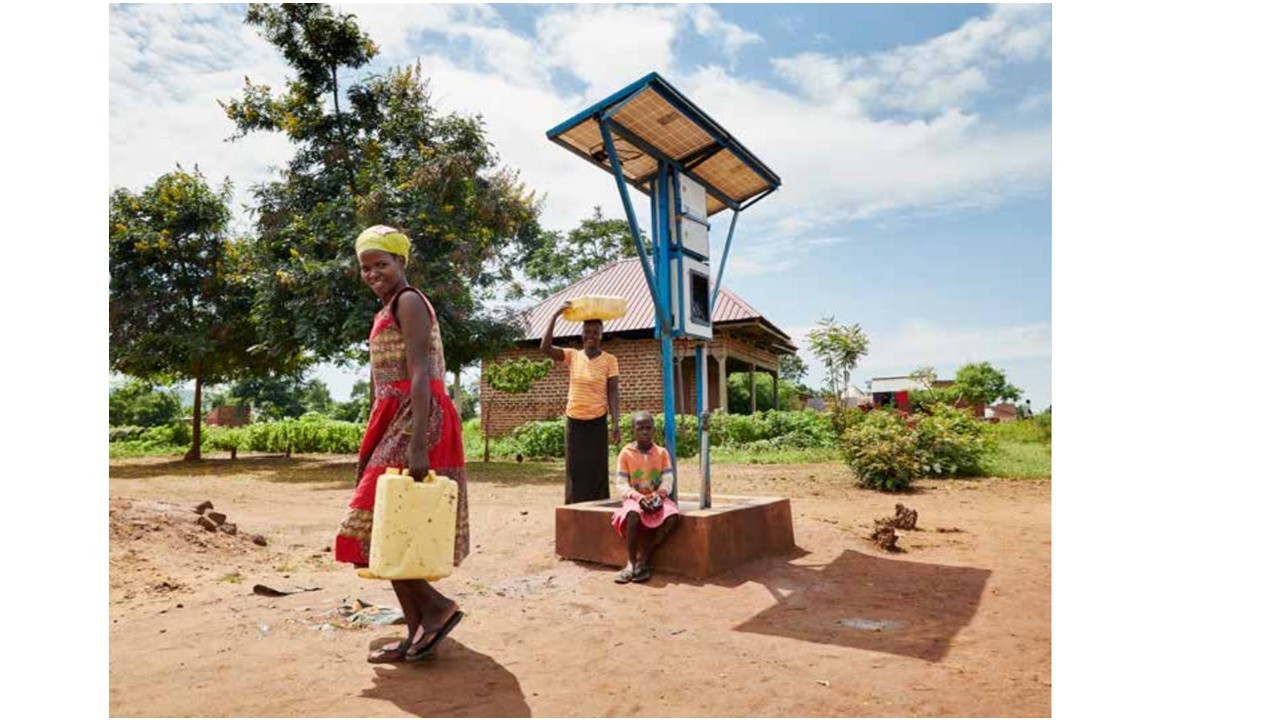 Inspiration
What inspired a collaboration between the Iceland government and Grundfos was the need and possibility to start a Water, Sanitation and Hygiene (WASH) program in Uganda and erase the negative spiral of waterborne diseases, early deaths, poverty and slowed growth in young children caused by the lack of clean water and the use of the polluted lake.
"We wanted to be able to provide affordable and safe water to hundreds of millions of people on this Earth and it takes a collective effort to reach that goal. We have found a solution that seems to be working very well," said Ambassador of Iceland in Uganda Unnur Orradóttir Ramette.
There are about 45,000 people in many villages that depend on the polluted lake and distant and expensive water wells to satisfy their water needs. For the project leader, it was very important to have a solution that works in every case and every village due to the complexity of each location. Also, cash management was an issue that needed to be changed. They started to look at a cash-free water supply system using a low-cost pre-payment method where all the money would be used for operation and maintenance of the system.
Overall impact
The principal objective for the technology is to have clean water for all with an overall impact on health and local economy. In Bugoba village where the AQtaps have been running for more than two years, villager Annet Kasukya sees a difference. "The village is so clean. We no longer see sick people vomiting or having diarrhea. People have learned how to be clean and maintain cleanliness," she said. "The situation has changed a lot because now we have fresh water," she added. "The water is accessible. You can get it whether it's at night or in the morning or at noon. I can afford the 100 shillings. I can buy 20 litres. It's not that costly."
According to the embassy's preliminary data, after just one year in 2018 throughout Buikwe District, the rate of sickness related to waterborne diseases fell 7%. The district does not yet have WASH 2019 program data for all the fishing villages. But in Bugoba, the number of diarrhea cases among all age groups has reduced 45% from 2017-2019. Among children under 5 years old, it has reduced 65%.
While the Iceland Embassy will do a full assessment of the project, initial figures show that safe water access in the district has grown to about 90% of the population according to Maurice Ssebisubi, Senior Project Officer - SPO - F&E at the Iceland Embassy who said, "The aim is for total eradication of diarrhea-related diseases in the villages by the end of 2019."
Business benefit
By carrying out this project, Grundfos obtained important benefits. It was able to contribute to improving the lives of people around the world, especially those who do not have access to safe water.
The company shows its commitment to developing tailored solutions by obtaining knowledge of the needs of emerging markets that has helped Grundfos increase its presence in these markets.
Social and environmental benefit
Easy access to safe, affordable water changes lives.
Rural Uganda fishing villages along Lake Victoria did not have easy access to safe water. The lake is polluted from industrial waste and causes serious or deadly waterborne diseases when ingested. In 2015, the Iceland government funded a four-year Water, Sanitation and Health (WASH) project to help the area. Iceland collaborated with the local Buikwe district government, NGO Water Mission Uganda and Grundfos, the solution provider.
For one part of the project, the team drilled 24 boreholes for safe groundwater and installed piped water systems with a total of 107 solar-powered Grundfos AQtap water ATMs in 39 villages covering about 45,000 people.
With this collaborative effort, after nearly two years, the rate of sickness related to waterborne diseases is steadily falling. In Bugoba village, the number of diarrhea cases among all age groups has reduced 45% from 2017-2019. Among children under 5 years old, it has dramatically reduced by 65%. Additionally, village water committees are taking over operation of the water systems. Payments for the water go towards operation and maintenance to secure sustainable, long term operations.
The WASH program also delivered sanitation facilities, rainwater harvesting schemes, training and more.
By 2020, the Buikwe District Local Government will receive full ownership of the systems. "The communities have to be able to tun the systems themselves," says Ambassador Ramette, Ambassador of Iceland in Uganda. "It's a low-cost system, more or less maintenance free."
Interview
Miguel García, WU Marketing Manager
Business information
Grundfos
Buikwe District, DK
Year Founded: 1945
Number of Employees: 10000+
Pumps are Grundfos' business. They are a pump company connecting with millions of people every day, setting the standard for innovation, efficiency, reliability and sustainability.
Grundfos is one of the world's leading water technology companies. They are committed to pioneering solutions to the world's water and climate challenges and improving the quality of life for people.
They operate all over the world and offer a range of business-specific markets such as industrial cleaning processes, smart energy-efficient irrigation systems and flood control in heavily exposed areas.