Slowly Unfolding Dream
Laughing Whale Coffee Roasters
Overview
Their innovation is a small coffee roasting company located in Lunenburg, NS that is completely fair trade and organic certified. The company helps make local food and agriculture a priority in Nova Scotia, by participating in farmers markets around the province, partnering with the Ecology Action Center, partnering with local farms, such as Pleasant Hill, and joining a Coffee Cooperative partnering with other small industry innovators, and all with the goal of being carbon neutral by 2030.
Author
Maeve Patten
School
Dalhousie University
Professors

Kent Williams
Sandi Stewart
Innovation
After moving from Seattle, Washington to Lunenburg, Nova Scotia, the husband and wife duo wanted to start a coffee company that wasn't a mainstream Tim Hortons or Starbucks. They wanted to show Nova Scotians the coffee they were missing out on. Both were in the environmental and ecological industries and wanted to make that an integral piece of the coffee roasting business, to do it in a sustainable way that not only made them a profit but helped their community.
The Laughing Whale started in 2003, as a small coffee shop by the husband-and-wife duo of Deborah and Steve, using two small coffee roasters. As the company slowly grew, they decided to close down the coffee shop and focus strictly on roasting coffee beans in a sustainable way, prioritizing local. They decided to join a Coffee Cooperative, Cooperative Coffee Roaster, which is made up of 23 community-based coffee roasters from both the United States and Canada, and all committed to sourcing products sustainably, working towards net zero carbon emissions, and giving back to their respective local communities in times of hardship such as the covid-19 pandemic.
The Laughing Whale's innovation is on a mission to roast good quality coffee that is environmentally sustainable, making local food a priority, and helping communities along the way. They are consistently trying to do better and make a difference in not only the coffee roasting industry but the communities around it. During the interview, Steve, the founder, noted that from the beginning they are "trying to support organic agriculture and buying local". To reach these goals, Steve also highlighted how The Laughing Whale has been a part of farmer's markets from the beginning trying to make local food a priority by not only selling at these markets but also buying from other local suppliers and producers. The Laughing Whale was and is a company filled with heart and has goals of doing good for the environment, Steve said, "it took lots of hard work to become what we are" and we commend everything The Laughing Whale does.
Inspiration
Steve and Deborah moved out to Nova Scotia in 2002 and created The Laughing Whale in 2003. They both had backgrounds that led them to creating The Laughing Whale. Steve had a background in environmental planning and sustainable energy. Deborah had been dealing with women's issues and aids in Africa. From having an education in environmental impacts Steve and Deborah had known from the beginning they wanted to do things in a very environmentally and socially sustainable way. They were certain on creating an organic certified company. These qualifications were a few of their goals from the UN including, climate action, sustainable communities, and responsible consumption practices. The Laughing Whale was created to contribute to their goals that were set out such as, organic health, good health, and well-being.
Overall impact
Throughout the lifespan of the Laughing Whale located in Lunenburg, Nova Scotia, the notion of being environmentally friendly is always put first. Steve and Deborah have been implementing ways to preserve the community, environment, and the business organization to better their local community as a whole. From the business side of things, the Laughing Whale has not seen a drop in sales due to its environmentally friendly practices. In fact, they have been benefiting greatly by selling their certified fair trade and organic beans to customers. They offer their products in many retail stores across Nova Scotia, New Brunswick, Newfoundland & Labrador, Prince Edward Island, and Quebec. Products can also be purchased online and delivered to the customer's home with a click of a button.
From society's view, the Laughing Whale has been tremendous in finding ways to give back and better everyone around them. They invest themselves in local food and farmer's markets all around Nova Scotia such as Lunenburg Farmers' market, Hubbard's, QEII Hospital's market, and Historic Brewery market. Here they explain why their products are locally produced allowing them to be fresher, why their products create a much lower carbon footprint, and put money back into the community. The Laughing Whale is also a vital member of the Ecology Action Centre which focuses on building a better and more stable environment. The Laughing Whale is a member of the Second Story Women's Centre which focuses on improving women coffee farmers' ways of life. They donate $0.05 cents of every pound of Café Ella coffee sold to the women's centre in Lunenburg.
The Laughing Whale has had an environmentally focused mindset from day one. They began an initiative with the Ecology Action Center to donate $0.25 cents of every pound of retail coffee sold to help further their environmental initiatives. They also have an eco-roaster from US Roaster Corp. This machine uses a combination of catalytic burner, hot-air, recycling, computerized control system, and added fuel economy of a drum roaster over the air roaster which they had previously been using all contributed to the purchase of the new machine. The most impressive environmentally friendly benefit the Laughing Whale does is that they offer the lowest carbon footprint per cup.
From the numerous environmental, societal, and business practices that Steve and Deborah partake in, it is safe to say that the Laughing Whale is doing very beneficial things for the world. Keeping the environment safe is the Laughing Whale's biggest concern and ultimately allowed them to do great things for the community that we truly feel the rest of the world should incorporate into their everyday business practices.
Business benefit
The Laughing Whale attempts to combine the best traditional practices with the latest roasting technology to create unique coffee. The traditional approach is to strive for perfection in coffee beans and provide customers with the best coffee quality. The company insists on purchasing only certified Fair Trade organic coffee beans to ensure the quality of coffee beans. The latest roasting technology means that employees uniquely roast each coffee bean to bring the maximum potential flavour and depth to a specific variety. Unlike other coffee roasters, the Laughing Whale insists on small-batch roasting, resulting in exquisite taste. And this kind of innovation brings huge economic benefits to the whole coffee industry. Their pursuit of coffee quality may attract many customers with high taste requirements, improve their impression that traditional cafes are all cheap, and increase potential customers for the industry. The laughing whale has also promoted the healthy competition of the whole coffee industry, which tells the whole coffee industry that while pursuing economic interests, it should also pursue brand and taste to bring more high-quality and cheap products to consumers.
Social and environmental benefit
The benefits of such innovation to society are enormous. For example, The Laughing Whale only buys certified fair trade and organic coffee beans, which greatly protects the interests of farmers. The fair-trade certification ensures that every farmer in small cooperatives in Africa, Indonesia and Central and South America gets a basic living wage by growing and harvesting their coffee beans. They also specifically support female coffee farmers through Cafe Femenino products. So, we will say that this kind of innovation is significant to society.
Interview
Steve d'Entremont, Co-Owner
Keep this story going! Share below!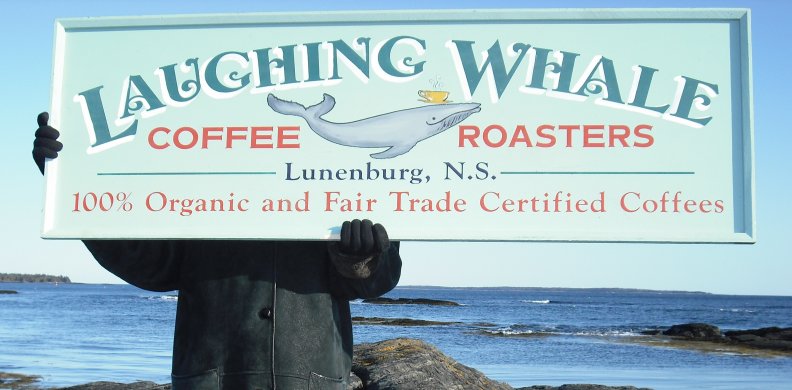 Laughing Whale Coffee Roasters
Lunenburg, Nova Scotia, CA
Business Website: http://laughingwhalecoffee.com
Year Founded: 2003
Number of Employees: 11 to 50
The Laughing Whale is a coffee roasting company started in 2003 in Lunenburg, NS. From the beginning the founders wanted their for-profit company to be organically certified and fair trade certified. They accomplished a number of the UN 17 Sustainable development goals, including good health and wellbeing, industry innovation and infrastructure, sustainable cities and communities, and responsible consumption and production.