Shining Light and Spreading Hope
LuminAID
Overview
LuminAID has recently celebrated 10 years of product innovation starting from the first launch of the Original Light pack (2010) to the latest innovation with the PackLite Titan (2020). The main goal of each innovation has been influenced by LuminAID's mission to seek out safe light and energy accessibility for all.
Authors
Kevin Thacker
Jon Windhorst
School

Loyola University Chicago
Professor
Nancy Landrum
Innovation
Each LuminAID product is designed in a fashion that considers long-term usability. LuminAID's stance is that emergency supplies should be compact allowing for customers to easily store an emergency kit or simply take it on the go during a camping trip. The versatility of LuminAID products allows for customers to easily pack them away in any emergency bag, glove box, or backpack. By providing a compact design for all chargers and lanterns, users are reassured by the space-saving, lightweight construction. The PackLite USB Solar Lantern weighs a total of 4 oz. and can be stored flat to under an inch thick, making storage concerns a thing of the past. Characteristically, all LuminAID product lanterns expand with air to bring the product to its full-size form when needed.
LuminAID prides itself in offering durable products for any application; whether it be disaster relief or recreational purposes, each LuminAID customer can be reassured that their product will hold its form. LuminAID lights are made of TPU (Thermoplastic Polyurethane) and the lights themselves incorporate a highly efficient mono-crystalline solar panel, LED circuit, and Lithium-ion battery. All of which are IP67 certified waterproof and submersible. All LuminAID products are built to withstand the elements regardless of the application.
LuminAID recognized early on that traditional batteries have a shelf-life ill-equipped for emergencies or camping as there is no backup. LuminAID products, all chargers and lanterns, are reliable due to each being rechargeable. Therefore, battery life is not a concern given that all LuminAID products have a rechargeable battery system and can freely recharge with the sun.
Ultimately, LuminAID seeks to provide a safer alternative to traditional light sources (candles & flares) given that these are short-term solutions and can be dangerous. People of all ages can safely use LuminAID chargers and lanterns without the worry of harming themselves or their surrounding environment.
Inspiration
When Anna Stork and Andrea Sreshta were studying architecture in New York City, they learned about the devastating earthquake that hit Haiti in 2010. Anna and Andrea saw that many people lost everything and they wanted to find a way to positively impact the situation. While relief camps had been set up, the inability to see at night made it challenging to safely operate the sites and provide Haitians with the resources they desperately needed. Anna Stork remembers, "Looking at what it was like for the people that had lost their homes after the earthquake. Everyone was in makeshift shelters, and in those settlements, it was very dangerous because they had no electricity. When we researched what was being shipped to Haiti, there wasn't any kind of lighting product." In realizing the lack of safe and reliable electricity, Anna and Andrea developed a lightweight, inflatable, rechargeable lantern that would enable first-responders to successfully provide needed food, water, and shelter for people.
We often take light for granted and in darkness, even simple tasks can become nearly impossible. People are already suffering following a disaster, but their problems are exacerbated with a lack of electricity. This is why electricity is so vital to recovery. LuminAID hopes to continue illuminating relief sites all over the world, wherever there's a need.
Overall impact
LuminAID has made a powerful impact on the disaster relief and portable lighting industry. It has also made camping easier by offering easy-to-pack portable lights and has directly helped relief camps provide better aid all over the world.
By revolutionizing how lights can be made, shipped, and recharged, the company has developed a sustainable product that has helped people in over 100 countries. It is tested to withstand harsh weather conditions, making it perfect for any outdoor application. Stork states, "We have to be extremely on top of quality control and making sure our products can withstand different types of environments, climates and user conditions." The ship-flat product design makes distribution cheaper and more efficient, allowing more light packs to quickly reach the communities and families that need them most.
A major program that LuminAID has built is called Give Light, Get Light. This mission works by providing light to families without dependable access to it. When someone purchases a Give Light, Get Light package, they will receive a PackLite Nova USB and their purchase will also sponsor a LuminAID lantern to be sent to a family that needs it. This program, which has provided 50,000 lanterns to families across the world, has had a positive global impact by offering a safe and reliable light source.
Business benefit
LuminAID has found great success following the launch of two company initiatives, Light Up Your Logo & Give Light Get Light. The Light Up Your Logo program has given LuminAID the ability to partner with numerous companies to help market corporate events as well as gifting. LuminAID will offer custom solar lanterns and phone chargers for any partner to enhance the appeal of any event or personal gift. Namely, LuminAID has found partnerships with the Special Olympics (Maui), Girl Scouts, Toyota, and Google. This program is worthwhile for all parties involved as LuminAID is better able to distribute its products throughout different markets while also helping to light important events.
The Give Light Get Light program has seen great involvement given the mass amount of sponsored light offerings that families have received from LuminAID customers. As noted on LuminAID's website, the incentive for customers to partake in this program is to "earmark a solar lantern or solar phone charger to go directly to the organization of their choice." Ultimately, this program allows for the customers to directly participate and sponsor LuminAID products to families in need. So far this program has helped over 50,000 families and with each sponsorship, humanitarian organizations are better able to support the people they serve out of the generosity of each customer and this program.
Social and environmental benefit
LuminAID lanterns help relief sites provide better care to communities. This, in turn, allows communities and ecosystems to rebuild more quickly. It reduces global inequalities by targeting those who need it most, giving a second chance to those who have lost everything. Natural disasters often wipe out habitats, but LuminAID lights can be used to rebuild.
LuminAID is a highly sustainable business, and it continuously works to improve and become more environmentally friendly. Its products do not require batteries, are safe to use, and have minimal effect on the environment. Stork says her company is "always looking to incorporate more sustainable materials. Our products are made of thermoplastic polyurethane, which is safe, non-toxic, and recyclable." This allows for LuminAID to provide both social and environmental benefits.
Interview
Anna Stork, Co-Founder
Keep this story going! Share below!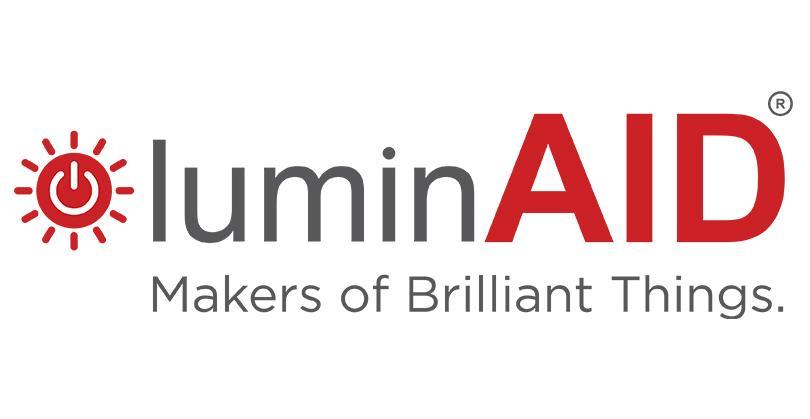 Headquartered in Chicago, LuminAID has been influencing the lighting industry since 2010 by offering portable, solar-rechargeable light products that are storage-conscious and cost-effective. LuminAID products are especially useful following natural disasters where power-outages are frequent and damaging to community light infrastructure.