See & Spray Select
John Deere
Overview
The See & Spray™ Select system benefits society in a multitude of ways. The innovation aligns with the Life on Land sustainable development goal from the United Nations. The system reduces the number of herbicides used by farmers by only targeting weeds and not spraying unnecessary areas in the field. Thi system helps "Life on Land" because herbicides can affect the ecosystem. Organisms can ingest these herbicides, and the toxins can then travel up the food chain via consumption. As a result, larger animals such as birds and mammals accumulate the toxins in higher concentrations. By reducing herbicides, the negative impact on life reduces significantly.
Authors
Daralyn Cavaness
Casey Marshall
Madison Abshire
Sarah Oubre
School
Nicholls State University
Professor

Christopher Castille
Innovation
On March 2, 2021, John Deere launched the See & Spray™ Select, the first commercially available John Deere machine, factory-equipped with advanced spraying technology. This innovation uses camera technology to detect color differentiation in the field and is ideal for small-grains farmers who manage weed pressure on fallow acres. As the sprayer moves across the field area, its cameras rapidly detect only green plants within the fallow ground and trigger an application to those plants. See & Spray™ Select applies 77% less herbicide on an average, which opens up the opportunity for farmers globally to save 77% on average of their non-residual, pre-emerge herbicide in these applications. With See & Spray™ Select, farmers can also use more expensive and complex tank mixes because they can use less product.
The See & Spray™ Select system is beneficial to society in many ways and coincides with the United Nations goal of "Life on Land." Extracting weeds is necessary as they absorb the nutrients required by the crop and make it difficult for the crop to thrive. Additionally, persistent herbicides can remain active in the environment for long periods, potentially causing adverse effects on non-target organisms and contaminating the soil and water. In some cases, compounds that result from herbicide degradation may continue to be toxic in the environment. That is why it is critical to use only the required amount of pesticide.
This business covers The "Life on Land" goal as herbicides can affect groundwater, other plant life, and organisms through ingestion of herbicides. These toxins can then travel up the food chain via consumption, and as a result, larger animals such as fish, birds, and mammals accumulate the toxins in higher concentrations. Thus, reducing the usage of weed killers reduces the negatively impacted life.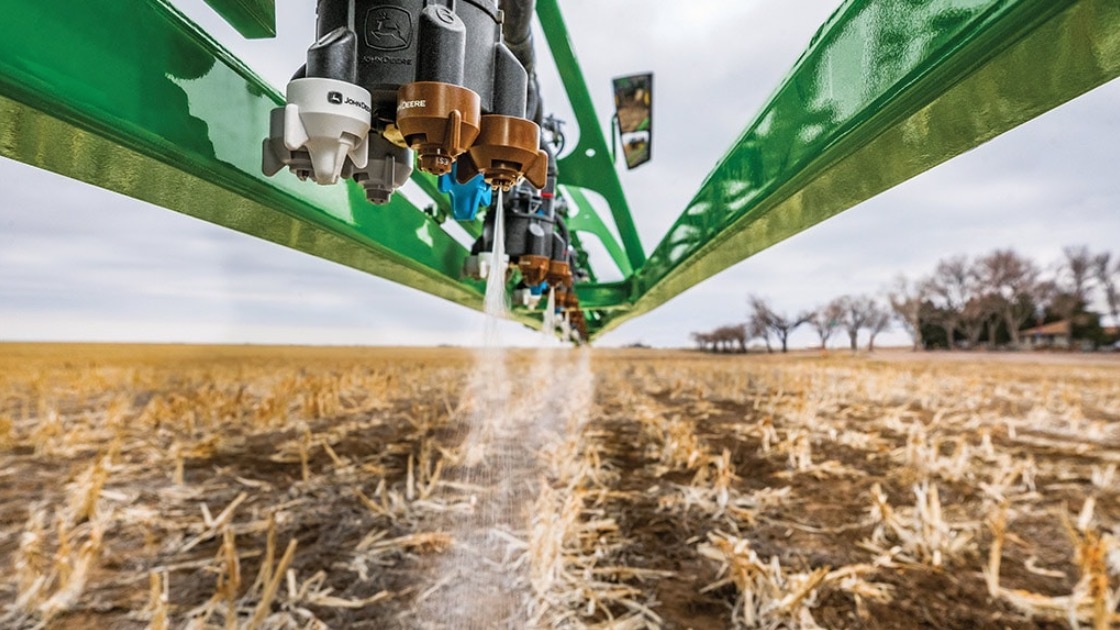 Inspiration
Behind the scenes of this innovation were two leaders: Perry Akin and David "Dusty" Rauschenberg. When asked about the motivation for creating See & Spray™ Select: Rauschenberg stated that the focal point of this innovation was to "help farmers reduce herbicide usage in the field, which reduces costs of inputs, which in turn helps bottom line tangible things: environmental impact, spraying fewer chemicals down to the weed." Deere and Company continue to inspire advanced technology for employees' and customers' benefit and to better the environment.
Not only was Perry Akin inspired by innovating the environment, but he was motivated by his team. One of his most gratifying moments while working with the company was seeing the See & Spray™ Select come to life. His team worked for years to create this innovation, but at times it felt impossible. The team needed to develop a sprayer that could withstand the terrain of the crop fields while targeting the weeds. He got an opportunity to see the innovation utilized first time in the cauliflower field in California. At that moment, progress finally became attainable.
Overall impact
Weeds will always be an obstacle, no matter the acres farmed. The excessive spraying of herbicides affects the level of soil quality. Consequently, this will negatively impact the plants farmers want to grow.
The sprayers include precision agricultural technology that gives data to operators or farmers to make important agronomic and equipment decisions. Money, time, decision-making, and fewer herbicides are benefits of this innovation. This technology allows every plant to be plentiful while using the minimum inputs. It also allows for cost reduction on herbicide input expenses. This innovation saves an estimated 90-95% in the cost of weed killers for farmers. In addition, farmers can take advantage of more expensive herbicide mixes without wasting as much product. Recently research has also been conducted behind the See & Spray™ Select, which shows that weeds sprayed with complex tank mixes with at least two modes of action are 83 times less likely to form herbicide resistance. Hence, there is less water hauling and less time to fill the sprayer. In turn, it decreases labor expenses.
Business benefit
The See & Spray™ system benefits the environment and the company financially. By creating this innovative product, John Deere has experienced an uptick in its net sales and revenue. In the past year, they have increased its sales from $36 billion to $44 billion. This increase follows the release of the See & Spray™ and other company innovations.
In addition to financial advantage, the See & Spray™ Select innovation improves employee morale and wellbeing. The employees have a very positive view of the product because it satisfies the consumer while generating revenue. If the customer is satisfied with the product, they will continue to give their business to John Deere, creating customer loyalty and continuous revenue growth.
It also gives the employees a feeling of accomplishment because they can do their job while bettering the environment. Since they feel their work is meaningful, they are more motivated to work and create more innovative products. This feeling, in turn, benefits the company because its employees are consistently motivated and dedicated.
Social and environmental benefit
Innovation is crucial to any advancement in society. John Deere manufactures the See & Spray™ Select responsibly to solve collective problems sustainably and efficiently. The See & Spray™ Select was evaluated internally from a sustainability standpoint, and studies show positive results in reducing greenhouse gas emissions over time. Consequently, it brings immense advancements in reducing the carbon footprint of farmers.
Furthermore, there are consistent efforts to update the technology manufactured by John Deere. The See & Spray™ Ultimate, recently launched in 2022, detects weeds among corn, soybean, and cotton plants rather than just using them in fallow ground. Artificial intelligence will also give farmers information on how many weeds are and what type of weeds are in their fields. John Deere will continue their efforts to make improvements and innovations to agriculture technologies and impact the environment in ways that align with the UN goals.
Interviews
Perry Akin, Program Manager at John Deere
David Rauschenberg, Program Manager at John Deere
Keep this story going! Share below!
John Deere
Thibodaux, Louisiana, Worldwide
Business Website: https://deere.com
Year Founded: 1837
Number of Employees: 10000+
One of the greatest manufacturing companies, Deere & Company, manufactures industrial pieces of equipment and farm machinery. Their intelligent machines have revolutionized the construction and agriculture industries. The forward-innovative technology has delivered results that customers can see in the field, on the sites, and in the books. Deere & Company owns over 25 brands, and it reaches out across the world with factories and facilities in more than 30 countries.