x-runner Sanitation in Lima
Authors
School
Professor
Global Goals
Keep this story going! Share below!
Summary
x-runner installs affordable dry toilets users can put wherever they want in their home.
Innovation
Lima is the world's second most water-deprived capital city – but waterless toilet startup x-runner is trying to change it.
x-runner believes that the dry toilet is the future of sanitation for the entire world, where water scarcity is increasing rapidly. x-runner operates in a country that lacks public investment, has an abundance of informal properties, geographical challenges, water scarcity and inadequate sanitation design.
These toilets separates urine from feces. The feces fall into a separate container and the client pours a handful of sawdust over it, to dehydrate the feces eliminating bad smell, insects (flies and cockroaches) and diseases. It includes a service to collect the waste every week, then it is recycled into high quality compost that is used to enrich soil.
This organization helps to the following SDGs:
Goal 3: Ensure healthy lives and promote well-being for all at all ages: It helps increasing access to sanitation reducing many infections and viruses.
Goal 6: Ensure access to water and sanitation for all: It has a direct impact on the goal 6.2: By 2030, achieve access to adequate and equitable sanitation and hygiene for all and end open defecation, paying special attention to the needs of women and girls and those in vulnerable situations.
Goal 11: Make cities inclusive, safe, resilient and sustainable: It provides basic services that are not offered by the government.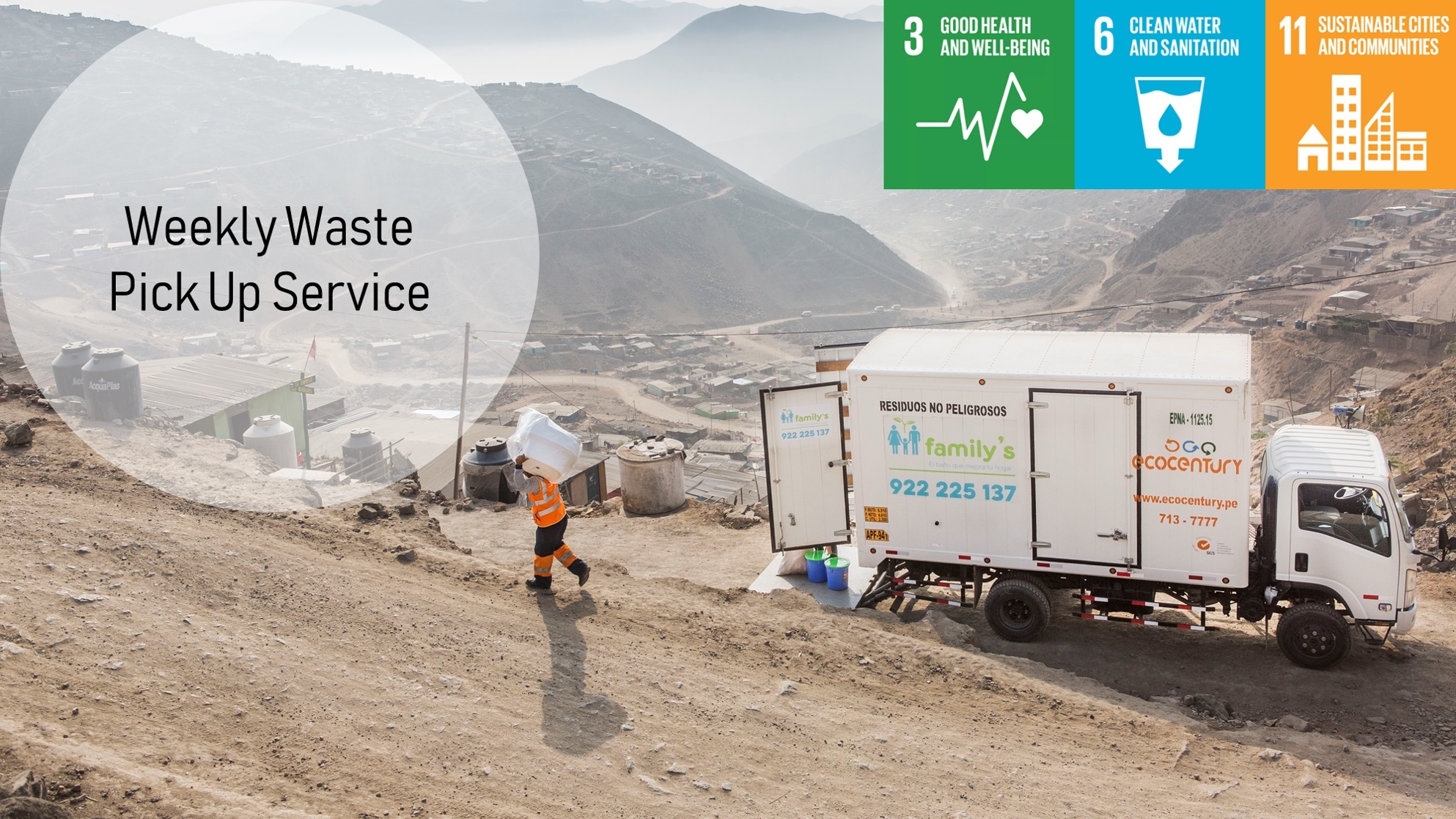 Inspiration
It all started when both founders Jessica Altenburger and Isabel Medem wanted to start this innovation business in India, but it didn't work due to cultural barriers, so they decided to try in another country.

Once in Lima-Peru, they decided to try with a small group of people in one of the poorest districts of the capital. Once this little project was finished, none of the customers wanted to leave the service.
Overall impact
Peru has one of the poorest sanitation indexes in Latin-America: almost 10 million people, 30% of the total population, lack access to an adequate solution.
In Lima, a city challenged by the deficient and unplanned population growth and physical water scarcity, more than 850,000 people living in marginalized areas lack access to a proper sanitation facility. They have to use pit latrines or even practice open defecation as alternatives.
The complexity of the problem in Lima required a socially inclusive and environmentally sustainable approach.
Business benefit
In the first years, the main benefit was the experience acquired, the feel of doing the right thing to the society, and the worldwide recognition of the members of the organization. x-runner was the first to implement a domestic dry toilet service with a system based on urine diversion technology in South America which led to winning more than 10 national and international awards and recognition.
x-runner is a team of 24 Peruvian professionals with four years of experience working in the sector. The majority has been working in x-runner since the beginning, having had the chance to grow within the organization professionally.
Nowadays, it is expected to generate profit and to expand to other communities in the country. The charge for the toilet and the pickup service is around US$13 monthly, which allows the organization to keep its operations. They have more than 4,500 beneficiaries, 150 intervened communities and 93% satisfaction rate.
Another source of income is the selling of compost collected from the communities. This is a field not exploded yet but it will be another significant source of income.
Social and environmental benefit
With this innovative waterless sanitation system, there is an instant improvement in familie's health, their general living conditions and hygiene.
Due to inadequate sanitation, households are exposed to fecal pollution which causes diarrhea, urinary infections, and other related diseases.
On the other hand, the environment is compromised as soil and nearby water sources are contaminated.
This situation perpetuates a vicious cycle of poverty and disease.
Interview
Raul Briceño, CEO
Business information
x-runner
Lima, PE
Year Founded: 2012
Number of Employees: 11 to 50
x-runner is a social enterprise that provides non-conventional innovative and accessible sanitation solutions to low-income urban households which lack access to potable water and a safely managed toilet facility. Currently, it serves over 4,500 beneficiaries in more than 150 different human settlements in the south of Lima.