Kayumanggi Organic Nurturing Nature and Human Dignity
Authors
School
Professor
Global Goals
Keep this story going! Share below!
Summary
Kayumanggi Organic is a social enterprise that aims to produce 100% organic products with sustainable farming practices. They collaborate with the local Filipino farmers to create these products and help them develop their village. Based on our interview, they have offered products varying from wild ginger tea, raw coconut sugar, raw coconut sap, raw coconut oil, golden nectar, cacao reál, and homeland coffee. In the process of creating the products, there is no depletion of natural resources. Most byproducts are used as fertilizer or repurposed to assist the community. The profits of Kayumanggi Organic go back to the business and, more importantly, the farmers and their community.
Innovation
Typical business-to-supplier relationships are usually one-way. It is a prevalent habit of businesses to ignore the suppliers until or unless they need something. Kayumanggi Organic opposes this type of relationship. They aim to shift the original paradigm of how people work with suppliers.
According to one of the co-founders, Benjamin, "Everything we do, we want to increase the dignity that Filipino people feel about themselves.
Farmers are imperative for the future supply of food, so other resources ergo should be respected. This is surmised in Benjamin advocating this message, "Farmers should not be employees. They should own their own land and have a higher dignity in their work."
In essence, Kayumanggi Organic trains their suppliers in ways ranging from farm consulting to transforming inputs into final goods. They promote the value of long-term thinking through their initiative of being part of an eco-village. Training farmers to plant a myriad of goods and create sustainable products helps create a sustainable community, which is a place that creates a life for all people in the community via generating wealth from natural resources in the most sustainable way. When later asked about where their relationship with the farmers will be in the coming years, Benjamin stated that he hopes that farmers will learn to be proud of their work and be role models to society.
Additionally, Kayumanggi Organic takes pride in its organic and natural products. According to the co-founder, they are a low technology enterprise that focuses on creating products with the least chemicals possible. For example, when harvesting the raw coconut sap, they create an incision during the morning on the tree and let it drip until the evening. After that, they let the tree rest and move on to another. The byproducts of their other products, such as the coconut husks from getting coconut sap, sugar, and oil are used as doormats and brushes, sold as a fire starters, or used as fertilizer. All of this is seen in their belief that if they offer more natural products, consumers will re-establish their connection with mother nature.
These models circle back to Kayumanggi Organic's vision: to uplift the dignity of Filipinos everywhere; to produce high-quality and natural goods; and to promote living consciously with each other and nature.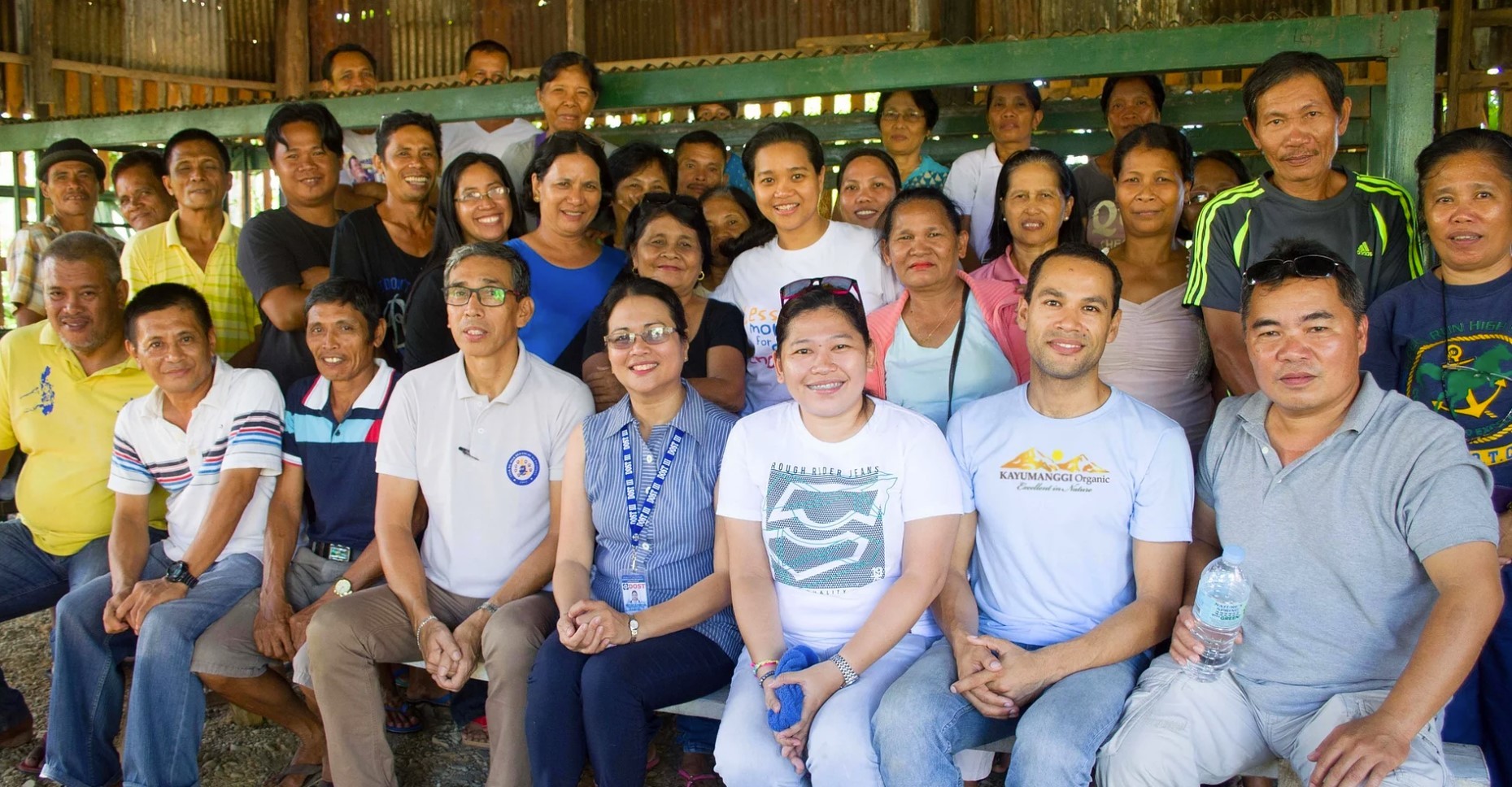 Partner Farmers in Tago, Davao del Sur, Philippines
Inspiration
"To support the Filipino people and their progress, and the development of their country."
-Benjamin Bernabela
Benjamin came from the Netherlands. He went to the Philippines in 2013 to volunteer for Gawad Kalinga, a community development foundation that aims to provide programs to eliminate poverty in the Philippines. Initially, he volunteered for only six months since he had planned to continue his Ph.D. after. When he saw the current situation that Filipinos were experiencing, he was "honestly shocked by how much suffering, poverty, and sickness there is in the country. The people were quite unhealthy because they did not have proper meals to eat." Nevertheless, he saw the hidden potential that the Filipino people had to offer.
His co-partner, Amalia Morante, shared the sentiments when she visited her godparent in Surigao del Sur. She also saw how poor the coconut farmers were in the area. They almost have no money, no way for them to bring their children to school, and they have no proper toilets. Since some of them do not have other jobs, some were affiliated with terrorism as a way for them to make a living since they have no other choice.
Amalia was already exploring the uses of coconut sugar as she thought about creating healthier alternatives before the business started. With the current problem that the coconut farmers were having, she thought about creating coconut sugar with them to earn money for themselves. Thus, Kayumanggi Organic was born. The inspiration behind the business's name came from the word "kayumanggi," which refers to the brown skin color of the Filipino people and the organic and healthy products that these local farmers make. Filipinos tend to view local products as inferior compared to products made by international brands, so Kayumanggi Organic was chosen as a way for Filipinos to be proud of local products.
Overall impact
Being a social enterprise and part of the Gawad Kalinga community, Kayumanggi Organic has a mission to end poverty by supporting Filipino farmers to rely on their own resources and take care of the environment by implementing sustainable practices.
Benjamin believes that the company's impact on everyone is huge, regardless if one is the farmer or the consumer. "I believe so firmly in the possibilities of this country, and I totally believe in the capacity that we have to contribute to that," says Benjamin. His belief in the 'possibilities' is greatly manifested in how much the company had already given to the community of Angat, Bulacan. Because the business only uses local ingredients and employment is only given to local farmers, the business greatly contributes to the country's economy and, more importantly, provides stable jobs for the farmers. As mentioned before, Kayumanggi Organic only uses its own resources, which means that the profits only go back to both the business and the farmers.
Benjamin confirmed that the farmers' lives have improved. In fact, farmers feel much happier and fulfilled when they work. The farmers have already built some of the bamboo homes in the eco-village. The community will slowly continue to flourish until they reach the goal. "They have become much more health aware and are eating much more vegetables and fruits, and less meat and chicken (unless organic) and processed foods," he said when asked of the food that farmers consume. Furthermore, the improved living conditions of farmers have allowed them to send their kids to school. in the future, Benjamin plans to "build a school" in the eco-village so that the children would be able to save on travel.
The business model of the company is also beneficial to society as well. Only using organic ingredients would promote a healthy lifestyle since processed food is common in a Filipino diet. These types of foods contribute greatly to the risk of getting one of the many diseases that are common nowadays.
Business benefit
From its humble beginnings in 2014, Kayumanggi Organic has grown to be a formidable social enterprise that can stand on its own despite the ongoing pandemic. Having started from creating coconut sugar, the enterprise has been able to expand its product line to about six products.
Kayumanggi Organic initially started selling its products in small and local markets. Due to the COVID-19 pandemic, they looked for other modes of operating. Currently, they have sealed a deal with Rustan's, a Filipino chain of upmarket department stores. Likely, the consumers can find their products at Rustan's flagship premium grocery shop, The Marketplace. The co-founder, Benjamin, also shared his interest to partner up with Robinsons Supermarket to garner more reach.
In the coming years, Kayumanggi Organic aims to expand its operations by acquiring local ambassadors to increase traffic and engagement in the rising health-conscious market here in the Philippines. They also want to explore the potential idea of exporting their products to neighboring countries. Another idea the cofounder wants to explore is to create similar social enterprises in other countries with the same business model. Lastly, they aspire to either create an international brand to reach out to other Filipinos across the globe, or develop an international brand everyone can relate to that spreads human dignity and love of nature.
Social and environmental benefit
The innovation allows farmers to produce their products without harming the environment. Through creating coconut sugar, one of the company's main products, with innovative methods, they oppose the mass production methods of refined sugar, which imposes several hazards to the environment. Because traditional sugar production requires a lot of water and uses harmful chemicals, a significant amount of wastewater is released into the environment. To avoid this harmful effect, Kayumanggi Organic never uses toxic chemicals and has practices to reduce waste during production.
Another two purposes of the innovation by Kayumanggi Organic has are to provide a way for farmers to produce their products sustainably and to bring positive impacts on the health of their consumers. People nowadays are still not entirely aware of the adverse effects of consuming processed sugar, nor the different chemicals that go into their food and beverages. Consuming any food containing processed or refined sugar may increase one's risk of getting type 2 diabetes, higher blood pressure, different types of cancer, and many more diseases that would be costly in the long run. Kayumanggi Organic sells products free from harmful chemicals and processed sugar, making their products safe alternatives to consume.
Interview
Benjamin Bernabela, Cofounder
Business information
Kayumanggi Organic
Bulacan, Central Luzon, PH
Year Founded: 2014
Number of Employees: 11 to 50
Kayumanggi Organic is a social enterprise that strives for authentic Filipino excellence. They enable farmers to learn sustainable farming practices and techniques to transform their products into organic and healthy items. Both parties help co-create sustainable communities that uplift local farmers by helping them create high-quality local products from their labor. Through their collaborative efforts, Kayumanggi Organic is contributing to several of the SDGs: no poverty (SDG 1); good health and wellbeing (SDG 3); sustainable cities and communities (SDG 11); and responsible consumption and production (SDG 12).