Negotiating the Digital Divide for Retailers
Zid Holding Company
Overview
Despite the fast advancement of electronic commerce, some challenges face individuals and traditional retailers interested in starting their electronic commerce businesses. Zid enables and facilitates the road to electronic commerce adoption by offering educational, technical, and operational support to their clients. Their social mission is to provide non-technical retailers with an improved digital business experience that fosters and empowered their growth. This practice has contributed to the 8th Sustainable Development Goal, which is promoting sustained, inclusive, and sustainable economic growth, full and productive employment, and decent work for all.
Authors
Wejdan aleidan
Hanouf Alatiq
Alanoud Alrashidi
Balsam Bahatheq
School
Dublin City University Business School
Professors

Roisin Lyons
Gavin Brown
Innovation
Since 2017, Zid Holding Company was committed to encourage and empower the usage of e-commerce for its witnessed promising benefits in a way that will be affordable and manageable for people with no business or technical background.
First, they aim to disseminate knowledge and offer educational support to retailers. Zid Holding Company utilizes various social media channels to introduce e-retail and digital marketing concepts in an easy way for even a novice to understand and find appealing. Zid founder, Mr. AlDrrab, has emphasized the importance of this educational part that Zid is undertaking, noting that "One of the mandates of being a newcomer in the industry, you need to educate the market about it and take some leadership action." (AlDarrab, 2020).
Zid Holding Company continued with their educational role within Zid Academy. New e-commerce retailers can benefit from training courses, meetups, and professional support and consulting hours with experts to offer the retailers tips to improve their business.
Secondly, the Zid technical team create an entirely professional online store for their retail client. This team will troubleshoot, monitor, and improve the store, while the retailer can enjoy the user-friendly tools for easy management. Zid also facilitates all the legal procedures and registration to protect retailers' rights once they have created their store.
Regarding logistics, Zid Holding Company wants to ensure their clients have the autonomy and a variety of options in choosing whatever service provider they feel comfortable with. Therefore, Zid Holding Company has partnered up with 26 service providers in different fields; those service providers offer their pre-arranged services in payment, shipping, and delivery services. Retailers are automatically set up to accept all primary payment methods. They directly integrate their stores with their chosen delivery company as soon as they create their Zid store, compliant with the highest safety and security standards.
Finally, all that comes with an affordable annual price and a fully Arabic language supported website. All are intended to facilitate, encourage, and invite people to start their business or expand their growth, hoping that they will take care of all the complicated matters (Zid Holding Company, 2020).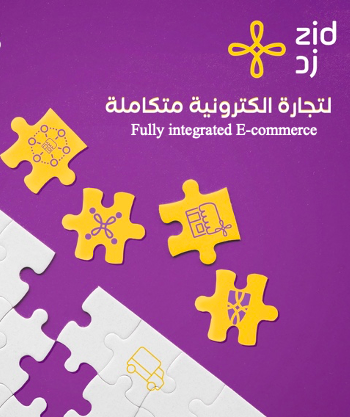 Inspiration
It emerged through tailoring insights from successful international e-commerce platforms to fit and overcome local challenges and address the Saudi region's weak points (AlDarrab, 2020). The company's idea began when the founders noticed that many micro and home-based businesses could not afford to establish an electronic website, nor can they afford a web-development team to create it. Therefore, the idea of designing a service that can be developed as a full solution for a retailer, which empowered them to continue it and grow their business, sparked their interest. Zid Holding Company founder Mr. Mazen AlDarrab said: " by this, the cost will be affordable to those small businesses and will only pay for a subscription fee." As their concept grew, the founders noticed that this was not encouraging for micro and home-based business alone, but existing traditional retailers as well (AlDarrab, 2020).
Overall impact
Overall, the concept's active promotion throughout social media channels resulted in reaching over 4000 retailers with active online stores within less than three years. This created a thriving local trading environment. The educational role has aided the retailers in supporting business growth and refining their e-commerce mindset and monthly meetings where consultants exchange their accumulative knowledge and experiences, which opened windows for partnerships and further opportunities. Thus, Zid Holding Company has created a digital retail community, ecosystem, and support system.
Business benefit
Zid Holding Company, as an enablement company, has contributed positively to the market's flourishment, which also contributes to the 8th SDG's 3rd target. In terms of economic growth, it succeeded in attracting aspiring entrepreneurs and traditional retailers in 16 different retail categories within nearly three years. Those online stores' active trades managed to generate 1.6 billion SAR worth of sales that was fully generated within the Saudi market. While in terms of job creation, Zid's role in increasing the employment rate, according to Mr. AlDarrab, on average: one online store secures 3-5 full-time jobs. Thereby, approximately 18,000 full-time jobs have been secured to date (AlDarrab, 2020).
Social and environmental benefit
Zid Holding Company has started a special training Bootcamp for running and marketing e-commerce stores to fresh graduates and job-seekers. After completing the program, they refer their newly trained graduates to retailers, attracting them to hire those graduates as they are already equipped with all the needed tools to run their online store. They recently celebrated the first 100 graduates while aiming to reach 3,000 by the end of 2021 (AlDarrab, 2020).
The energetic and young-spirited environment Zid Holding Company created has succeeded in stakeholders within and around the company feel passionate about the digital landscape and touched by the level of devotion and excellence they seek and show.
Finally, Mr. AlDarrab has given a glimpse of how he envisions the future for Zid Holding Company by saying, "We want to become THE enabler to any retailer who wants to start their business, either existing retailers or new ones." (AlDarrab, 2020).
References:
AlDarrab,M. (2020) Interviewed by Wejdan Aleidan for Aim2Flourish Global Initiative. 4 November, Available at: https://youtu.be/-0uxrtN3U18
Zid Holding Company (2020). Available at https://zid.sa/en/about-zid/ (Accessed: November 10, 2020)
Interview
Mazen AlDarrab, Zid Holding Company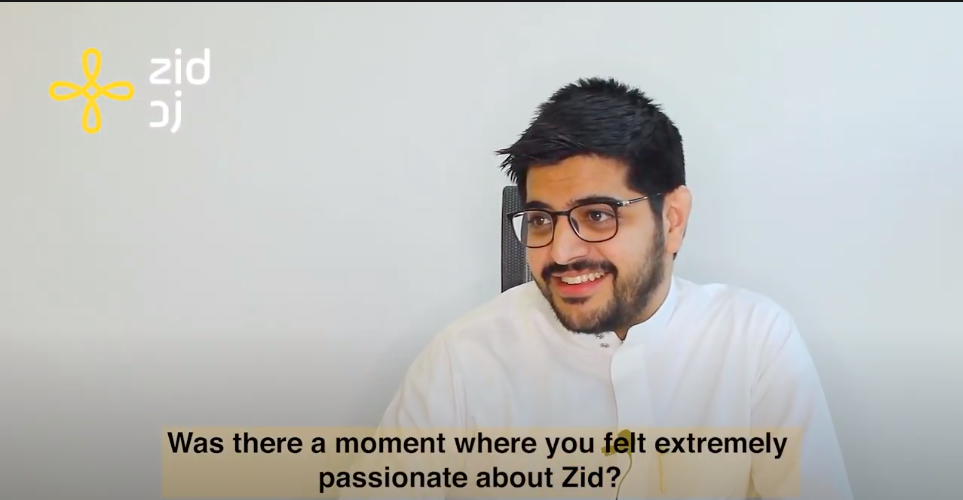 Keep this story going! Share below!
Zid Holding Company
Riyadh, Riyadh, SA
Business Website: https://zid.sa/en/
Year Founded: 2017
Number of Employees: 51 to 200
Zid is an e-commerce enablement company founded in 2017. Its main mission is to enable and encourage new and existing retailers to utilize e-commerce and increase their business growth.