Leaders In Clean Mold Remediation
MoldPro LLC
Overview
What makes MoldPro stand out from other mold removal companies is its chemical free remediation processes. MoldPro initially started out using toxic chemicals and paints to kill or cover mold spores. After experiencing the negative affects those chemicals had on their employees and the fact that there is no guarantee that those chemicals will succeed, MoldPro transitioned to a new method. For the past several years, MoldPro has used a dry ice blaster to remove black mold.
Authors
Aidan Gallagher
Foster Hayes
Curtis Stephens
School
The University of Toledo
Professor

Joe Cooper
Innovation
MoldPro uses dry ice pellets to blast away black mold at the root, in order to prevent further growth. This process avoids chemicals and allows customers to be able to reenter their home immediately after the removal. Chemical processes remove only the superficial mold, which can allow for regrowth. Moldpro's process removes the mold from the root instead of just removing the superficial mold.

We believe that Mold Pro helps to fulfill UN SDG 3: Good Health and Well-being. One specific target in that goal is "by 2030, substantially reduce the number of deaths and illnesses from hazardous chemicals and air, water and soil pollution and contamination." Mold Pro describes themselves as house doctors. They seek to clean customer's homes from mold spores which are found to be a hazardous airborne substance. They see the harm in using chemicals to remove those spores, as chemical usage is simply trading one toxin for another. Mold Pro is actively trying to improve the quality of people's lives by healing their homes of mold spores in a safe manner that allows people to return home and experience a higher quality of life.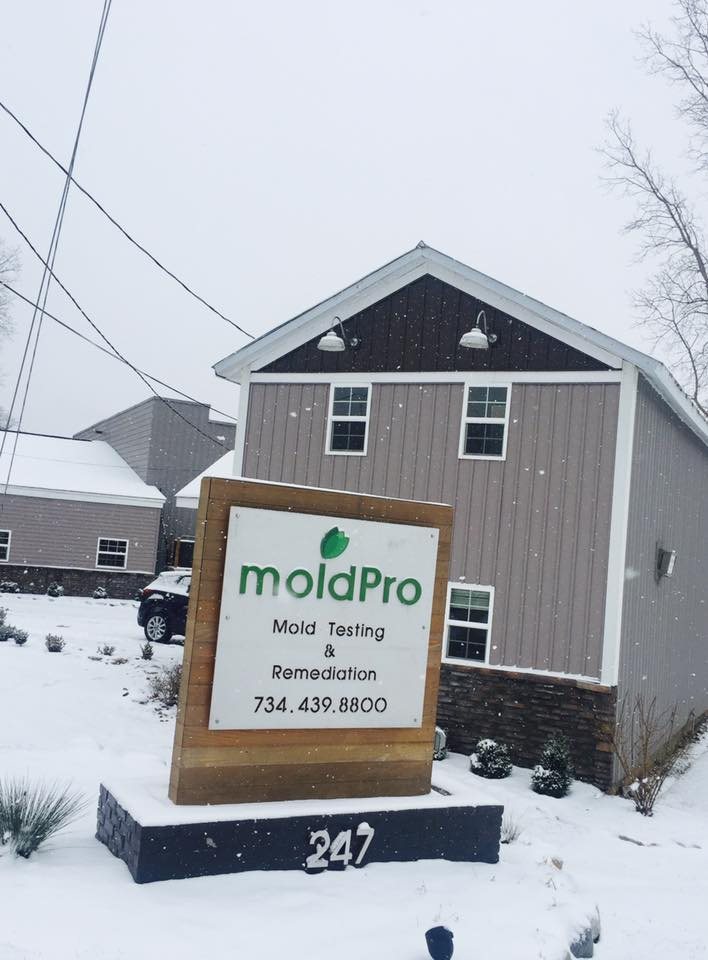 Inspiration
The owner, John Du Bois, initially started out using toxic chemicals and paints to kill or cover mold spores. He made the switch to dry ice after experiencing the adverse effects that the chemicals had on his employees and himself. When asked why MoldPro stopped using chemical based solutions, John said, "We were just sick of using chemicals. Although this method may be cheaper, the health effects were not beneficial." John mentioned coming home feeling sick, groggy, and tired. His employees also felt the effects of the chemicals on their health and well being. John decided to research other options and decided to invest in the machinery needed for dry ice blasting. Regardless of cost or sacrificing efficiency, John made the choice to enact a healthier mold removal process.Today, MoldPro uses a dry ice blaster to strip away mold from the applied surface. In addition to the air compressor used to power the dry ice blaster, the equipment cost for a single mold removal crew can cost upwards of $50,000. "It takes much longer to use dry ice, what one person can do in an afternoon, one guy can fog a room. But that would take us two days to do. Fogging covers it much faster, but you aren't removing it, you are killing it in place, and some of the effects are going to be there until it is removed fully". Though it is faster to attempt to treat the mold using chemicals, John realized the impact it made when he switched to using dry ice. John can now remove mold in a home and not worry about his employees or clients dealing with the chemicals. To John, doing a job well and without risk is worth every investment.
Overall impact
Once Mold Pro LLC transitioned from using chemical based remediation to the Nitrogen blasting method there were significant changes. The short term effect was how much quicker a family was able to return to their home from when the remediation process started and how much cleaner their home was from using the dry-ice blaster. Long term, the greatest effect is on Mold Pro's employees. They can work in much safer conditions and are not being harmed by toxic chemicals. They noticed an immediate improvement in their health once the transition was made from chemical solutions. Clients also experience long term effects because of this process. Dry ice blasting removes mold spores at the root, eliminating any future growth. This gives the customer peace of mind, eliminating worries of sickness for themselves or family members. Mold Pro has numerous testimonials from clients saying they have forever changed their lives, from children who had severe eczema to adults who had breathing problems.
Business benefit
After the company switched from using chemicals to dry ice, they found that they were getting more business. They are always booked and have found themselves in a new market, one for chemical free cleaning. This is a growing market in many areas. People are finding that non-natural chemicals in anything are not good for the environment and, more importantly, themselves. MoldPro found a need in the market in their area of SE Michigan and NW Ohio where there is no one else doing work like this.
The cost to buy the dry ice is about the same if they were to use chemicals. The difference is in the startup. To use dry ice, the company had a higher initial investment. The price of the machines is much higher than the ones used for chemicals. It also takes longer to clean the home of mold when using dry ice. This mean that there are more man hours in every job. The cost of the job goes up but the workers are happy and healthy. This can keep workers longer and attract more skilled workers.
Social and environmental benefit
When cleaning a house of mold, MoldPro is creating a better environment for the people who live there. This may help with health issues that the people may have or make the house more livable for the them. When this is done with chemicals, the residents may not want to come into the house for some time so as not to breathe in the toxins that get rid of the mold. MoldPro does not use chemicals for this reason. They wish for the residents to be able to come into their clean home after the job is done without worry of the toxins. This makes everyone who is a part of the job, and the home, happy. The workers do not have to breathe in the toxins while working and the residents can come in once the work is done. When using chemicals, a company could use bleach or chlorine which are not very friendly to the environment. The dry ice blasting process is better for the environment within and around the home. When using dry ice, a company is not adding anything new to the area. Dry ice is frozen carbon dioxide. When is warms up it just goes back into the air as a breathable gas. Carbon dioxide is a greenhouse gas but its effects on the indoor environment are far less concerning than bleach or chlorine.
Interviews
John Du Bois, Owner
Rebekah Du Bois, Manager
Keep this story going! Share below!
MoldPro LLC
Milan, MI, US
Business Website: http://moldprollc.com/
Year Founded: 2011
Number of Employees: 11 to 50
MoldPro is a mold removal business that seeks to improve the quality of customers' lives through safe, environmentally friendly, and efficient processes. The company was founded in 2011 by John Du Bois in Milan, Michigan. Since 2011, the company has grown to about 20 employees (some of which are employed seasonally) and services the majority of Southeast Michigan and Northwest Ohio.We interviewed the owner John and his wife Rebekah at their office location. John manages each mold removal crew, gives quotes and estimates for new jobs, performs air quality tests, and oversees the company as a whole while Rebekah works in the office and handles marketing.