Ethically Kate Kiwi Entrepreneur Assisting Business Owners to Be More Sustainable
Author
School
Professor
Global Goals
Keep this story going! Share below!
Summary
Ethically Kate is a business based in New Zealand that supports business owners and consumers in their sustainable journey, contributing to the UN SDGs (11. Sustainable Cities and Communities, 12. Responsible Consumption and Production and 13. Climate Action). It offers business owners consultations about the best sustainable practices in the market and personalised sections to determine what methods suit the business and how they could implement them into their business models. It also creates engaging content to promote sustainable businesses. For consumers and the public in general, it offers online workshops, tours across the country, product reviews in which Kate shares her expertise and knowledge in the space.
Innovation
Ethically Kate has multiple services that make up its business model. For businesses and companies, it offers consultations in which Kate guides the business owners in their sustainability journey. Throughout the years, Kate has learned a lot about businesses and the best sustainable practices that work in the space. For Kate, business owners must understand what sustainability means. Kate claims that sustainability is a process that repeatedly happens without leaving adverse effects on the environment. In her experience, sometimes business owners focus on the environmental side of sustainability, leaving out the personal and financial side of the business. "I see that all the time, some businesses that I have worked with in the past do not exist anymore because they did not understand that they need to pay themselves a salary and take time aside of work, so they do not burn out." Kate's job is to guide her clients so they understand that the environment is one element of sustainability. In addition, Kate creates content for businesses to promote their products. Most of the time, consumers are not aware of these sustainable products and services. For a small business or a startup, this is an effective tool to get their brands out there as they can reach out to more clients through social media, blog posts, and reviews. Kate also offers professional development courses/ events, online workshops, and tours across New Zealand to educate the public about the skills and tips to live a more sustainable life - "Most of the time people are willing to make a change, but they do not know how to or where to start."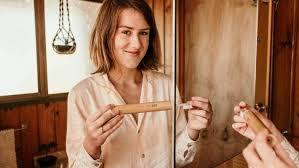 Inspiration
Kate Hall is a New Zealand entrepreneur who has spent the past six years educating business owners and consumers to incorporate sustainable practices into their businesses and personal lives. Kate is an activist, educator, speaker, and blogger who works tirelessly to advocate for better daily habits in a more sustainable and ethical lifestyle. Kate grew up in a family where composting and purchasing items from second-hand stores were part of their family lifestyle. When Kate was ten years old, she spent two years in Mongolia with her family, where she realised the responsibility that we all have in our global community, especially for her coming from a first world country like Aotearoa-New Zealand. "I learned during my time in Mongolia that we need to look after our global community." Kate has always loved fashion, but in 2015 everything changed after she watched a documentary called "The True Cost", in which she realised the real impact of the fashion industry has on the planet. "It made me aware of how I consume clothes and how I am part of the problem as well." This documentary led Kate to ask herself multiple questions: who made my clothes, who grew my food, etc. Ethically Kate began in 2015 after Kate watched the documentary. In the beginning, Kate had no idea how to use social media to get her message across to the rest of the world. In 2018, Kate created her blog and started to do a lot of writing for sustainable companies, and by the end of 2019, Ethically Kate had become Kate's full-time gig.
Overall impact
The impact of Ethically Kate depends on the service that her business offers. For example, the desired impact when Kate runs the professional development courses and speaking events with companies is to make them think differently and create a mindset change that can lead to a snowball effect that starts by making small changes. With the number of speaking events and seminars that Ethically Kate runs every year, Kate hopes to make people think about sustainability and help change the culture around sustainability in the long term. This step can open the conversation in the way that sustainability becomes less judgemental and more integrated into the business community. Through her speaking events, Kate hopes to inspire her audience to think in a different way, especially those individuals in managerial roles. "If you can inspire individuals who are decision-makers to change their mindset then they will go on making changes because they know better than anyone else how the business works." The impact for the businesses that Ethically Kate does consultations and promotions is to make sure that the public knows that sustainable businesses exist and offer sustainable products and services that are difficult to find in mainstream supermarkets. The immediate impact that Kate has observed over the years, especially for small businesses that do not have the funds and capacity, is the encouragement that customers give businesses through comments and feedback that often come through the social media posts and reviews that Ethically Kate does for each business. These validations motivate small business owners to continue with their work. Seeing the positive feedback that business owners receive is also a reassurance that Ethically Kate is going in the right direction.

Business benefit
One of the benefits that Ethically Kate offers to business owners and the public is its extensive experience in the sustainable space in New Zealand. Over the past years, Kate has worked with multiple businesses giving her first-hand experience of what works and what does not work in the sustainable space. "I run consultations section to guide business owners as I do not want them to reinvent the wheel and learn from what I know has worked." Kate's experience and skills are a service that Ethically Kate offers to all of its clients and the audience that follow and listen to her speaking events. When Kate can, she does tours across the country, sharing her experiences and educating her audience that a sustainable life is possible and that we can live in communion with the environment. "In 2020, I ran a six-week tour across New Zealand to share my knowledge on sustainable practices and to inspire my audience to live more sustainably."
Since 2015, Kate has been managing on her own the entire business. However, moving forward, Kate is analysing how to grow her business and build a team around her so she could take more work on board. In addition, Kate is preparing a new website that is easier for people to use and a website that is more visible and accessible. Kate will also launch new eBooks and online workshops on her new website. These new changes will make this business more sustainable for Kate as a person as she has sacrificed a lot of her personal time in her business. Even though Kate's work and life are one, she desires to have more capacity for her friends and family and grow her business more sustainably. "I am working on it because I would love to grow my sustainable business more sustainably."

Social and environmental benefit
When Ethically Kate shares products and services reviews on her social media platforms, the goal is to reach out to customers that business owners would not be able to reach otherwise. Kate can reach out to a broader audience as she has built trust and recognition with her audience. One of the barriers for business owners is to get their brand known, "sustainable businesses struggle to get their name out there, especially in platforms like Google." Before Kate promotes a business, she scrutinises a business and makes sure that its values align. "I screen the brand very carefully and make sure our values align before I agree to do any work." Once Kate has done the preliminary work and research about the company, she creates content to share with her audience on social media and her blogs. Ethically Kate has done numerous partnerships with different businesses to showcase their services and products, which sometimes are unknown to the public.
Additionally, when Kate does her speaking events, the benefit to the audience is the knowledge and tips that Kate shares. "My desired impact when I do my speeches is to make the participants have a mindset change that can lead to a snowball effect of thinking about life in a different way." The how-to seems to be the issue because most people are willing to make a change and live a more sustainable life but do not know where to start, and that's the job that Kate has done over the past six years. One of Kate's tips, when she speaks, is to take small steps at the time and make the journey more sustainable. It takes time for a person to adjust to a sustainable life, and Kate does not recommend rushing the process; instead, she advises taking step by step "It is not sustainable to change your habits and way of life in one night because it is a learning process that happens gradually."

Interview
Kate Hall, Founder
Business information
Ethically Kate
Auckland, Northland, NZ
Year Founded: 2015
Number of Employees: 2 to 10
Ethically Kate aims to educate business owners and consumers to make environmentally sustainable decisions that will positively impact people and the planet. Some of the services offered include business consulting, professional developments courses, speaking events, and content creation to promote sustainable businesses. In addition, Ethically Kate runs tours across New Zealand in which Kate Hall, Founder of Sustainable Kate, shares her expertise and experience on the steps required to implement sustainable practices for both consumers and business owners