Ilya Ilya: The Future of Sustainable Showering
Authors
School
Professor
Global Goals
Keep this story going! Share below!
Summary
Meet Ilya, a company committed to promoting sustainable living through innovative solutions. Co-founded by Simon, Ilya has developed a cyclic shower that reduces water consumption by 90%. While showering is a daily activity that often goes unnoticed, it can have a significant impact on both the environment and our bills. In France, this could save 800 Olympic-sized swimming pools in one day! For a family of four, this represents a savings of 64.8 m³ of water and €195 per year.
Ilya's cyclic shower is designed to address this issue by offering an eco-friendly solution that doesn't compromise on the shower experience. Ilya aims to put an end to this water waste
Innovation
Saving 90% of the water normally consumed is a truly beautiful promise. Ilya makes it possible with its direct installation into the bathroom's water system. The installation process is straightforward and requires minimal effort.
Using Ilya is simple: users can activate the recycling mode with the push of a button, and the water is then delivered to the shower in a closed circuit. The water that is drained is stored in a tank where it is cleaned using a filter and a UV lamp. Simon and Antoine, the ingenious designers of this system, recommend using the open circuit water for draining soapy water.

Cyclic showers are not a new concept, but they are experiencing a resurgence. Instead of being a luxury item, they have become a necessity in today's world where water is a precious resource.
This innovative product offers an exciting opportunity to reduce water consumption. In countries with sanitation infrastructure, it can help decrease wastewater and save energy by reducing the amount of water that needs to be heated and treated. Ilya provides an effective solution to the issue of water waste with its straightforward installation process and user-friendly interface. Its advanced filtration system guarantees that recycled water is safe and clean to use. By switching to a cyclic shower, users can make a significant positive impact on the environment. Additionally, it is a low-tech product, making it easily scalable.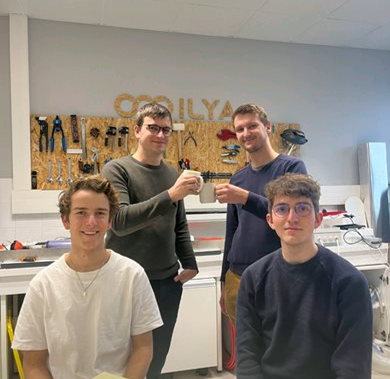 Inspiration
Simon Buoro wanted to give meaning to his engineering diploma in mechanics, by having an impact on our society and by creating his own company. Wondering how he could have this influence on consumers and reduce their consumption of water without any harm. In 2019 he got the great idea to start his own business which he called "a business for good", the priority of the company wasn't only gaining profits but bringing some solutions to society and helping them to develop ecological habits during their showers.
By crating this company, he started doing some research in order to find a way to reduce the consumption of energy and water, the main problem was that today there are no tools that can make it possible, so his mission was to create those tools without hurting the users. He said that "today we can have an ecological shower just by not taking a shower or by using a small amount of cold water which harms the consumer and will not encourage him to reduce his consumption of water or to have an ecological habit".
From this Simon Buoro had the idea of the cyclic shower, which does not take away the comfort of the users; it allows you to reduce the amount of water used during the shower by 90% and to take a normal shower because the same amount of water, instantly recycles and you re-use it until you finish your shower.
Overall impact
The short-term effects of the innovation of the cyclic shower for the consumers are the reduction of water and energy consumption, paying less for water bills, the positive psychological health of consumers by viewing the fact that they can normally take their shower without feeling any guilt that they are wasting water and harming society or the environment and they will have a good feeling because they are having a positive impact, it's just like when you are using a bike instead of a car.
For families, it will be less stressful for parents thinking that their children are taking a long time in the shower because as long as you are using the cyclic shower the same amount of water is used no matter the time of your shower. Moreover, if you are using the cyclic shower even if there is a drought or a water shortage you still can take your shower because you only need 5 liters of water to take it. According to Simon, the founder of ILYA, it could have a huge impact on the environment in the short term if everyone uses the cyclic shower, because the amount of water that will be saved will be enormous, which is not the case today.
By viewing the fact that the percentage of water used during a shower is not very big, the short-term effect of the cyclic shower is positive but is not having a big importance. But tomorrow in the long term if everyone is having an ecological pratique and using this innovation, there is no doubt that the cyclic shower is going to be a mind-blowing game changer, since only 5 liters is needed for a person to take a shower so in France the amount of water used in shower it will drop sharply.
Business benefit
This innovation has been designed to solve at its scale an environmental problem that concern all of us: the future of water. And all of this, while maintaining user comfort, making it an attractive option for eco-conscious consumers. Consequently, the business is gradually growing in importance and recognition in the market, which is opening up new opportunities for expansion and investment. The company aims to offer sustainable solutions that can be easily integrated into existing systems, enabling them to enter new markets and attract new clients.
Today, the mains clients of ILYA are several hotels in the south of France and this innovation benefit these businesses. "We won the innovation prize at the hotel trade show, and a member of the jury said: this is the future of the hotel industry". We can estimate that each hotel room uses around 20,000 litters of water per year for showers. This means that a 100-room hotel would consume approximately 2 million litters of water per year for showers. If the hotel installs ILYA showers, it could save 1,600,000 litters of water in a year. For example, in France, 1,000 litters of water cost around 1.5 euros. Therefore, the hotel could save 2,400 euros per year, which is not negligible.
As the business grows, it has begun hiring more employees to help manage its development. Currently, the company employs four people, including two co-founders and two young people on work and vocational study schemes. ILYA is committed to providing opportunities to young students and is eagerly seeking more financial resources to hire additional employees, because the current turnover (25 000 euros) doesn't allow it. At ILYA, the employees are happy and feel good about working in a positive atmosphere where everyone encourages one another
Social and environmental benefit
The ILYA shower benefits both society and the environment by reducing water usage. This not only conserves a valuable natural resource but also helps to lower water bills and decrease the need for costly water infrastructure projects. This is particularly relevant in areas that are prone to drought or water scarcity, where every drop of water counts. According to the United Nations, by 2025, half of the world's population will be living in water-stressed areas, making sustainable water use more critical than ever. "We are raising awareness".
Moreover, the ILYA shower promotes better hygiene and health by using a unique water filtration system that removes bacteria and impurities from the recycled water. This is especially important in regions where clean water is not readily available, or where water-borne illnesses are a significant public health concern.
Finally, the ILYA shower can help to create jobs and drive economic growth. As the demand for sustainable technologies and practices increases, there is a growing need for skilled workers who can design, install, and maintain these systems. By adopting the ILYA shower system, businesses can create new job opportunities and support the growth of a sustainable, green economy.
Newsletter
Get stories of positive business innovations from around the world delivered right to your inbox.
Interview
Simon Buoro, Co-Founder
Business information
Ilya
Toulouse, France, FR
Year Founded: 2019
Number of Employees: 2 to 10
This business is creating a recycle shower. It helps people to safe water every days.