Open Airlines How to Make Carbone-Free Flights?
Authors
School
Professor
Global Goals
Keep this story going! Share below!
Summary
The company offers innovative fuel management software such as Sky Breathe Fuel Efficiency. Not only this software help airlines to reduce their carbon footprint but also saves them money. This reduction enables us to take urgent action to fight climate change and its impacts.
Innovation
Founded in 2006 Open Airlines is a Toulouse-based start-up run by Alexandre Feray. Most employees of the firm work in Toulouse, where R&D and marketing operations take place. There are also 2 subsidiaries one in Hong Kong (employees deal with sales and support for Asian customers) and one in the USA (employees deal with sales and support for North and South America.
In general, air traffic controllers and pilots manage air traffic flows but are not sufficiently interested in greenhouse gas emissions. Open Airline brings them sustainable solutions to reduce these emissions. One of the main devices developed by Open Airlines is the software: Skybreath
The software reduces carbon emissions by taking into account criteria such as weather, altitude, and traffic.
The company also has access to the black box, improves its software by knowing the flight parameters. The black box enables pilots to know the peak of fuel consumption. As a consequence, pilots are much more aware of their fuel performance and how they can improve. They feel engaged in the process
Thus, this innovation relates to a sense of progress. He thinks that big data can promote inclusive growth, limit global warming, and put forward a change of mindset. With Open Airlines it is now possible to the wide array of technological measures to fight climate change.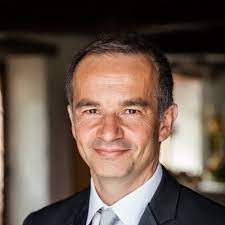 Inspiration
First of all, his inspiration begins with a strong desire to undertake "an almost childish desire". He said that "when I was a teenager and I was programming I saw the stories of Steve Jobs and I wanted to live that".
Consequently, he wanted to create his own company, and he decided to create innovation about its own skills: computer programming.
Then he decided to combine this with second his passion: nature. Indeed, since he was a child, he has loved nature and mountains. He also uses his competencies in airlines as he has worked in Air France.
To be creative, to think creatively, he read every evening on subjects on aviation and the environment to see if he could do something (download reports from NASA, online courses, ...) everything goes a lot through creativity. Ideas come by bike, by walking, by sleeping.
Open Airlines came out from these three passions.
He was looking for ecological solutions which were linked with economic growth. According to him, we have to find cost-effective solutions which protect our planet. He thinks that technology can be used to serve sustainable development. We must be reflecting on what we do in terms of consumption and production. We must create a new economy that respects the environment.
Mrs. Feray wanted to create his business model because he wanted to have more independence. Indeed, before, he worked in Air France, and in his job, there were a lot of norms/ standards, the relationships between people were traditional.

Creating his business enables him to be more original, to have his own work team. In his work team, people are very closed. This good relationship allows the work to be well done.
Overall impact
This innovation is beneficial to underdeveloped countries because even if they cannot develop this type of technology, they will still enjoy the advantages of the innovation as they are clients of developed country's airlines.

While 2% of carbon emissions are due to planes, Open Airline contributes to reducing pollution.
More than 4,000 employees of aircraft companies use this software all around the world. That's why, in 2019, 590 000 tonnes of CO2 were saved by Open Airlines. It is the equivalent of 2 360 ways to Paris from New York.
It has a global impact since the software support all aircraft types, from turboprops to very large jets, in all configurations. They have currently more than 35 different aircrafts types that are being monitored
In the short term, it helps airlines to reduce their consumption of fuel, and it is the same for the long-term effects.
To be more specific, Open Airline's fuel efficiency program provides a long-term opportunity to increase current fuel savings and identify new areas for improvement. With the right tools and support from fuel experts, users will experience positive cash flow 3-6 months after the program is implemented. For instance, the current users have saved 150 million de dollars. Typical savings will be over 20 times higher than the cost of the project, which is an excellent return on investment ratio.
Business benefit
This innovation allows airlines to reduce their costs on each flight and increase their sales figures by saving fuel with instructions for pilots thanks to the Sky Breath software. Their fuel costs are reduced by 2-5%.
The software enables Open Airlines to gain some money because more and more airline companies use those devices.
Then, implementing an improved fuel efficiency policy not only saves customers and users valuable cash but also develops a green image for their brand that will be appreciated by passengers. To be more specific, thanks to the software proposed by Open Airlines, the airlines can improve their communication. More and more companies want to tackle environmental measures to be more sustainable. If they use it as an argument of communication, the customers would be more attracted by their companies.
Social and environmental benefit
This innovation improves the quality of life of people in cities and especially people next to airports.
On one hand, the innovation reduces the noise in the cities. When there is a lot of traffic in the air and next to airports, most of the time, the air traffic controllers quickly ask airplane pilots to fly lower. As a consequence, it will make noises and it will lead to overconsumption of fuel. To understand, fuel flow decreases as air density decreases. At high altitude, there is less air density, so less resistance, so less fuel required to spin the compressor faster.
Nevertheless, Skybreathe's software automatically adjusts the air travel to the traffic in real-time, that's why pilots don't need to fly lower so indirectly, by improving co2 emissions, you also reduce noises in the city. And you also reduce pollution in the air.
Because of the coronavirus crisis, the aviation sector has been deeply affected. Thus, airlines must reinvent themselves. If airlines do not put in place sustainable measures, it will be a problem for all the society. Indeed, aviation represents 2 to 3% of the worldwide CO2 emissions, and this will increase by 45% in the next 15 years if no action is taken.
On the other hand, innovation impacts also the environment because it directly reduces C02 emissions. It adjusts the airplane to traffic and to weather in real-time in order to calculate the best way to reduce airplane emissions in this flight. Also, they exploit data of black boxes to check if the pilots have respected indications and to analyze when there was an increase in fuel consumption and why.
Interview
Alexandre FERAY, Eco-flying solutions with Open Airlines
Business information
Open Airlines
Toulouse, France, FR
Year Founded: 2006
Number of Employees: 11 to 50
Open Airlines is a Toulouse-based start-up specialized in the consulting and development of ecological solutions for the air transport industry. Open Airlines aims to reduce airlines' carbon footprint and fuel emissions thanks to innovative eco-friendly software.