Greyston Bakery Helping the People of Yonkers Thrive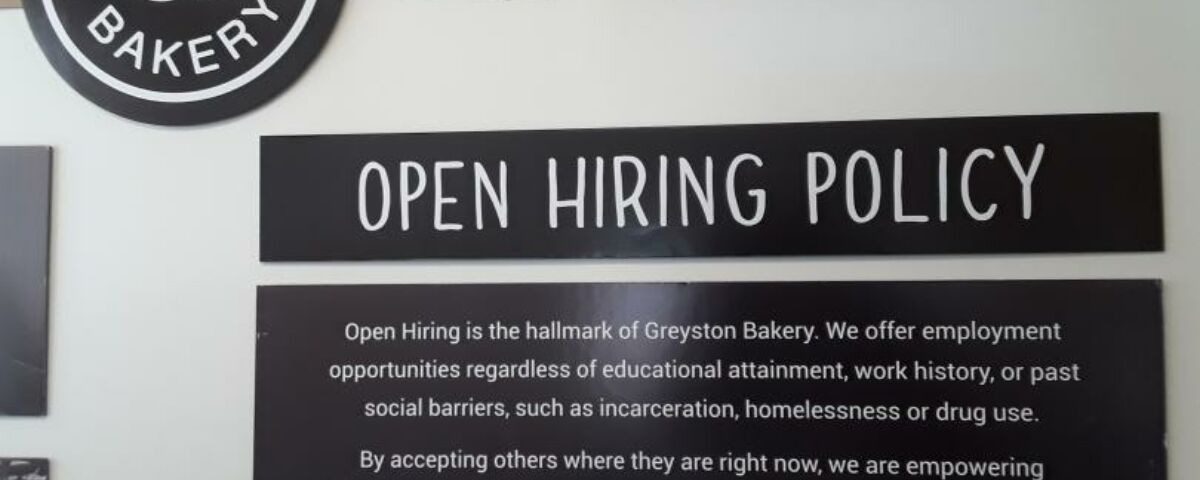 Authors
School
Professor
Global Goals
Keep this story going! Share below!
Summary
Greyston Bakery makes brownies so that it can hire people, not the other way around. Their Open Hiring™ model creates access to employment for those facing structural barriers, enrolls new hires in programs like Pathmaking that are designed to facilitate their pursuit of self-improvement and greater fulfillment both within the workplace and outside of it, and partners with the local community to deliver services essential to greater overall prosperity. Greyston's triple-bottom line approach to business has innumerable positive impacts, both within the organization as well as on the community where it is located. In support of the Sustainable Development Goals and the B Corps Inclusion Challenge, Greyston is now developing a program to share the Open Hiring model with other organizations.
Innovation
Since Greyston Bakery's founding in 1982 by Bernard Glassman, the mission to create thriving communities has been central to its business model. Glassman, a devoted practitioner of Zen Buddhism, observed that employment was key to escaping poverty and achieving self-sufficiency. The Open Hiring model Glassman pioneered has provided jobs for thousands of people over the past few decades, contributed millions of dollars in salaries to the local community, and furthered progress on the Sustainable Development Goals of poverty reduction, economic development, reducing inequality, and sustainable communities.
The Open Hiring model gives everyone the opportunity to have a job, regardless of background. Anyone who walks in off the street is eligible for a job, no questions asked! Applicants are placed on a waiting list (typically about six months), after which they go through a rigorous apprenticeship and training program that qualifies them to become full-time workers, baking brownies on Greyston's production line. This creates access to employment for community members who face structural barriers to employment, such as large gaps in their work history. The model promotes self-sufficiency, undermines inequality and reduces poverty.
An important aspect of Greyston's success is the company's guiding philosophy, Pathmaking. According to the company, Pathmaking is founded on "the belief that individuals can be supported to achieve 'wholeness,' a foundation needed for them to find and follow their own path." Sales & Marketing Coordinator Kerry Sesil, says it is "grounded in the idea that people are on a journey and are working together to get to the place where they are most successful. We like to describe it as a cultural feel." Rooted in this perspective is the assistance that Greyston provides its employees to aid them in their success. Examples include goal-setting workshops, career advancement opportunities within the company as well as outside of it, and support with personal issues like building up savings. This illustrates the nurturing, supportive, and structured environment created for employees to pursue personal and professional goals, and in turn, allows them to contribute their skills to support others. The company also offers access to an on-site social worker through a partnership with a local non-profit, providing employees with additional resources toward greater lifestyle success and fulfillment.
The Pathmaking mindset has led Greyston to develop a number of external initiatives, all through active listening to their employees, to reduce structural barriers and provide benefits for the larger community. These efforts include an early childhood development center at which employees and other community members can access affordable childcare, a workforce training center to provide skills and job placement services, and community gardens to reduce food insecurity.
Inspiration
Greyston Bakery was founded by Roshi Bernard Glassman, a Zen Buddhist looking for a way to enact Buddhist principles in the world. Yonkers is faced with challenging economic circumstances. Years of disinvestment, the war on drugs, and failed urban renewal initiatives, have left a number of communities in Yonkers struggling to get by. Glassman saw the bakery as a way to improve the community through "right livelihood," one element in the Buddha's eightfold path. Thirty-five years later, Greyston's internal Human Capital Management policies and external community development programs remain based on the company's foundational philosophy, Pathmaking.
As Kerry Sesil describes it, Pathmaking was originally envisioned as a single person providing resources to Greyston's employees. Over the years, this model evolved to include other community partners, increasing the range of services available. It also became comprehensively entrenched in the company culture - today, everyone at Greyston considers themselves a Pathmaker. The staff share a sense of responsibility for one another and work together to ensure that everyone thrives. "It's an incredible family," says Sesil.
Overall impact
Addressing root causes of inequality and economic justice by providing access to opportunity for the people of Yonkers is Greyston's key purpose. As Marketing Coordinator Kerry Sesil says, "The product could really be anything, it's just a way to create opportunities so that people have a chance to become thriving members of the community." Through the production and sale of brownies, Greyston finances their key goals to strengthen Yonkers, reduce poverty, and change the conversation around economic opportunity. Today, the Bakery employs 130+ people, thanks to partnerships with Ben & Jerry's, Delta Airlines, and a product line in Whole Foods. The more brownies they make, the more people Greyston can hire and the more support it can lend to the larger community. The company's Buddhist Pathmaking approach centers the values and practices of the business around enabling Greyston's employees and the community of Yonkers to flourish; a notion they believe can be replicated and scaled across the country.
Business benefit
In 2014, Greyston had more than $13.4 million in sales and produced more than 4.6 million pounds of brownies. This business is their means to an end of hiring people, providing more than 3,000 hours of training, providing access to over 14 tons per year of fresh produce, and serving more than 5,000 people in their local community. In addition to seeking to grow the business so that more people can be employed, CEO Mike Brady is creating a curriculum to share Open Hiring™ best practices and teach other companies how to incorporate Open Hiring™ into their businesses.
A certified B Corp, Greyston advocates for businesses to adopt triple-bottom-line business models. The B Corp certification process encourages Greyston to constantly improve. Currently, Greyston is taking part in the B Corp Inclusion Challenge, an initiative by the B Corp community challenging members to identify and set goals to improve 3 metrics relating to diversity and inclusion in the workplace. Greyston is in the midst of reviewing its programs and developing goals for this Challenge.
Social and environmental benefit
The company's approach to workforce recruiting and development creates opportunities for members of the community who may otherwise face structural barriers to entry or re-entry into the workforce. The supportive environment also extends outside the workplace, such as when an employee faces housing challenges. Furthermore, Greyston provides a suite of services and resources through its Foundation that assist employees and the community at large, many of which were created in partnership with other social assistance programs in the Yonkers area:
The Greyston Early Learning Center provides subsidized child care, helping parents of young children enter the workforce.

Greyston Workforce Development provides skills training, job retention, career counseling, and job placement services to the people of Yonkers, often aiding those on the waitlist for a job at Greyston Bakery.

Greyston's Issan House provides housing for formerly homeless people living with HIV/AIDS.

The Greyston Community Gardens address issues of food insecurity in Yonkers and educate residents about nutrition and the environment.

Greyston provides an on-site social worker for its staff through a partnership with Westchester Jewish Community Services. This social worker helps Greyston's staff overcome any social and economic barriers that may make it difficult for them to achieve workplace success.
Aggregated across all 130+ Greyston employees, open hiring and Pathmaking represent a substantial contribution to community well-being and economic justice in Yonkers. They continue to identify community needs and work to find ways to meet them.
Newsletter
Get stories of positive business innovations from around the world delivered right to your inbox.
Interview
Kerry Sesil, Marketing Coordinator
Business information
Greyston Bakery
Yonkers, NY, US
Year Founded: 1982
Number of Employees: 51 to 200
Founded in 1982 by a Zen Buddhist, Greyston Bakery's innovative Open Hiring and Pathmaking programs provide opportunities for the people of Yonkers, NY, a working class suburb of New York City tucked between far wealthier communities. These programs, along with the company's extensive partnerships with the local community, create pathways for economic growth and self-sufficiency through progress on the individual level. As the packaging on the company's signature brownies states, "We don't hire bakers to bake brownies, we bake brownies to hire bakers."