Helping Organizations "GET 2 ZERO"
Thinkwell Shift
Overview
The Get 2 Zero program at ThinkWell Shift is innovating by changing how Nova Scotia business owners find ways to save money on their resource usage, innovation that helps both the business and the environment. Through the Get 2 Zero program ThinkWell Shift is working towards the SDGs of sustainable cities and communities, responsible consumption, and production, as well as climate action.
Authors
Connor Stanford
Mikayla Manderville
June Jang
Daniel Rosen
School
Dalhousie University
Professors

Kent Williams
Kate Yau
Sandi Stewart
Innovation
In Nova Scotia and Canada there are government programs that will offer business low interest loans in order to upgrade their appliances such as water heaters to more efficient ones, however these programs don't do a good job at understanding the business space itself and are simply focused on financing. Where ThinkWell Shift is innovating with their Get 2 Zero program is that they enter the business and calculate how much the business is losing in a particular area, such as unwrapped pipes. This is part two of their three-part plan which also includes meeting the business owners and discussion of conservation strategies in part one and creating long term plans for the business in part three. It is about having the business owners understand their resource waste so they can find ways to reduce it. In our interview with Scott Ellis, the project assistant at Thinkwell Shift, he told us that, "Business owners understand rebates, but if they don't understand the waste, they're less likely to actually make a change in their business."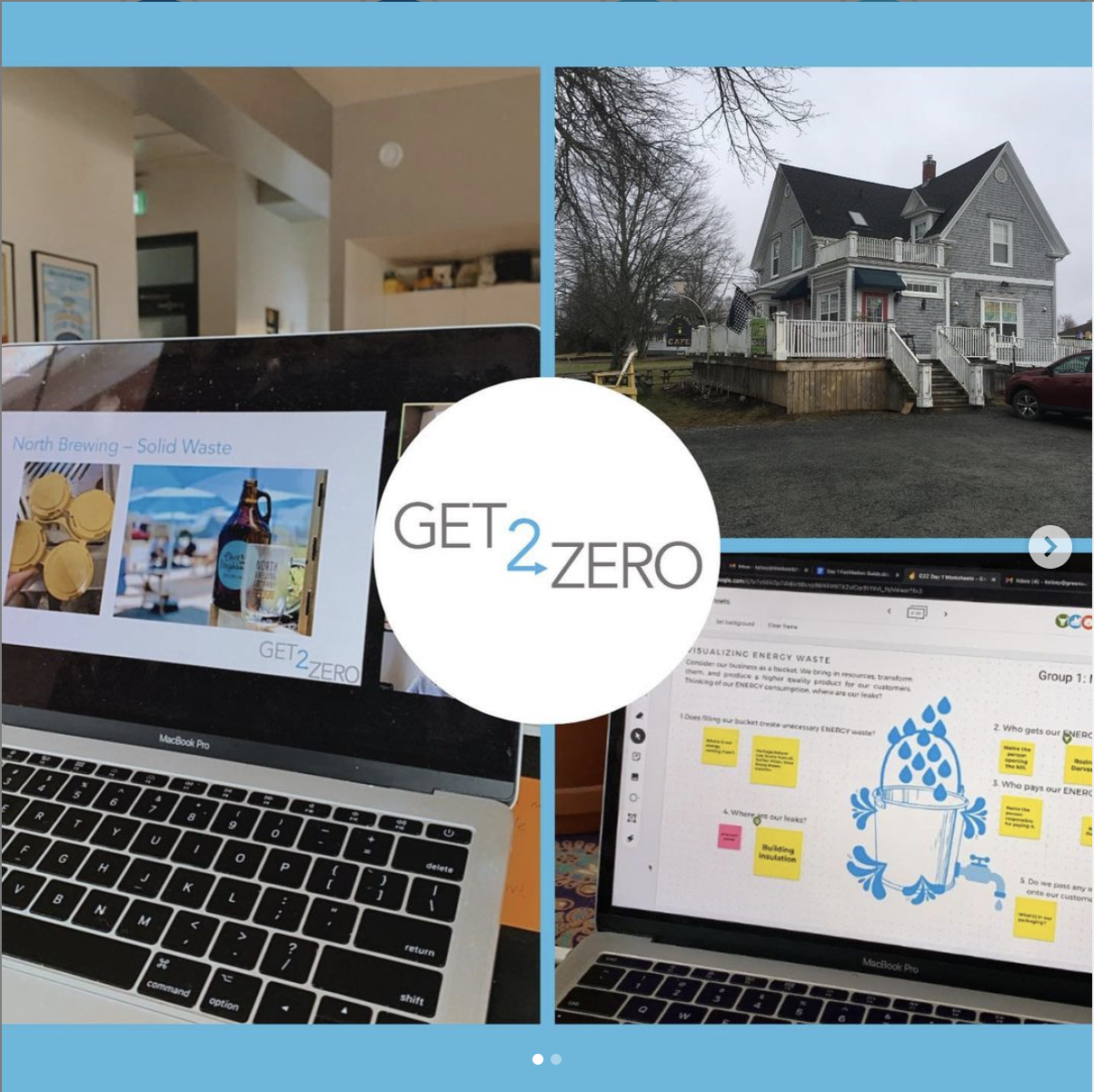 As seen on the company Instagram @thinkwellshift
Inspiration
ThinkWell Shift has three programs currently; Green Schools NS, Efficient Product Instillation, and the program we interviewed them about called Get 2 Zero. The inspiration for the project was to find ways for business to reduce their waste, outside of just providing low interest loans and rebates for switching to efficient appliances. In our discussion with Scott, we learned that the idea behind the project is to find low-cost solutions to help businesses reduce their environmental footprint and reduce the cost of doing business at the same time. We learned that the goal of the project is to create "Behaviour change through choice" and that Thinkwell Shift discovered that, "If we give business owners the choice to reduce their resources and know it's not going to reduce the overall quality of their product and customer experience or the support of the staff, they are likely going to do it." This pushed them to find ways to promote these behaviour changes, which resulted in the Get 2 Zero program, a behaviour change program with the goal of resource conservation.
Overall impact
It is sometimes difficult for the business to change to sustainable energies due to excessive cost, however, the business can find a feasible solution at where they stand with Thinkwell Shift. Thinkwell Shift launched Get 2 Zero programs that aim to reduce unconscious wasting resources such as water, energy, and solid waste. Reducing waste does not only making more profit but also will impact the environment and local community positively as well. Since Get 2 Zero aims to touch fundamental behaviors and create lasting changes, it possibly affects positive impact at your home as well.
Often we do not even realize how we are leaking money from our waste. According to Scott Ellis in the interview, the project assistant of Thinkwell Shift, "Understanding of space and where they are wasting will hugely impact their business more than what efficiency does". With Thinkwell Shift's specialized training program, the business will be able to save operating costs and time both in the short and long term. Because Get 2 Zero deeply focuses on behavior changes so that the effect of training will be sustainable and achievable.
These behavior changes through the program can be applied at home and anywhere that uses general resources resulting in a positive effect in the community beyond the business. As the people in the business are part of society, changing behaviors in the long term can eliminate greenhouse emissions that contribute to global climate changes expressed in the SDGs of UN. In addition, it is hard to ignore the fact that the resources we consume are more than we have on the planet. Thus, United Nations officially emphasized the relationship between behavioral changes with climate change to policymakers of each country by suggesting incorporating behavioral science into policy processes and tools. That is why Thinkwell Shift is funded by the government.
Business benefit
Thinkwell Shift's newest program, Get 2 Zero provides consultation with their own environmental experts to help businesses visualize and eliminate excess waste through understanding and behavior change. Consequently, businesses can save around 25% of their annual operating costs by eliminating these practices. Additionally, saving money stems from using less resources which makes the business more sustainable. After participating in the program, businesses have immediate results.
Thinkwell Shift hired within using their Business Development director and a current representative to launch the project. Both had former experience and knowledge about resource conservation and were further trained in outreach and business resource consumption. The goal is for companies to voluntarily participate in the program at a cost, to learn how to change daily operation behaviors to conserve resources and money.
Thinkwell Shift has not gone public with the overall company of the program. However, it is one of its kind and they hope to scale the program to reach further amongst Nova Scotia and then hopefully Atlantic Canada. The company is setting an example for how education can create scalable change towards sustainable business, conscientious consumerism, and climate action.
Social and environmental benefit
Thinkwell Shift's GET 2 ZERO initiative was designed to assist organizations in identifying and preventing resource waste, allowing for more sustainable and environmentally friendly operations. On average, a "business wastes 25% of their utility costs on inefficient processes, systems, and behaviors", which not only causes expenses higher than required, but also causes valuable resources to be misused and wasted.
Through monthly workshops, Thinkwell Shift provides organizations with strategies and behavioral changes designed to mitigate their energy and water use, as well as their garbage output. As the GET 2 ZERO initiative progressed, Thinkwell Shift has been able to assist a variety of small and medium sized business, such as farms and breweries 'get to zero' resource waste.
Thinkwell Shift discovered this severe issue among organizations and knew something had to be done, and thus GET 2 ZERO was started. Each year the GET 2 ZERO program saves organizations thousands of dollars, and more importantly minimizes unnecessary energy, water, and solid waste use.
Thus, allowing for farms, breweries, and other small food production organizations to operate in a more sustainable and environmentally conscious manner, while also cutting expenses for those organizations.
Interview
Scott Ellis, Project Assistant
Keep this story going! Share below!
Thinkwell Shift
Halifax, Nova Scotia, CA
Business Website: https://thinkwellshift.ca
Year Founded: 2003
Number of Employees: 11 to 50
Thinkwell Shift is an organization based out of Halifax, Nova Scotia, which specializes in assisting other organizations and individuals with environmentally conscious resource conservation tactics. Thinkwell Shift creates strategies, processes, and programs which allow others to implement meaningful changes in their organization or lives to simultaneously cut expenses, and conserve valuable resources. Their focus in on creating meaningful behavior change that encourages conservation of resources.