Vibe Health Bar Healthy Food, Healthy World
Authors
School
Professor
Global Goals
Keep this story going! Share below!
Summary
Vibe creates products that are hard to come by. Most of their product range is plant-based, which is not easy to come by in the Sacramento area. A huge part of innovation in the restaurant industry, according to Jeff, is unique product offerings that innovate in the sense of changing the relatively unhealthy culture of America, and offering products that are affordable and the most healthy options for all consumers.
Innovation
Vibe has adopted technologies that have made the organic food business more accessible for all people in the Sacramento area. They utilize online order technologies which allow for customers to come, sit down, or pick up their order with no wait to accommodate for the hustle and bustle of everyday life.
Another huge part of their innovation is the responsible management of the supply chain. In managing the supply chain, Vibe has the ability to responsibly watch and oversee where all of their products come from with the close relationship to local farms and suppliers. This ensures no products are coming from the wrong places and everything is sustainable and organic.
Inspiration
When Jeff was asked what inspired him, he responded with Vibe's mission, which is: "Vibers are a community of like-minded health seekers. We are constantly reminded that our journey to provide neighborhoods with convenient access to healthy food is a partnership with our clients. Information about healthy living, surviving through periods of down health and joyful searching for better, more nutritious foods will be shared both ways between team members and customers."
Overall impact
The impacts of the innovation of Vibe Health Bar is that people all throughout the Sacramento area now have the opportunity and access to clean, organic food at an affordable price. The customers of Vibe can be assured that they are getting a healthy, locally sourced meal 100% of the time and now that their recycled materials are being put back into use.
Business benefit
The innovation benefits the business because it allows for them to become so connected with their community. Through their connection with farms, suppliers, and customers, they have been able to build a brand that inspires people in Sacramento and beyond.
Social and environmental benefit
This innovation benefits society because it gives them the opportunity to live a healthier lifestyle. The foods we consume are so important, and Vibe has been able to create a platform that provides these foods for people. They have also been able to be responsible in sourcing, and it gives back to the local economy.
Interview
Jeff Greco, Founder
Business information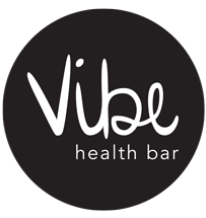 Vibe Health Bar
Sacramento, CA, US
Year Founded: 2016
Number of Employees: 11 to 50
Vibe Health Bar is a Sacramento based organic restaurant company that provides fresh, locally sourced foods to its customers. Food offerings are all organic, ranging from cold pressed juice, kombucha and acai bowls all the way to sandwiches, salads, coffee, and wraps. They also partner with small locally owned businesses to offer little items such as protein bites, honey, and other additional items.