Overview
Innovation starts from products that Veganic is supplying to consumers. Products transported from farms to Veganic's office in Ho Chi Minh city will go through five processing and quality control steps before being delivered to consumers, usually within the same day. One of the most time consuming steps is testing the products for nitrate and pesticide residue to ensure all the vegetables and fruits are safe for consumption.
Author
Phuong Tran
School
York University- Schulich School of Business
Professor
Charles Cho
Innovation
One of the innovative products is free-range chicken raised without antibiotics. To prevent the chicken from being infected by viruses (of which the most dangerous virus is bird flu), chickens in Veganic's farm are fed with herbs like lemongrass and ginger, which are known to help improve their immune system. The herbs also enhance the flavor of chicken meat. The chicken after being slaughtered are properly cleaned and then packed in vacuum-sealed bags before being delivered to customers on the same day.
Another innovative product introduced by Veganic is green-skinned round pomelo, famous with its sweet juicy pinkish red flesh. Veganic carefully selects the fruits harvested from pomelo trees more than 12 years old in farms located in Ben Tre province. More interestingly, in these farms, citrus crops are protected against harmful insects by weaver ants (Oecophylla smaragdina). This traditional farming technique is in danger of being lost due to the widespread usage of pesticides. Weaver ants feed on stinkbugs, leaf-eating caterpillars, aphids and leaf miners, which attack pomelo trees and the fruits. Although this method required more time for the density of weaver ants to reach the desired level to be effective, farmers said they saw an improvement in their pomelo fruit quality and yield.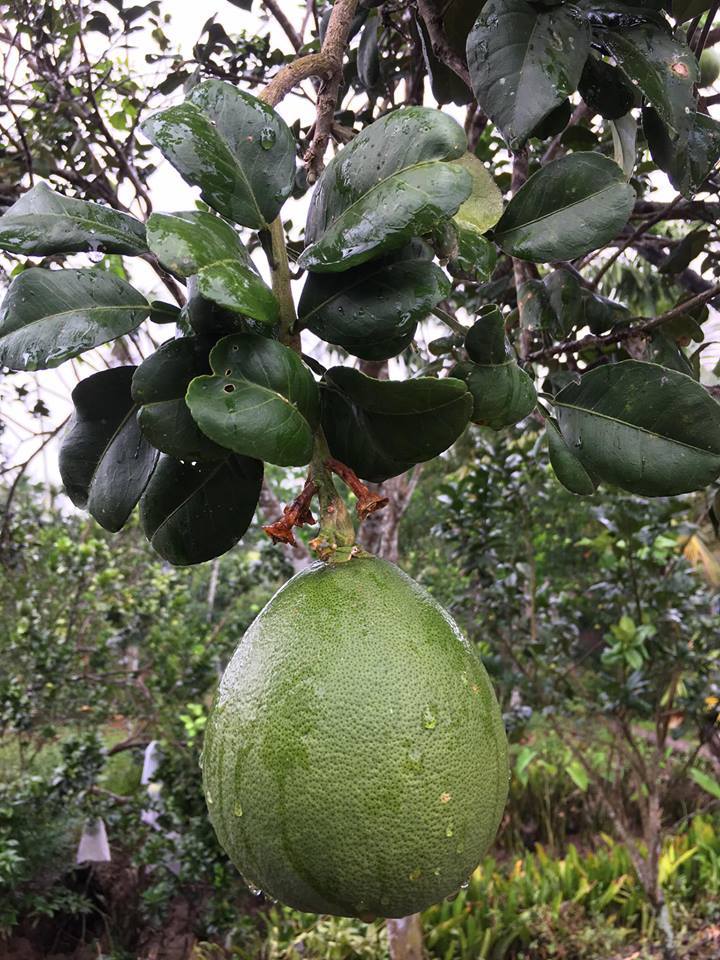 Using weaver ants to protect green-skinned Vietnamese pomelo trees and fruits from harmful insects
Inspiration
When being asked about her inspiration for Veganic, Hang Le shared that she believes every woman wants to take good care of her family. Veganic provides a convenient, healthy and most importantly, safe solution for modern women, who strive for both success at work and fulfillment of their family responsibilities. She had asked herself and friends whether the trend of more and more households in cities growing vegetables and raising chickens by themselves is a good thing. "It is no different from returning to self-sufficiency in the North in the 1980s. However, at present, people have no choice. When there is no trust in the market, they have to save themselves, before waiting for others to save." She strongly believes sustainable agriculture should aim at providing consumers with clean food at reasonable prices while farmers have an income worthy of their efforts. Modern agriculture cannot be home grown vegetables and chickens in big cities.
Just to illustrate how bad the situation was, the national television broadcaster (VTV) started a daily series of "Say NO to contaminated foods" in April 2016. The program was broadcast nationally during prime hours. Another incident happened a year earlier when the three biggest supermarket chains in Hanoi suspended purchasing vegetables from Ba Chu Safe Vegetables Co., Ltd. after the report of its food safety violation. The company was accused of buying vegetables with unclear origins from the wholesale market then simply repackaging the vegetables using its own logo and quality verification stamp. People were even making a sad joke that eating or not eating we would die, after being bombarded with hundreds of YouTube clips about fruits being soaked with chemicals to ripen faster, fake beef made from cheaper pork meat using an unknown chemical, or overweight pigs fed with Salbutamol, etc.
Overall impact
Since its establishment, Veganic has been serving hundreds of households in Ho Chi Minh City, starting from a small group of Hang Le's friends. Their key products like free-range chicken and green-skinned pomelo are always fastest to sell out. Consumers are assured that the meat and vegetables are safe, fresh, and at highest quality. For the farmers, instead of selling to wholesalers at low prices, they are now earning higher profits by selling to Veganic, and at the same time, they are guaranteed that all their harvest will be purchased. With the sale taken care of, the farmers can now focus on their farming matters to increase quality and productivity in a sustainable way.
In fact, the country needs more businesses following Veganic's model to connect farmers and consumers. Farmers want to produce high quality products but have no means to reach the right consumers. Instead, they end up selling their products at cheap prices to individual wholesalers, who will then supply agriculture products to wet markets and supermarkets in big cities like Ho Chi Minh City. The wholesalers do not care if the products follow VietGap standard or if they are safe for consumers. Consumers, on the other hand, are willing to pay higher prices for safe, clean, and high quality vegetables and meats but they are no longer trust products being sold in the market.
Business benefit
Selling clean, safe, or organic agriculture products is not a new idea in Vietnam. There are hundreds of small businesses selling similar products online through social media platforms like Facebook. However, the innovation in terms of product offering, consistent quality, and exceptional customer service set Veganic apart from their competitorsothers. Truly committed to its slogan - bringing fresh food to your kitchen and we care for your families - the products are carefully selected, tested, cleaned, processed and packaged so that they are still fresh and ready to cook when they are delivered to consumers.
Social and environmental benefit
Firstly, Veganic promotes more sustainable farming techniques, such as using weaver ants or free-range chicken farming. These methods are in danger of being lost due to irresponsible usages of pesticides and antibiotics in agriculture. Secondly, it addresses one of the key concerns of people living in big cities like Ho Chi Minh City: food safety. Food safety was one of the two most pressing issues for people in Vietnam, more important than education, health care or governance; and could cost the country millions of dollars every year from treatment of illnesses alone (World Bank. 2017. "Food safety risk management in Vietnam: Challenges and opportunities." Technical working paper. Hanoi, Vietnam).

Interview
Hang Le, Founder
Keep this story going! Share below!
Veganic started as a personal project for a Vietnamese seasoned banker in 2016, when stories of unsafe foods made headlines across the country. Right at the beginning, Hang Le has decided that Veganic's mission is to care for Vietnamese families by bringing fresh and safe foods directly from farms to kitchens. To fulfill its mission, Veganic promises that 100% of its products meet VietGAP standard. Most of the vegetables and poultry are produced by partnered farms in Da Lat highland (located at 1,500 meter above sea level in Lam Dong province); or in Veganic's own farm in Long Khanh town, Dong Nai province.