Enriching Lives with Purity
Greenobazaar
Overview
Greenobazaar is a retail store and online merchant of organic, sustainable, non-harmful products. They offer a range of products from many brands in the areas of grocery, nutrition, beauty, baby, home, and more. They operate a physical store and an online marketplace so that goods can be delivered right to consumers' homes.
Greenobazaar believes in providing people a chemical and plastic-free living environment. Ranging from something as trivial as a toothbrush to various healthcare products, this company is trying to bring organic products into wider usage.
Authors
Paresh Pawar
Aditya Balande
Akashdeep Goel
Sumit Singh
Tirth Sheth
School
Goa Institute of Management
Professor
Divya Singhal
Innovation
Greenobazaar ensures that its customers have the opportunity to access organic products in their routine lifestyle. They bring a wide range of certified organically grown foods and eco-friendly products to their consumers in their physical store or delivered right to their home though their online marketplace.
Greenobazaar is currently located in Gujarat and they are looking to expand to other locations across India.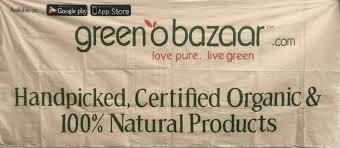 Inspiration
The founder Mr. Rajan Patel used to work for the Aditya Birla Group. He read and once got inspired by the book "Hot, Flat and Crowded" by Thomas Friedman. The book is about how the global demand for energy is increasing and how it is unsustainable.
Mr. Rajan explained in his interview as to how he was startled by the research and facts in the book and it made him think profoundly about the issue on global, national and individual levels. Mr. Rajan specifies his aim towards humanity as "to be an enlightened being and serve the environment and humanity through my venture."
He gave a very good example of the product "Harpic"- a toilet cleaning agent. Various chemicals are present in the product which when used to clean the toilet gets mixed with the wastewater and it is difficult to get rid of the chemicals even after treating the water.
This realization of an important environmental concern led to the establishment and expansion of the organic products of Greenobazaar.
Overall impact
Greenobazaar offers and promotes a healthy and pure lifestyle to people through the use and consumption of organic and eco-friendly products. The impacts of consuming food produced through the use of harmful chemical fertilizers and pesticides and the use of products that contain harmful chemicals are severe. To cater to this problem Greenobazaar has made over 3000 products which are made up purely from natural and organic ingredients available to people at their doorstep.
Greenobazaar is currently delivering products in Grocery, Nutrition, Beauty, Personal, Baby, Health, Home, Bamboo, recycled products, Arts & Crafts, Accessories and Fertilizers, etc. categories. Greenobazaar is helping people by creating awareness about the use of organic products and making them available to people at their doorstep. This initiative will ensure the reach of organic products in wider market segments and support a green lifestyle.
Deadly and dreaded diseases are widespread due to consumption and production of food, cosmetics and other consumer goods made from harmful and carcinogenic or non-bio degradable chemicals and materials. The production by harmful methods had added burdens of disposal which is today one of the biggest challenges many countries are facing. One of the ways to address the disposal of non-biodegradable goods is to efficiently recycle and upcycle them for our end users.
Greenobazaar is also helping small organic farmers and organic product producers by giving them a platform to promote and sell their products with ease.
Business benefit
There is an enormous possibility of growth in the organic farming segment and the demand for organic products is on a surge. Greenobazaar aspires to tap this energy and form a vast network of retail chains and provide high-quality organic products. The organic market in India is in its initial stage and is expected to grow exponentially. Currently, the production of organic products is limited to a few states. However, with the implementation of organic-friendly government schemes and greater awareness among consumers regarding greater benefits of organic products, organic farming is expected to grow in the rest of the states.

The company is initially focusing on margins since the production of organic products and sales is moderate. The opportunity of high margins is high on nutrition and beauty products. Customers in metropolitan cities are ready to pay high prices for organic products due to health consciousness. This allows the company to charge higher prices, subsequently earning high margins.
Social and environmental benefit
Today the consumerism culture is booming; In a way, it is required to support the capitalist system and keep the economic machine running. More and more people are getting added to the middle-class segment; the standard of living is increasing and needs are increasing. Pressure on the environment is increasing as raw materials have to be extracted. Since the products are not designed keeping sustainability in view, this creates pressure on the whole system, waste is generated which is not biodegradable. Products of Greenobazzar are sustainable, made from eco-friendly raw material that is taken from the environment. This is what the circular economy is all about. If done on a larger scale, societies can have a positive impact.
Processes can be streamlined and made sustainable. First, it would lead to environmental effect and through that on a broader level it would create social impact.
Interview
Rajan Patel, Mr.
Keep this story going! Share below!
Greenobazaar
Ahmedabad, Gujarat, IN
Business Website: https://greenobazaar.com/
Year Founded: 2015
Number of Employees: 11 to 50
Greenobazaar provides organic products, ranging from food to beauty products. The company maintains a portfolio of more than 3000 organic products, delivered directly to the consumers for their convenience.