P&G Russia Dish Soap for the Wildlife
Author
School
Professor
Global Goals
Keep this story going! Share below!
Summary
Dawn is an American brand of dishwashing liquid owned by Procter & Gamble. Dawn's "Save the Wildlife" campaign works to rehabilitate and reduce the number of animals affected by pollution and harmful oils. Since 1975, this campaign has saved animals all over the country that had been negatively affected by pollution. Dawn has a clear devotion to being eco friendly and back this up in many facets of the company. This campaign plays a great role in achieving 8, 12 and 14 goals of Sustainable Development.
Innovation
Dawn came into fruition in 1972. Within the first couple of years, the International Bird Rescue organization came to them regarding their product. IBR is one of many organizations that work to protect wildlife from disasters such as oil pollution. In this case, Dawn makes a great partner because their product was found to not only able to successfully clean these animals, but also it poses no threat to them. Dawn's use is intended to contribute to the 14th UN Sustainable Development Goal: Life Below Water and to touch on the 6th Goal: Clean Water and Sanitation as well. Elizabeth Kinney, the Communications Director for the North America Home Care business, explains this and also informs on how programs like this are carried out stating, "I also work with our partners to implement our social good programs - like the Dawn Wildlife program." As Kinney explained, the impact goes beyond just saving the animals, they also donate their product for countless causes which contribute to the cleaning of oceans affected by oil spills. Protecting the environment is just as important as protecting the wildlife and they not only understand that but are actively doing both.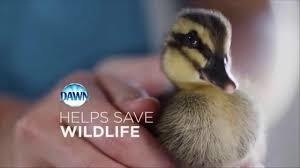 Inspiration
"Dawn Helps Save Wildlife" was born almost half a century ago and started quite uniquely. For over 40 years Dawn has helped more than 75,000 wild animals affected by oil production. The Save the Wildlife campaign would not be so powerful without its two partners. International Bird Rescue rehabilitates injured or oiled birds in times of emergency, such as the BP oil spill. This organization uses both highly trained staff and volunteers to care for birds all over the world. IBR also performs research to determine how to care for effectively and rehabilitate birds in times of disaster. Similar to IBR, the Marine Mammal Center researches and rehabilitates animals that have been negatively affected by pollution or disaster. This organization focuses on marine mammals, such as seals and sea otters. Dawn's two partners, IBR and MMC, are able to combine their efforts to rescue a wide variety of wildlife that was negatively affected by the oil spill or any another sort of pollution.
Since partnering with the International Bird Rescue, Dawn has donated thousands of bottles of dish soap to clean animals and aid them in over 200 spills. The Marine Mammal Center has been working to keep aquatic wildlife and their environment clean since 1975. With 1,650 volunteers and the support of a concerned public, the Center can respond to more marine mammals in distress than any other organization in the world. Sick and injured animals are treated at the Center's state-of-the-art veterinary facilities and are cared for until they can be released back to their ocean home. Dawn dish soap started as a regular product but is now a huge help in working to protect and restore the health of aquatic wildlife alongside IBR and The Marine Mammal Center.
By using Dawn consumers are taking a little step in what is actually the big picture. Dawn's dishwashing soap is used to clean animals after be soaked in things like oil spills. Dawn has pledged to donate one dollar from every purchase of Dawn dishwashing liquid, with the special Dawn Save the Wildlife logo, to support wildlife rescue efforts. With this promise, Dawn hopes to increase sales not only for their company but for wildlife rescue and rehabilitation efforts.
Overall impact
The Dawn "Saves the Wildlife" campaign has been successful in rescuing 75,000 animals since 1975. This includes helping animals effected by major oil spills as well as informing the public about how improper disposal of oils effects wildlife. The campaign successfully impacted rescue efforts by supporting The Marine Mammal Center and The International Bird Rescue. They have donated over 50,000 bottles of dish soap to wildlife rescue (Marine Mammal). The campaign motivated an active participation within the internet community by inviting users to create a mosaic photograph made up of thank you cards for volunteers. The use of social media created the Dawn Facebook page to have over 683 thousand likes. The Dawn Saves the wildlife The Big Picture includes nine episodes of The Big Picture. The most popular episode was a call to action "Time to Make a Difference" with over 3 million views. The second episode "Seal Pups Love Milkshakes" was also a highly viewed episode with almost 1 million 400 views. Dawn currently has 2,730 subscribers to their YouTube Channel (Dawndish).
Business benefit
P&G using "Save the Wildlife" causes marketing to demonstrate Dawn's product benefits: effective on oil grease yet gentle on hands (and bird feathers).
According to a market intelligence report published in April 2018, the Dawn Saves Wildlife campaign was rated highest at driving Dawn purchase intent among Colgate-Palmolive users, contributing to a 1.2 share point gain.
Further, the Dawn Saves Wildlife campaign achieved:
• the highest ROI in homecare: $3.37;
• a Consumer Equity Index (CEI) score of 168 (for "Mother's Love").
Social and environmental benefit
The company efforts in this sphere have also increased customer loyalty and the positive image of the brand since the whole campaign had been covered by the media. Consumers use the soap on day-to-day basis and even cannot imagine a huge impact the product makes starting with the ecological production of it and ending a recyclable container which doesn't create any negative impact after its usage. It is very clear that this is not a ploy to appeal to a specific audience but is something ingrained in the philosophy of the company.

Interview
Ruslan Nozdryakov, Director of Corporate Communications for P&G in Eastern Europe
Business information
P&G Russia
Moscow, Russian Federation, RU
Year Founded: 1991
Number of Employees: 10000+
The Procter & Gamble Company (P&G) is an American multinational consumer goods corporation headquartered in Cincinnati, Ohio and founded in 1837 by William Procter and James Gamble. It specializes in a wide range of personal health/consumer health, and personal care and hygiene products; these products are organized into several segments including Beauty; Grooming; Health Care; Fabric & Home Care; and Baby, Feminine, & Family Care. Before the sale of Pringles to Kellogg's, its product portfolio also included food, snacks, and beverages. P&G is incorporated in Ohio.