The Russian Glass Company Creating a Sustainable Company in Russia
Authors
School
Professor
Global Goals
Keep this story going! Share below!
Summary
RGC has developed recycled containers for their glass products in the form of iron pyramids. Previously, these containers were made of fresh wood that RGC's clients dumped into a landfill site right after delivery. Hence, the aforesaid innovation helps solve the United Nation's sustainable development goals (SDGs) numbers 12 and 15 because the innovation ensures sustainable production patterns as there is less waste (no. 12) and it protects forests (no. 15) since it reduces the amount of wood used in the production.
Innovation
RGC's Regional Production Manager, who in turn deals with the organization of product logistics, noticed that the wooden containers used for the company's glass products were thrown away after delivery. He then alerted the company's Deputy General Director for Strategic Development, Artem Leytis, of this unsustainable wood consumption. To curb the wood consumption, the Manager presented an idea of recycled containers in the form of iron frames called "Use reusable packaging - Plant a tree". In contrast to the wooden ones, these metal containers (i.e., packaging) can be used for approximately 15 years. However, this reusable packaging also needs to be returned to RGC for the idea to work, so they even needed to create an ecosystem for it. Packaging return is included in the price. Thus, RGC has adopted a sustainable practice that reduces waste generation (wooden packaging) through recycling and reuse of metal containers (UN SDG no. 12). In doing so, RGC is contributing to the efficient use of natural resources. An efficient use of natural resources, in this case wood, contributes to halting deforestation (UN SDG no. 15).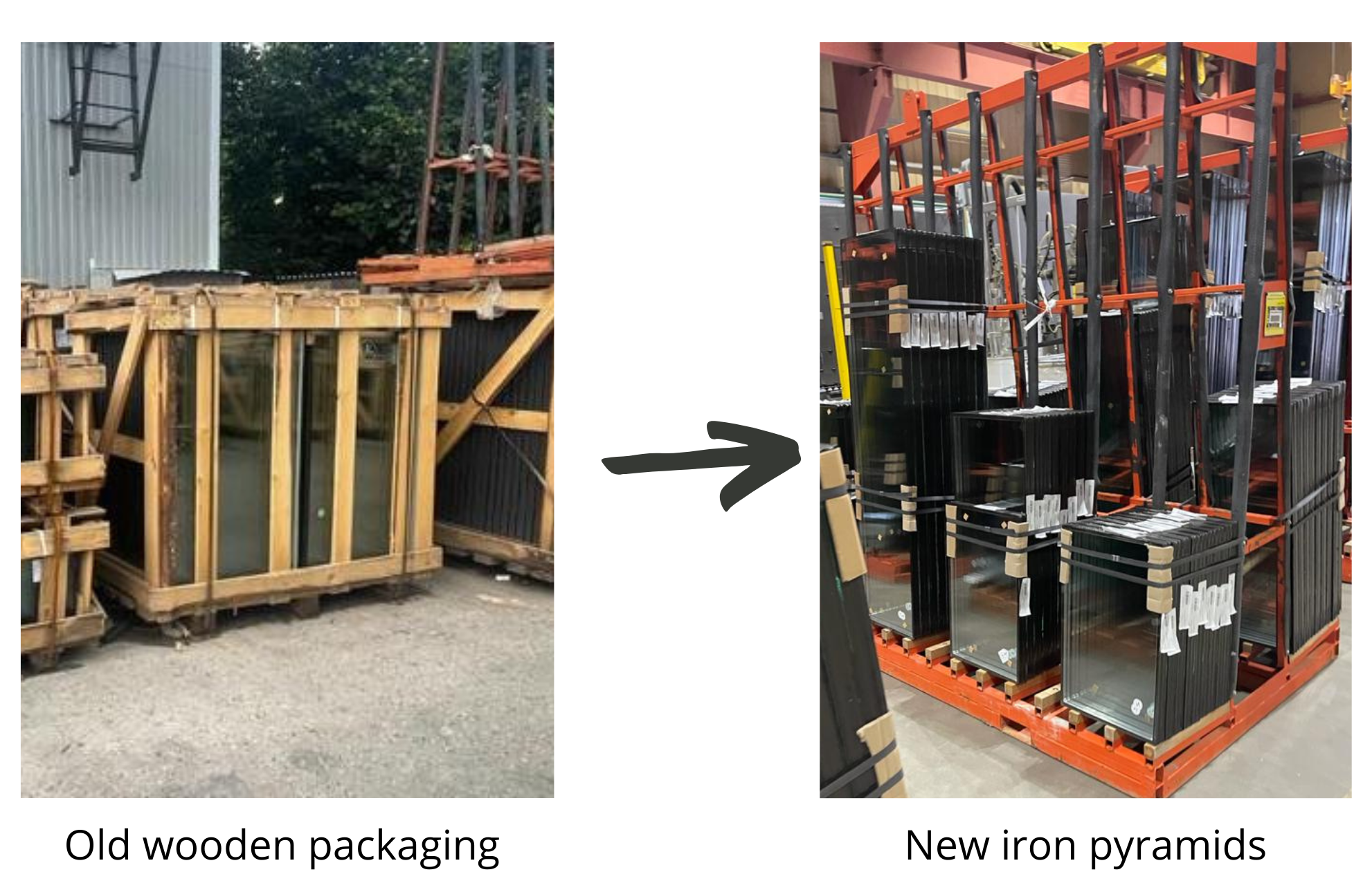 An example of the new iron pyramids
Inspiration
When this innovation was presented to Artem Leytis, Deputy General Director for Strategic Development of RGC, he was quick to implement it because he was inspired for four different reasons. These reasons consist of personal beliefs and values as well as of business implications. The first reason was values in general, meaning concern over "the situation in the world and the situation in Russia with ecology and renewable resources – forest". The second reason is that he is convinced that almost 90% of RGC's industrial waste can be reused or recycled. RGC had taken recycling and reusing raw materials into account in their operations, but "wood is one of the items from which we could not get rid of for a long time". The third reason is pressure from the demand side. Namely, many of RGC's clients will not accept wood products – so the innovation also makes sense from a business perspective. The fourth reason is connected to this as he believes that "like any modern company, it [RGC] cannot work without sustainable development".
Overall impact
Thanks to the innovation, RGC has been able to significantly reduce their wood consumption and consequently reduce the amount of waste they produce in their operations. Over the past year, RGC's aggregate wood consumption has decreased from ca. 100 m3 to 40 m3 per month. In other words, the wood consumption has decreased by 60%. Looking from another perspective, the amount of wood waste has been cut down by roughly 60 m3 per month in the past year. So, the estimated reduction in wood consumption (and effectively wood waste) with the current production level would be 10,800 m3 during the next 15 years (i.e., lifetime of the metal packaging). As a one-year-old innovation, such an effect and any other long-term effects remain to be seen, but RGC's plan is to "completely switch to recyclable containers and simply plant new tree seedlings every year". This would in effect mean zero wood consumption for RGC.
Business benefit
As mentioned above, because RGC has replaced wooden packaging with iron pyramids, the consumption of wood has decreased from 100 m3 to 40 m3 per month. The cost of 1 m3 of wood is 6300 Russian rubles. Hence, every month the company saves 378 000 Russian rubles (~ 4 479 €) or 4 536 000 Russian rubles (~ 53 748 €) per year. The second benefit is reducing labor costs. Carpenters now work part-time as packers. The salary of one packer was 30 000 Russian rubles per month and each of 12 enterprises had previously 4 packers. Therefore, annual payroll costs decreased by 17 280 000 Russian rubles (~ 204 760 €). In total, due to the innovation, RGC has reduced its costs for ~ 209 239 per year.
Another benefit for RGC is the penalty the company can receive for delayed return of packaging at the clients' end. According to the project agreement, if the client has a returnable packaging for more than 30 days, he will be fined 6 euros for each subsequent day.
Social and environmental benefit
As described above, the innovation is largely beneficial for both society and the environment. Due to the replacement of wooden packaging in the business with iron pyramids, the consumption of wood and consequent waste there of has decreased. This is of course an advancement towards an environmentally more sustainable practice within the glass industry RGC operates in. The reduction of wood consumption and related waste also helps to ensure sustainable production patterns as there is less waste (SDG no. 12) and to protect forests (SDG no. 15) as the innovation cuts the amount of wood used in the production.
From a societal perspective, the impact of the innovation relates to a significant extent to the environmental benefits it brings. In addition, the reduction of the use of natural resources also helps to create and support more environmentally friendly practices in society in general.
Interview
Artem Leytis, Deputy General Director for Strategic Development
Business information
The Russian Glass Company
Saint Petersburg, RU
Year Founded: 1992
Number of Employees: 1001 to 5000
The Russian Glass Company ("RGC") is one of the leading enterprises in industrial glass processing and production of glass in various industries such as commercial glazing, residential glazing, transport glazing and interior glazing. RGC works with clients all over the world, but their main market is the Russian Federation where RGC holds more than 25% of the façade glazing market. RGC produces and supplies with its 1,400 employees more than 2,5 million square meters of double-glazed windows each year and has an annual turnover of 4 billion Russian rubles.