Ida Sports Cleats Made for Stepping into Change
Author
School
Professor
Global Goals
Keep this story going! Share below!
Summary
Ida Sports was founded on the concept of one of the U.N.'s SDGs; fighting gender inequality. In 2017, Co-founder Laura Youngson led a Guinness World Record setting soccer game that took place on the top of Mt. Killimanjaro to highlight gender inequalities in sports. Through conversations, Youngson realized the hardship associated with obtaining cleats that fit correctly, which led to the idea for Ida Sports.
Innovation
Ida Sports focuses upon the creation of athletic footwear customized for women. This innovation brings a much needed solution to a seemingly prolonged issue for all females within the sporting world, as cleats and sneakers are often limited or unavailable in women's sizes and designs. This led to a normalization of women using kids and men's athletic footwear, attempting to find the best fit and trailing down a path of secondary preference from all sneaker brands.
Laura Youngson, co-founder of Ida Sports, was no stranger to this phenomenon before building the brand with co-founder Sandhu, a former professional cricketer, in 2017. Their goal is not only to create a solution to an ongoing problem for women finding sneakers and cleats, but also to address a broader issue of gender inequality as a whole. The company primarily employs female staff and is also reasonably sustainable in terms of their supply chain, while also recognizing even in their early stages where there is room to be better.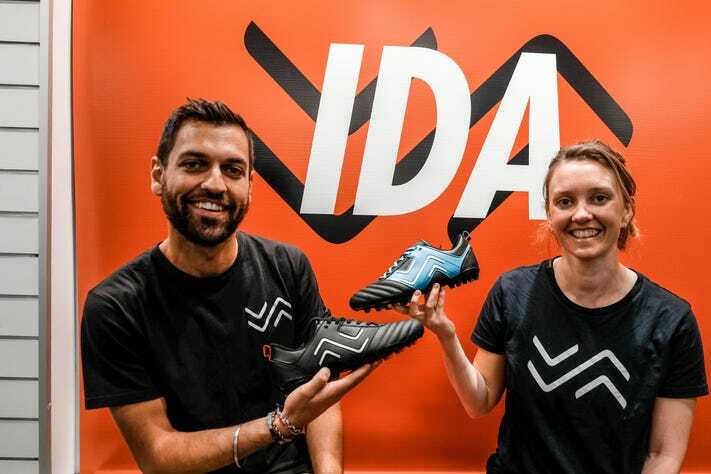 Inspiration
In 2017, Youngson led a group of women to the top of Mt. Kilimanjaro to play a football match that would become record breaking based on the altitude. The match highlighted gender inequalities in sports. It was during this time that Youngson was able to discuss with fellow female peers about their attempt to find a better suited option. She soon found out that the same struggle she had faced finding cleats was prevalent for all her fellow match participants at the time. Cleats made for kids or men that often left female players' feet in pain long after their matches were over had been the norm for all women Youngson spoke to. According to co-founder Ben Sandhu, these conversations at the top of the mountain inspired her research and ambition to change that norm to begin finding better, and that better became Ida Sports.
Overall impact
The innovations involved with Ida Sports goes far beyond easily documented impact. While still in its early stages, Ida Sports strives to have a short-term impact upon retail spaces and a long-term impact upon social views. The short-term impact on retail spaces involves the normalization of women's athletic footwear being sold and available for the many female athletes around the globe. For several companies, female footwear has been an oversight and very much neglected.
Ida sports aims to not only do the opposite, but to show just how necessary it is to have women's athletic footwear being sold. The short-term impact will bring awareness and open the eyes of several other retail companies as to why they should do better to provide for genders equally. The long-term impact of Ida Sports is one that cannot be easily described. Ida Sports will attempt as they grow to have a societal impact upon the way female athletes are perceived as a result of a company solely focused upon them. Across the globe, female athletes are not supported as much as male athletes, and oftentimes they are disrespected in regard to their ability, work, and efforts. Ida Sports is the first company to show the level of respect and equality that female athletes deserve and they will continue to spread that message and attempt to change perceptions globally through their growth.
Business benefit
The innovation of female driven athletic footwear is the forefront of Ida Sports and therefore it benefits their business in its entirety. The innovations overall impact upon the business, the industry it falls within and the new markets it may present are yet to be seen due to the business still being in its early stages.
Social and environmental benefit
The innovations associated with Ida Sports benefits society massively both in a practical and non-practical sense. Practically speaking, the market for female athletic footwear, particularly cleats, has not been addressed. Ida Sports presents a new and refreshing product that will create a healthier environment for female athletes globally. From a non-practical perspective, Ida Sports will attempt to grow as a business while continuing to spread the message of gender equality, which is a priceless societal benefit contingent upon their growth.
Interview
Ben Sandhu, Co-Founder
Business information
Ida Sports
AU
Year Founded: 2020
Number of Employees: 11 to 50
Ida Sports is an athletic footwear and gear company founded in 2020 with the initiative to create cleats for women. The company was founded on the concept of closing the gap of gender inequality within the athletic equipment industry, starting with cleats.