Chavez For Charity Chavez For Charity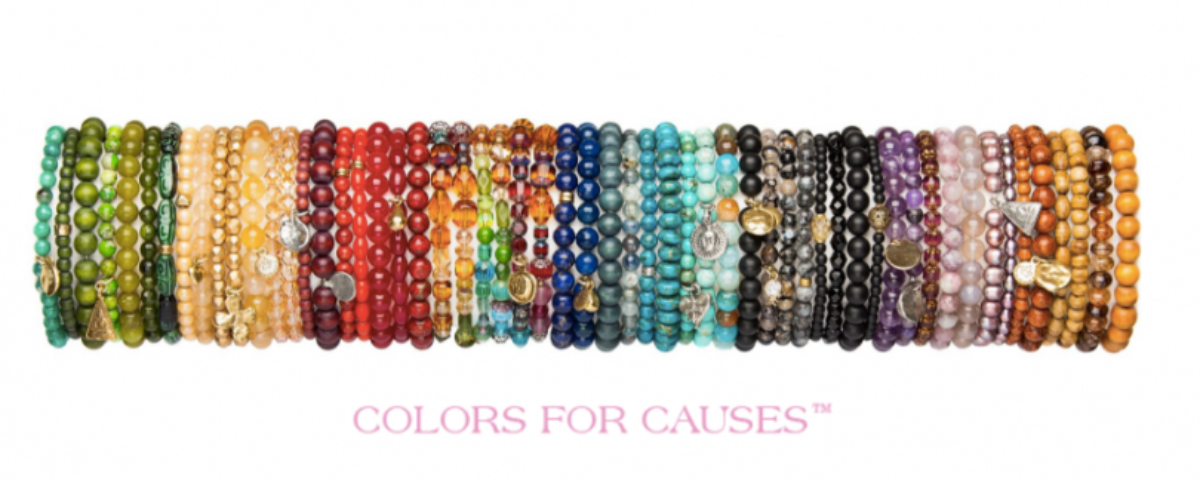 Authors
School
Professor
Global Goals
Keep this story going! Share below!
Summary
Chavez for Charity is a bracelet line that ties colors to various causes and donates 25% of the proceeds to the appropriate charities. Created by Julie Chavez, the company is based in New Jersey and its goal is to raise awareness and create a platform for conversations about some of the world's most important initiatives.
Innovation
Chavez for Charity found an exciting new way that breaks the mold when it comes to supporting charities. When a person thinks of the words "charity" and "jewelry," they almost always automatically link the two with those chunky rubber message bracelets. Not here! This company has managed to create eleven different lines of bracelets, each with its own color scheme, to represent a specific charity. For example, the Blue color scheme donates proceeds to water.org, a charity that provides innovative, market-based solutions that change lives every day through safe water and sanitation.
The best part about these bracelets is the trendy beading and matching sets available so customers can mix and match, and 25% of the proceeds go to charities including water.org or Best Friends Animal Society.
This all came about when Julie Chavez wanted to integrate her experience as a jewelry designer with a new line of jewelry that meant something. With her love of jewelry, she sought to create bracelets that would connect to customers on a deeper level. It was then that she decided to tie colors to charities as a way to raise funds and awareness for very important initiatives. They began choosing charities that touched their lives, and the lives of those around them, as well as those charities that have global imperative.
When asked how these charities came about, Julie stated: "There were a few that had significant meaning to us from the beginning, that were personal. It has to be personal. But it was so nice to all of a sudden be developing something that, if you have that personal connection to one of the causes then that's your drive and your mission from that point on. It makes everything so easy. Selecting the charities I found meaningful? That's tough, I just remember having so much enthusiasm and passion and excitement because we were starting to get connections and 'Yes' from many people."
More than just pretty bracelets with cool color schemes, Chavez for Charity's mission is to create and raise awareness for important initiatives around the globe and at home. Since many charities started off as choices that personally resonated with the creators, these bracelets truly display the beauty in humankind and their compassion for others.
Inspiration
The concept for Chavez for Charity originated with Marie Chavez, the jewelry line, but this time with a socially responsible purpose. To quote Julie, the creator and designer for this brand: "We wanted to take the bracelets that we were already doing well with, wanted to do something that was color based and themed, and then I started talking about wouldn't it be cool to tie in and do something with charity, tie each of the colors to a different charity. I had no idea what causes, what stores we would end up in, what the price point was going to be, nothing, but here it is."
From a moment of strategic growth planning to the implementation of charity donations, this company has gone from being a successful costume jewelry line to the most innovative, socially responsible bracelet around. At any given time, the company donates to prevent bullying, help animals, create clean water, or find cures for childhood cancer. Chavez for Charity has changed donating as we know it by marketing quality bracelets that ultimately impact people all over the globe. The UN goals are single-handedly being conquered by a set of trendy mix-and-match bracelets that are fit for any woman, child, or man of any age. We'd say that's impressive.
Overall impact
"This is a way for people to learn a little bit about a charity and feel like they're a part of something, some don't know where to begin and it's opening conversations."
Some people do not know how to take the first step toward donating or making a difference in the world. Chavez for Charity wants to be the conversation starter that opens numerous doors and uses its style and trendy looks as a vehicle to do more than just be worn with a pair of killer heels. Chavez for Charity's heart-warming approach shows us how we can make a difference with the smallest of efforts. Although there are so many different initiatives for people to volunteer their time to or donate to, it can sometimes be difficult or overwhelming to do so. These bracelets impact people in a way that everyone can afford and be a part of. With the eleven charities, Chavez for Charity is helping raise donations for:
· Alex's Lemonade Stand
· Best Friends Animal Society
· Dr. Susan Love Research Foundation
· Gift for Life
· Matthew Shepard Foundation
· Pencils of Promise
· Stomp out Bullying
· V-Day
· Water.org
· Whole Planet Foundation
· 11th Project (Retailer's Choice of Charity)
To date, Charity for Chavez has raised more than $1 million in donations while still looking for more chances to give back to the community and world through compassion and fashion.
Business benefit
Profitable business; the ability to support others and important initiatives.
Social and environmental benefit
Donations to important charities including the International Rescue Committee, Alex's Lemonade Stand, Best Friends Animal Society, Dr. Susan Love Research Foundation, Gift for Life, Matthew Shepherd Foundation, Pencils of Promise, Stomp Out Bullying, V-Day, Water.org, Whole Planet Foundation, and 11th project retailers.
Newsletter
Get stories of positive business innovations from around the world delivered right to your inbox.
Interview
Julie Chavez, Founder/Chief Creative Officer
Business information
Chavez For Charity
Verona, NJ, US
Year Founded: 2013
Number of Employees: 11 to 50
"When we launched Chavez for Charity in early 2013, our goal was to create a line of fashion accessories that people would love to wear and at the same time allow us to contribute, in a significant way, to charitable causes we care about."