Chamar Studio Changing Perspectives and Sustainability - Chamar Studio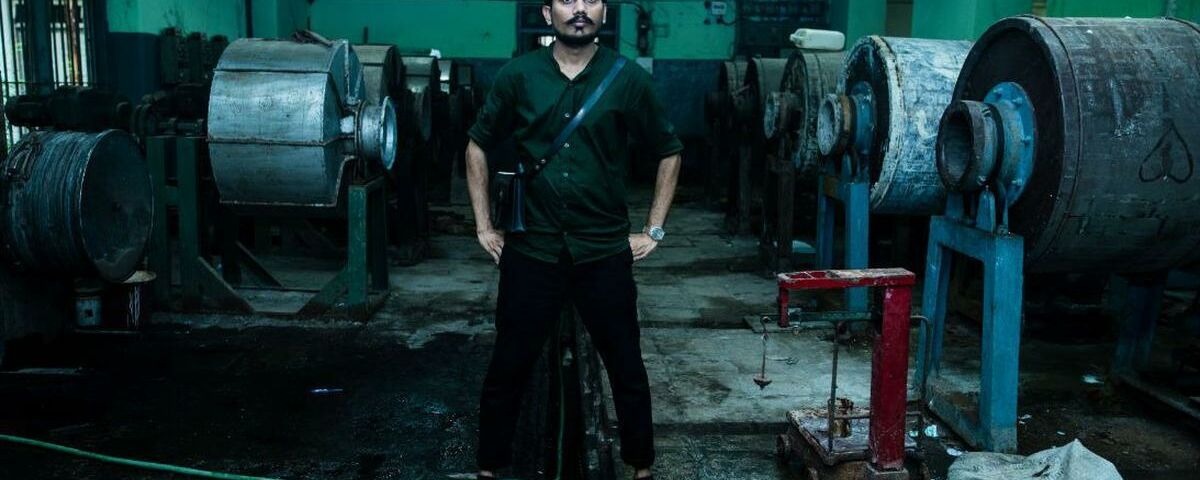 Authors
School
Professor
Global Goals
Keep this story going! Share below!
Summary
Chamar Studio sells a wide range of carefully crafted minimalist bags, purses, belts, and other similar products.
Chamar Studio is an innovative platform and an instrument of positive change by proving that caste is a state of mind by promoting and involving cobblers who sit on suburban railway platforms in the bag-making process.
The studio uses recycled rubber material, sustainable vegan materials, and modern designs. All their products are cruelty-free and waterproof.
Innovation
Sudheer Rajbhar, who used the derogatory term "Chamar" to refer to Dalit leather craftsmen as the name of the Dharavi-based bag brand, displays it as a badge of honor. As a member of the Bhar community, Mr. Rajbhar has seen how his identity shaped people's perceptions since childhood. He grew up in the slums of Mumbai and was exposed to insults, remarks, and comments, including words like "Chamar", when he visits his hometown of Uttar Pradesh. He conveyed all these remarks and used this slander as a tool of change.
In 2015, the government demanded a "beef ban" and hit the Dalit community the hardest. Mr. Rajbhar intervened to develop a medium that could help Dharavi leather craftsmen. In 2017, he opened Chamar Studio. There, he wanted to restore the craftsman's life by replacing leather products with recycled rubber. He considered rubber, which is less harmful than plastic.
"With a few shoemakers, I started making them as plastic bags," says Mr. Rajbhar. Chamar Studio sells a wide range of carefully crafted minimalist bags, purses, belts, and other similar products. The studio manufactures affordable designer products, but the most expensive products start at up to INR 39,000 and the lowest prices start at INR 1,500. Moreover, Chamar Studio is not a purely private company, but a company that believes in social justice. Up to 50% of income is returned to craftsmen through the Chamar Foundation, Rajbhar's charity. In fact, we rarely meet people who prove that caste is a way of thinking, and this unique studio is a tool of change in every way.
Inspiration
"In the Indian caste system, 'chamar' is an ethnic slur used to describe this ostracized community. At Chamar Studio, we use it as a pride," says Mr. Sudheer Rajbhar, who launched this unique brand of accessories some four years ago. The idea, he says, "was to shift the traditional social perception tied to untouchables by lending prestige to the Dalit community through the excellence of crafts. By providing them economic aid, the studio also wanted to give them visibility and social standing".
"It all started from this will of celebrating and conserving crafts from a banned industry and a backward community. By highlighting the talents overshadowed by the caste system, we wanted to give them visibility and initiate a dialogue around the hardships they faced," says 32-year-old Mr. Rajbhar, who himself came from a similar background.
Born and brought up in the slums of Mumbai's Kandivali, Rajbhar graduated with a degree in fine arts from the Vasai Vikasini College of Visual Arts in 2010 and started working as an artist's assistant. The artist he worked with curated a show called 'We Are Here Because You Are There', featuring work by artists' assistants where he wanted to draw attention to the fact that assistants, whilst being artists themselves, are generally denied the ability to progress.
Inspired by this, Rajbhar collaborated with cobblers from his community and started a public project that involved printing the word Chamar on canvas bags. He distributed these bags to people to carry around in their daily lives. And that's how the brand Chamar came into existence.
Overall impact
The Indian Political system has a long lost the battle of getting the voices of the Dalit community heard for generations to come now and with the onset of rise in education and people's agitation over false promises and hollow laws that fail to protect the interests of the community at large, people have taken the matter into their own hands. Mr. Sudheer Rajbhar's Chamar Studio is a unique and inspiring idea that describes how blending creativity, craftsmanship, and a business-oriented mindset can not only help create a sustainable product but also aid in reducing inequalities among the society and bring about a change in the perspective of how people recognize and appreciate the talent and untapped potential the Dalit community has to offer.
Their primary objective was to shift the traditional social vision tied to the Dalit community of India by lending prestige that is owed to their craftsmanship by showcasing it to the entire world. By showcasing their artisanship using sustainable vegan materials and modern designs, Mr. Rajbhar has managed to bridge the gap between recognition and the chance to showcase the talent of the community. Their products are cruelty-free, waterproof, and gender-neutral supporting their strive towards creating a sustainable future for the future generations of the planet.
Apart from creating a sustainable and community-inclusive product, during our interview, Mr. Rajbhar also mentioned that he is creating a co-working space in Rajasthan, India where Artisans and craftsmen from different parts of the country can come, stay and create designs and products that are at par with international brands and standards thus giving a huge boost to the community as well creating a huge market for sustainable products worldwide.
Business benefit
At Chamar, with most of the employees belonging to the Dalit and other lower-class communities of India, it gives them a sense of community and responsibility working for a company of this stature. This also provides its employees a sense of social boost and elevates their perception in the minds of the average Indian. This unique strategy provides Chamar the inherent additional benefit of employee satisfaction and retention with most employees giving a positive outlook on the work they do.

Chamar has created a niche for itself in the market with its range of leather bags, wallets, and related products. This also helps them drive consistent revenue streams and maintain a healthy market position.

https://scroll.in/magazine/898825/in-mumbai-an-artist-wants-to-confront-caste-biases-with-a-sustainable-fashion-brand
Social and environmental benefit
Chamar studio started using recycled rubber material that is waste as an alternative to making beautiful bags and other products and the feeling of the products are close to leather, waste rubber is dumped in the environment and damage the environment by releasing chemical to the soil and water bodies nearby but Chamar studio is using them to create innovative products moreover artificial leather is also the best way to support cruelty against animals.
Chamar studio aims to shift social vision towards the people working in the low-class community, empowering them as they are earning good wages now and can take a stand in the community as people are using products crafted by them. The Chamar Studio recognized the artists' community and attempted to change people's understanding by incorporating the community's name in this fashion label brand.
Interview
Sudheer Rajbhar, Founder
Business information
Chamar Studio
Mumbai, Maharashtra, IN
Year Founded: 2017
Number of Employees: 2 to 10
Sudheer Rajbhar, a visual artist turned designer from Mumbai, founded Chamar Studio, which hires leather workers from the Dalit community to create handcrafted bags and accessories using materials such as cotton and rubber reused from old tires and tubes. The studio, named after the Dalit group noted for their leather-making talents, employs street-side cobblers, sweepers, boot-polish wallas, and leather artisans to manufacture utilitarian bags such as messenger bags, cross-body slings, satchels, and backpacks. The studio was born in January last year on Guru Ravidas Jayanti. Rajbhar works from his personal studio in Kandivali, but Chamar Studio can be anywhere in Mumbai. "A cobbler sitting at the railway platform can also work from there and that's also a face of Chamar Studio," said Rajbhar.