Change towards Bin-Free Life
Dhairyansh Green
Overview
Dhairyansh Green is a Green Initiative Company which is a distributor of a variety of eco-friendly products-ranging from bagasse cups, bamboo toothbrushes, bamboo speakers to washable sanitary pads and diapers. Each of these products are biodegradable and generate minimal to zero waste. Its aim is to create awareness regarding the idea of responsible consumption and sustainable use of resources.
Authors
Subhasmita Swain
Om Prakash Verma
Adarsh Bhagat
Suchitra Divakaran
Paridhi Agarwal
School
Goa Institute of Management
Professor
DIVYA SINGHAL
Innovation
"Until all of realize that start reducing waste on personal level, and try to live a Bin Free life, that's when the real change will happen within us", says Mrs. Vaishali Chauhan, who runs Dhairyansh Green, a store in the capital city of Panaji, Goa. The story of Himalaya's turning into breeding grounds for dengue in 10 years in the Science express train motivated her to start the firm. The objective of the firm is quite simple: 'Encouraging people to use organic products that'll help in leading a zero-waste life'.
The store is offering different products like bamboo toothbrushes, earbuds, straws, hairbrushes, washable cloth sanitary pads, cotton bags, seed jewellery, washable baby diapers, etc. All of them are made and packaged from organic products. Her focus is on popularizing washable sanitary pads and diapers because she feels this issue has not yet been solved. Awareness among people for segregation and disposal of sanitary waste is lagging and fumes produced from incinerators are just adding to the menace. The sanitary pads are made from organic fabrics which leave no residue or smell, are washable and can be used for almost five years of 75 cycles.
"The common perception is that these products are expensive. But if we do the math considering the overall life and reusability, the washable organic pads cost almost the same or even less than the plastic ones sold in the market. Also, consider the amount of plastic thrown away in the five-year cycle," says Mrs. Chauhan who strongly recommends washable sanitary napkins and diapers.
She also heavily promotes reusable diapers as it is estimated that till 3 years of age, the average diaper usage will generate 1-2 tons of garbage, which will take 500 years to degrade.
Chauhan also conducts awareness talks and workshops in public events for leading a 'bin-free' life and stresses that creating awareness in the society, adapting this lifestyle and showing the younger generation by example a life without waste would lead to a domino effect that would surely help in reducing the damage we are doing to the environment.
Inspiration
Mrs. Chauhan went on a trekking trip with her family to Himalayas back in 2017. They lived amidst nature, disconnected from everything. It was when they had cold water straight from the streams, and not one of them fell sick, she realized that when you protect nature, nature protects you. After returning to Goa, when they resumed their normal life, they started falling sick because of a disconnect from nature. Her intuition grew stronger and inspired her to switch to eco-friendly products. This grew into her passion and she ventured into the distribution of waste-free and eco-friendly products under Dhairyansh Green- the first Eco Store in Goa.
It's the passion that drives her towards her vision of having a sustainable planet where future generations can live a healthy life and not face mass extinction in the near future.
Overall impact
The journey that Dhairyansh Green has been on not only have helped them in achieving their goals of helping this generation to waste less and provide biodegradable day to day product, but through their initiatives and talks in schools they have influenced one of the esteemed schools in Panjim ,K.B. Hegdewar high school, whose management has taken an initiative in making the school polythene free by banning the use of plastic bags and plastic tiffin wares in their school post their talk session with them. Such ripple effects have made her and her organization achieve the goals that they had set while starting this revolutionary initiative.
Her organization has been able to attract 200+ regular customers and vendors within 2 years since their start.
She has been able to provide 10 direct employments through her start-up.
She has given 6 talks in schools and 3 talks in an organization about her initiative.
Having a product line of 50+ products she has been able to conduct one display expo so far.
As Mrs. Chauhan says "it's pointless in providing awareness without providing solutions". Dhairyansh Green is doing both for the past 2 years and has been able to bring change in the mindset and lifestyle of Goans.
As stated by Mrs. Chauhan nothing gives her more joy than to see her 9-year old son 'Dhairya' getting inclined towards using eco-friendly products and consciously changing his habits for the benefit of the environment. She is looking forward to inculcating such values in future generation towards responsible consumption of resources and waste disposal.
Business benefit
Dhairyansh Green is one such store where customers can buy eco products, which can be used on a personal basis and all under one roof. Customers from far and near come to buy eco products. Dhairyansh Green also serves as a distributor to other retailers in and around Goa. The firm doesn't manufacture the products as manufacturing in Goa is expensive. The sources of these eco products are in Patna and Delhi. There is a carbon footprint due to transportation but the product range is wide and therefore there is no choice other than sourcing these products from other states.
Spreading awareness of the products among the people has been a key challenge. In the beginning, the stock used to sell very slowly and there were barely any walk-ins. Dhairyansh Green has not only been selling eco products but has been educating students and others via various talks and workshops held in schools and colleges in Goa. They hold exhibitions and sales too.
Mrs. Chauhan said, "There is a misconception that eco stores only sell expensive products but if there is an increase in demand for these products then there will be mass production, which will lead to price reduction". It is about removing the stigma that eco products don't work or cost too much. There is a lot of skepticism among consumers: if the bigger brands weren't making these sorts of products, why should they change and buy eco-products? They have to work hard to get people to open their minds to the possibilities. For example, handmade soaps are expensive because the commonly available ones use palm oil and other low-quality oils in their production. Palm oil production has led to the clearing of rainforests. The orangutans in those areas have lost their habitat just so that there can be more palm oil plantations. If customers consciously stop buying such products then there won't be any ecological damage.
The store is making its fair share of profits and Mrs. Chauhan is thinking of expanding the business and opening another branch of the store in South Goa.
Social and environmental benefit
The challenge is in educating people about reusing and recycling and encouraging them to be responsible by communicating the positive benefits. Responsible consumption has to begin from the grassroots level. It should become a way of life. It should begin right from homes and should be instilled in every child by their parents.
The eco products available in the store like the eco-toothbrush can last for years compared to its plastic counterpart which are supposed to be replaced every three months according to dentists. The bamboo wood toothbrush with corn fiber bristles can be composted under industrial conditions. Other than this 95% of the product is biodegradable. The use of eco products like bamboo combs, toothbrushes, can help in non-biodegradable waste reduction.
Bamboo products are innovative because they take only about 3 to 5 years to grow and can be cut for its wood. This helps in saving trees. Bagasse cutleries made out of bagasse left after processing sugarcane can help minimize non-disposable waste. Similarly, other products are in the pipeline like biodegradable cleansing agents. Simple things like carrying your own cutlery and straws can help minimize waste.
Non-biodegradables like plastics can be shredded and can be used in the construction of roads, but nothing can be done about sanitary pads and diapers. Products like reusable sanitary pads and diapers are a little expensive because they are a one-time investment but disposable products do more harm. Most of the eco store's products have a 100% biodegradable packaging and for those which do not have such packaging, refilling options are also available which are facilitated by the store's suppliers. Waste reduction is the key. Things will improve only if we try to live a bin free life.
Interview
Vaishali Chauhan, Founder
Keep this story going! Share below!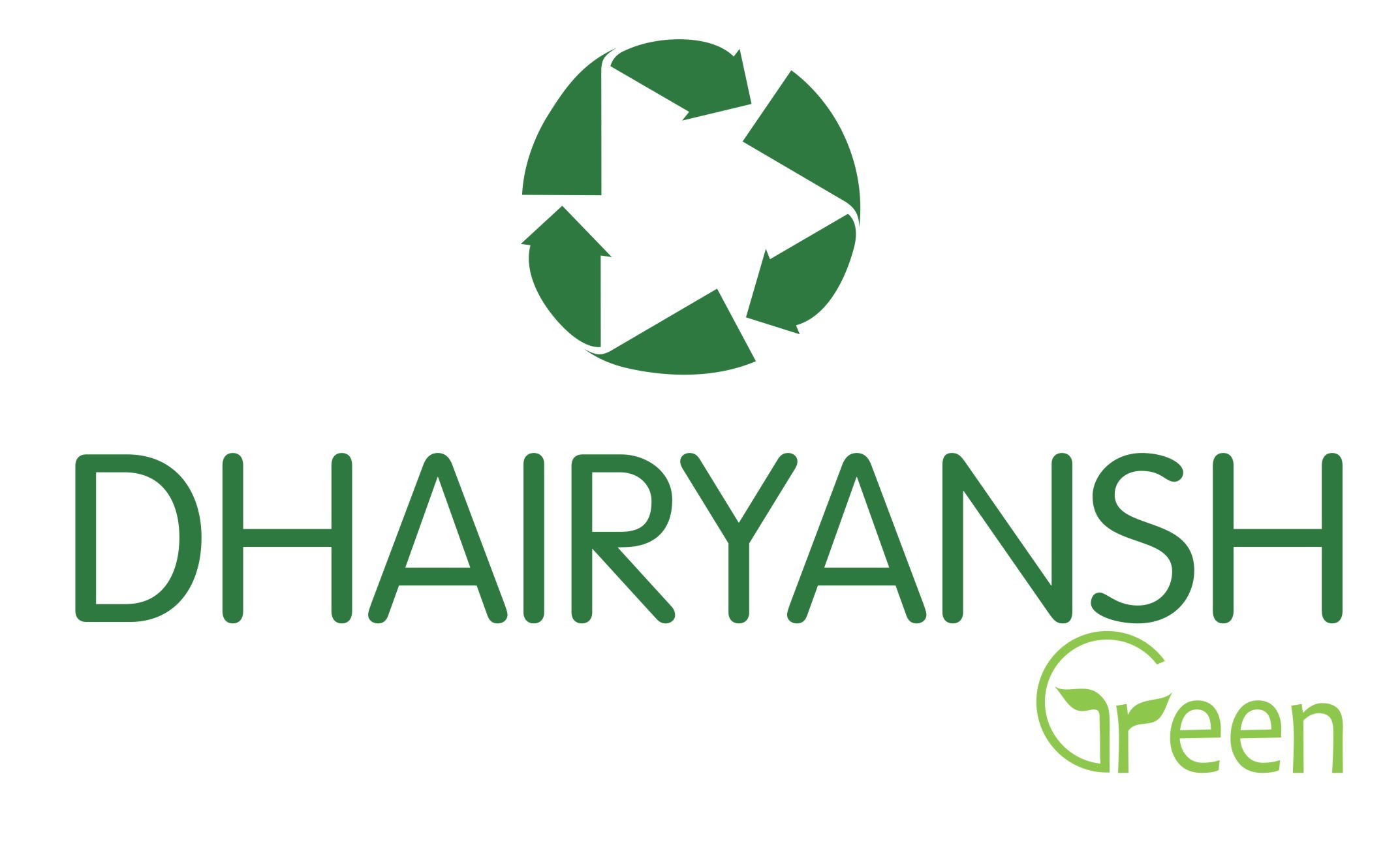 With the thought of being close to nature keeps us healthy and active, Mrs. Vaishali Chauhan started the initiative of leading a waste-free life and promoting a hygienic menstrual cycle. From toothbrush and combs to sanitary pads, she was surprised by an average person's dependence on daily-use-items made of plastic. This led to first her being less dependent on plastic in her daily life and finally establishing Dhairyansh Green to contribute to the initiative of sustainable use of resources. She has given up her career in interior designing to run a store that helps people to shift to a zero waste lifestyle.
Dhairyansh Green is a Green Initiative Company which believes that small changes and work can make a big difference. A variety of products can be found in this eco-store ranging from bagasse cups, bamboo toothbrushes, bamboo speakers to washable sanitary pads and diapers. Each of these products are biodegradable and generate minimal to zero waste. Speaking to us, Mrs. Chauhan communicated that "One of the major reasons behind the naming the company as 'Dhairyansh' is that 'Dhairya' means patience and 'Ansh' means part. In the journey of creating awareness among people about the concept of sustainable living you need to have a lot of patience along the journey". She aspires Dhairyansh Green to be present at every corner of the world with a vision of conserving optimum resources for our future generation.