Carbon Neutral Coffee
La Ruta del Café Aristóteles
Overview
"La Ruta del café Aristóteles pertenece al grupo Agro Xicotepec 2000 S.P.R de R.L de C.V., empresa 100% mexicana, que cuenta con 50 años de experiencia en el mundo de café, orgullosamente poblanos [...]. La organización cuenta con viveros, Fincas de producción de café convencional, orgánico y huella de carbono. Se tienen los procesos de producción de beneficiado húmedo y seco, una comercializadora, servicio de cafetería con Aristóteles Coffee Shop, marcas de café tostado y molido "Café Aristóteles" y "Finca Los Pinos"."
.....
"The Aristotle Coffee Route belongs to the Agro Xicotepec 2000 S.P.R group of R.L. de C.V., a 100% Mexican company, which has 50 years of experience in the world of coffee, proudly poblanos [...]. The organization has nurseries, farms producing conventional coffee, organic and carbon footprint. We have the production processes of wet and dry benefited, a marketer, cafeteria service with Aristotle Coffee Shop, roasted and ground coffee brands "Café Aristóteles" and "Finca Los Pinos"."
Authors
Víctor Bretón Millán
Tamoe Natalia Gómez López
School
Instituto Tecnológico Universitario Empresarial
Professor
Héctor Ibarra Santamaría
Innovation
El café carbono neutral que produce Finca Los pinos va más allá de lo clásico, es decir, durante todas las etapas del proceso de producción desde las semilla hasta el producto terminado que es el café tostado, se miden los gases de efecto invernadero reduciendo y compensando bandejas para evitar la contaminación al ambiente.
Durante todo el ciclo de producción desde la semilla, vivero, Finca (plantaciones de café), etapas de procesamiento (cereza, pergamino, verde y tostado) se lleva la administración y cálculo de todas las emisiones de CO2, de acuerdo al resultado que obtiene hacen una planeación de las medidas para reducir nuestros CO2 y finalmente lo restan con el secuestro de carbono del bosque y lo que captura cada planta.
Principalmente sus equipos son ecológicos y ocupan la mínima cantidad de agua, por ejemplo, en el despulpe de las compostas o algún producto para el manejo de plagas y enfermedades que no contienen nitrógeno o tienen bajo contenido de éste. El control de hierbas no deseadas se realiza con chapeos manualmente. Todos los subproductos que provienen del proceso del café se reintegran a la composta, los insumos son locales para no tener una alta huella en el transporte, y el secado de nuestro café es vía solar. Todos los procesos son artesanales.
.....
The carbon neutral coffee produced by Finca Los Pinos goes beyond the classic coffee, that is, during all stages of the production process from the seed to the finished product that is roasted coffee, greenhouse gases are measured reducing and compensating these to avoid pollution to the environment.
During the entire production cycle from the seed, nursery, farm (coffee plantations), processing stages (cherry, parchment, green and roasted) the administration and calculation of all CO2 emissions is carried out, according to the result obtained in a planning of the measures to reduce our CO2 and finally subtract it with the carbon sequestration of the forest and what each plant captures.
Mainly their equipment is ecological and occupies the minimum amount of water, for example, in the depulping of composts or some products for the management of pests and diseases that do not contain nitrogen or have low nitrogen content. Control of unwanted herbs is done by hand. All the by-products that come from the coffee process are reintegrated into the compost, the inputs are local so as not to have a high footprint in transport, and the drying of our coffee is via solar. All processes are handmade.
Inspiration
Finca los Pinos empezó a trabajar en productos orgánicos desde hace 15 años pero se dieron cuenta que eso no era suficiente para el ambiente porque sabían que podían hacer más y eran conscientes de que en cada proceso que elaboraban emitían CO2 principal gas de efecto invernadero , por lo cual desde el año 2013 iniciaron a trabajar en medida de mitigación de CO2 y toda esta idea surgió inspirados del modelo que implementaron en Costa Rica, país que es pionero en agricultura de carbono y actualmente Finca los Pinos es pionera de la agricultura de carbono en México.
.....
Finca los Pinos began working with organic products 15 years ago, but they realized that this was not enough for the environment because they knew they could do more and were aware that in each process they made they emitted CO2 the main greenhouse gas, so since 2013 they began to work on CO2 mitigation and all this idea was inspired by the model they implemented in Costa Rica, a country that is a pioneer in carbon agriculture and currently Finca los Pinos is a pioneer of carbon agriculture in Mexico.
Overall impact
El impacto que genera las innovaciones de Finca los pinos es que se encargan de neutralizar todas sus emisiones de CO2 que afectan al ambiente y así dar a conocer e inspirar a otras empresas para implementar las mismas estrategias que son beneficiosas para todos desde el nivel salud, económico y ambiental haciendo que la producción del café sea un proceso integral y ambiental por su economía circular y cultivo sustentable ya que como valores principales tiene sustentabilidad, responsabilidad, equidad e integridad
.....
The impact generated by the innovations of Finca los pinos is that they are responsible for neutralizing all theirCO2 emissions that affect the environment and thus make known and inspire other companies to implement the same strategies that are beneficial for everyone from the health, economic and environmental level making coffee production an integral and environmental process for its circular economy and sustainable cultivation consistent with its core values of sustainability, responsibility, fairness and integrity.
Business benefit
El modelo de negocio que maneja Finca los Pinos es perfectamente replicable tanto en un enfoque de pequeños o medianos productores, como empresa ayudan a que el negocio sea más eficiente y genere más concientización sobre el impacto que le dejamos al planeta.
Su estrategia para poder trabajar con un comercio justo en un ambiente donde los precios del café son muy volátiles es trabajar con calidad, constancia, trazabilidad y diferenciarse de mercados que pagan precios superiores al estándar sin cumplir con sus responsabilidades ambientales.
Y los subproductos que se obtienen de la finca siempre son aprovechados para generar otros productos como lo son la harina de café, la mermelada de café, el exfoliante o jabón de café.
.....
The business model of Finca los Pinos is perfectly replicable for both small and medium producers, helping to make the business more efficient and generate more awareness about the impact we have on the planet.
Their strategy in order to work with fair trade in an environment where coffee prices are very volatile is to work with quality, perseverance, traceability and differentiate themselves from markets that pay prices above the standard while neglecting their responsibilities towards the environment.
The by-products that are obtained from the farm are always used to generate other products such as coffee flour, coffee jam, scrub or coffee soap.
Social and environmental benefit
Finca los Pinos se encarga de neutralizar todas sus emisiones de CO2 al ambiente, su agricultura está basada en el respeto a la biodiversidad circular y al suelo como organismo vivo.
Cuentan con equipos principalmente ecológicos y se ocupa la mínima cantidad de agua y los insumos son locales para no tener una alta huella de transporte y el secado del café es vía solar.
Todos los procesos son de manera artesanal, por lo cual todos los subproductos que provienen del proceso del café se reintegran a la composta.
La Finca es capaz de pagar completamente su huella gracias a su reserva de bosque y lo que captura cada planta de café.
Es una responsabilidad muy fuerte ya que ahora en México los ojos de muchos productores están puestos en ellos y los ven como un modelo a seguir.
.....
Finca los Pinos is responsible for neutralizing all its CO2 emissions, its agriculture is based on respect for circular biodiversity and the soil as a living organism.
They have mainly ecological equipment and the minimum amount of water is occupied and the suppliers are local so as not to have a high transport footprint and the drying of the coffee is via solar.
All the processes are done by hand, and all the by-products that come from the coffee process are reintegrated into the compost.
The Finca is able to fully offset its footprint thanks to its forest reserve and what each coffee plant captures.
It is a very strong responsibility since now in Mexico the eyes of many producers are on them and they see them as a model to follow.
Interview
Julia Ortega Carballo, Owner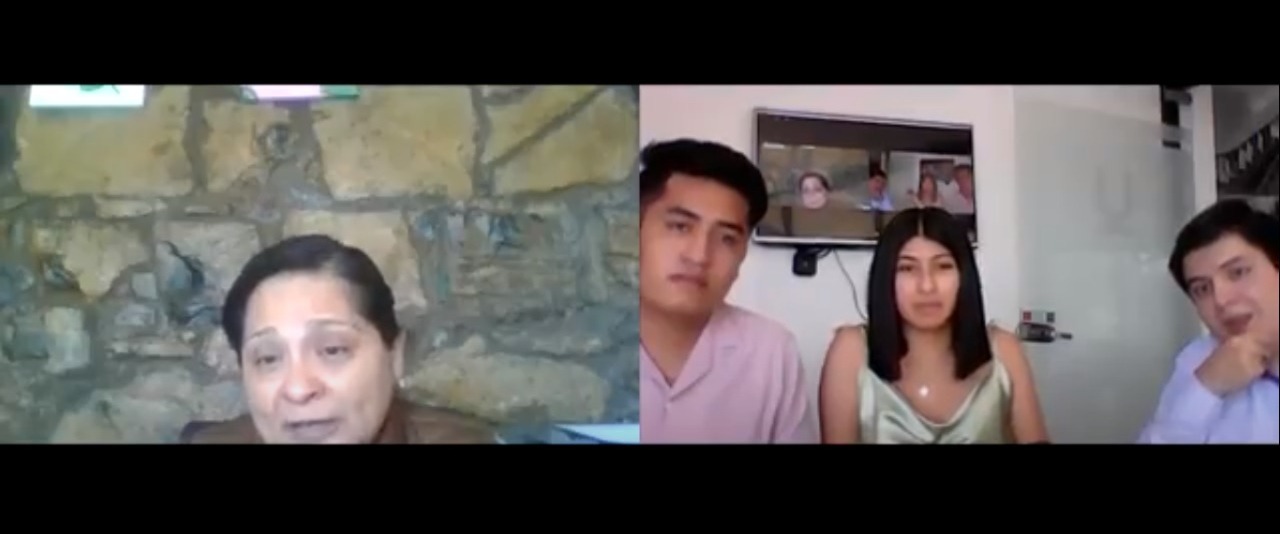 Keep this story going! Share below!
La Ruta del Café Aristóteles
Xicotepec de Juárez, Puebla, MX
Business Website: https://larutadelcafe.com.mx/
Year Founded: 1960
Number of Employees: 11 to 50
La Ruta del Café Aristóteles es una empresa cafetalera que produce café carbono neutral. Se encarga de transformar al café dentro de una economía circular, con un proceso integral, ambiental y sustentable. Es un café que neutraliza y compensa al ambiente con cero emisiones de CO2 contribuyendo a las acciones que mitigan el cambio climático.
La ruta del café Aristóteles plantea un nuevo esquema de negocio para la cafeticultura en México, para ser una nueva alternativa económica para Pymes involucradas en temas del café. Con tecnologías verdes, La Ruta del Café Aristóteles participa con las metas y objetivos de desarrollo sostenible de la Agenda 2030 que se presenta a continuación
ODS 2- Hambre cero.
ODS 5- Igualdad de género.
ODS 8- Trabajo decente y crecimiento económico.
ODS 12- Producción y consumos responsables
ODS 13- Agua, industria, innovación e infraestructura.
ODS 15- Vida de ecosistemas terrestres
.....
La Ruta del Café Aristóteles is a coffee company that produces carbon neutral coffee. It is responsible for transforming coffee within a circular economy, with an integral, environmental and sustainable process. It is a coffee that neutralizes and compensates the environment with zero CO2 emissions contributing to actions that mitigate climate change.
The Aristoteles coffee route proposes a new business scheme for coffee farming in Mexico, to be a new economic alternative for SMEs involved in coffee issues. With green technologies, La Ruta del Café Aristóteles participates with the sustainable development goals and objectives of the 2030 Agenda, which are mentioned below:
SDG 2- Zero hunger.
SDG 5- Gender equality.
SDG 8- Decent work andeconomic growth.
SDG 12- Responsible production and consumption
SDG 13- Water, industry, innovation and infrastructure.
SDG 15- Life of terrestrial ecosystems.