Building Community Around Ethical and Sustainable Fashion
Wolfbait & B-girls
Overview
Wolbait's innovation is providing unique and ethically sourced goods that help to benefit the overall community. Its business model "is a people-driven project" that is constantly evolving and learning to improve the health and wellbeing of employees and the community. The company features over 300 local artisan's creations, some of which are from female-owned, fair trade companies local to Chicago.
The most important factors for Wolfbait products are quality and uniqueness. The company's mission is "to blur the lines between artisan and customer" by acting as a resource and venue for local artists, and a driving force to strengthen the community through sustainable and ethical practices.
Author
Hannah Wohlman
School

Loyola University Chicago
Professor
Nancy Landrum
Innovation
In a world full of fast fashion and unethical business practices, Wolfbait is a breath of fresh air. Wolfbait supports the Chicago community by providing a network and space for local artists to sell. The company also supports and partners with local charities. Wolfbait is passionate about creating a welcoming and people-forward business that cares about providing a fair living wage and a safe, healthy working environment.
The company also sells Fair Trade products. According to owner Shirley Kienitz, "'Fair Trade' is a term used to describe outsourced production that meets a certain standard of pay and work environment requirements". The proceeds gained from fair trade products are then used to further support the community by going towards not-for-profit organizations. This directly correlates to Wolfbait's mission to help support the community and its artists while also giving the business a sense of purpose.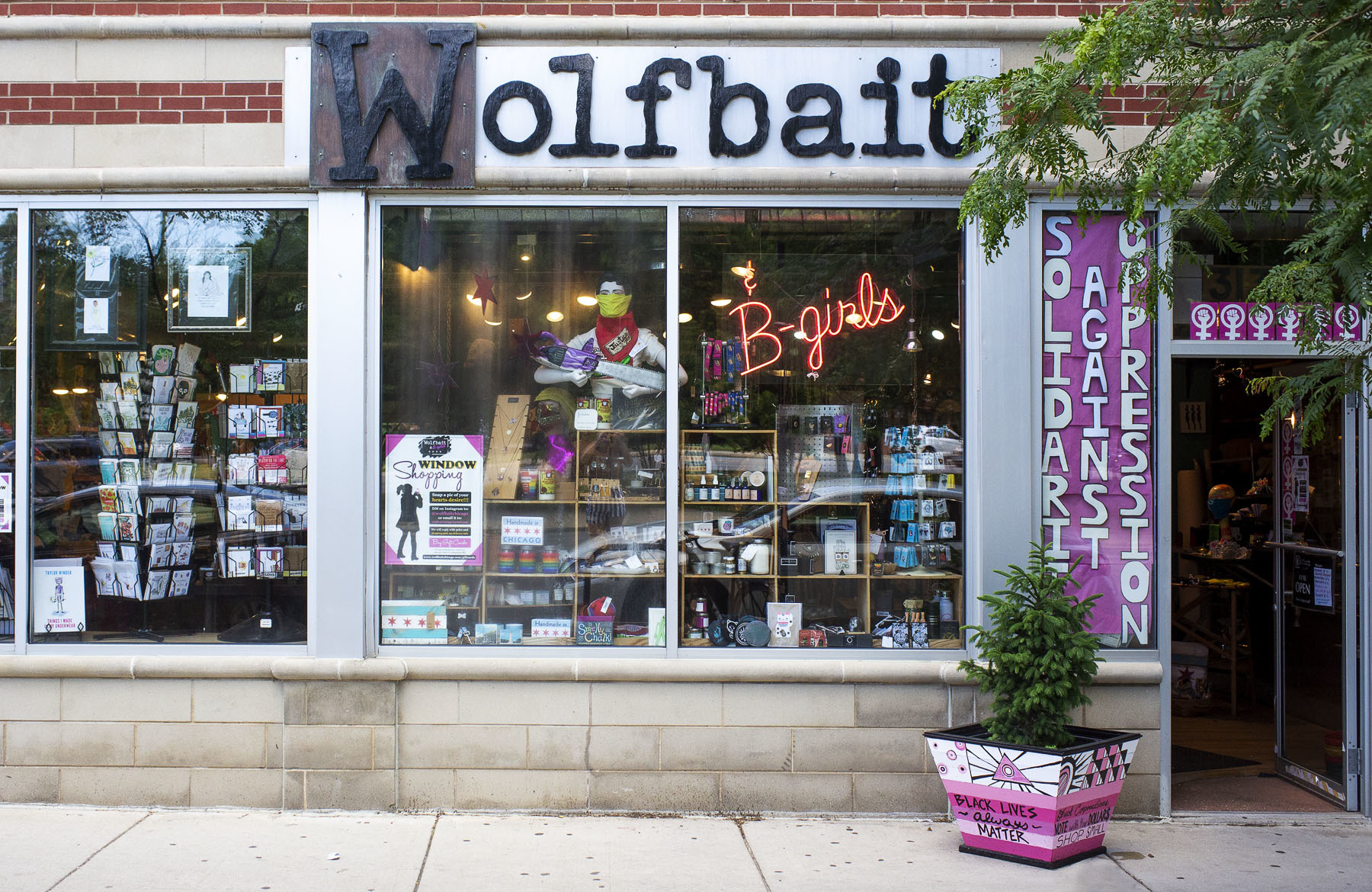 Inspiration
Before Wolfbait, the company's two owners were already deeply embedded into the artisan community in Chicago. Shirley Kienitz started making her own collection of women's clothing. Shirley and her friend Jenny Stadler eventually came together with the idea of Wolfbait and the purpose of a people-forward business.
With this idea also came the redefinition of what ethical fashion entails. They wanted a business for creative and conscientious minds. Sustainability continues to be an important aspect of Wolfbait and passion for Shirley. She says "my two young daughters have certainly strengthened my values and made it even more important that the work I do be beneficial to the community and world I live in." Shirley and Jenny show us how important caring about the planet and community now is for future generations.
Overall impact
Wolfbait has an impact by encouraging Chicagoans to shop locally. Shopping locally not only creates immense value for the community and economy but also for the planet. Local businesses are more immersed in the community and can get to know the customers better and provide a more unique touch and customer service. The business is dependent on the people who live there and so Wolfbait wants to get to know the people and create a relationship with them to further the business and support the planet. You won't find the products sold at Wolfbait at very many other places which helps them stand out and become differentiated from competitors.
The money that customers spend with local businesses positively impacts society because the companies are much more likely to give back. The short-term effect of Wolfbait's local/fairtrade products is that it causes consumers to give back while the long-term effect is that Wolfbait is creating a basis for a sustainable future. According to Kienitz, "non-profit organizations receive 250% more from small business owners than they do from large businesses. We here at Wolfbait are frequently donating to local charities and causes." By Shopping at Wolfbait, you are helping a business that is dedicated to a greener, sustainable, and loving future.
Business benefit
When asked about how sustainability benefits her business, Shirley Kienitz responded, "Sustainability benefits everyone! We are all sharing this planet and have to take responsibility for our actions on it." It is inspiring to hear this because so often we think of sustainability as only having an impact in the future or on the planet when in reality it does so much for individuals and everyone in the present as well. Wolfbait sees the value in creating a healthy relationship with its customers and the planet which only drives the company to be more successful. As Wolfbait becomes more profitable, it can give back more to the community and the cycle continues. Sustainability is deeply embedded in Wolfbait's business mission and sustainability and business work hand in hand together.
Social and environmental benefit
Wolfbait's passion has immense positive social and environmental benefits. Its mission is focused on shopping ethically and sustainably. This involves paying workers fair and liveable wages to be able to give them a better life and improved wellbeing. Through the venue, local artists in the community benefit from shared resources which help them to grow and collaborate with others. The company's fair trade products also must meet a standard of pay and work environment conditions.
Wolfbait also has a positive impact on the environment as a business supporting local artisans because the goods require less distance for transport; this leads to fewer emissions polluting the air and helps Chicago be greener. On the company's website, it states, "Aircraft transport has greater fuel consumption and greenhouse gas emissions per mile than any other mode of transport, and the U.S. imports from over 150 countries, totaling $22 trillion every year." Wolfbait is able to reduce greenhouse gas emissions by staying local. Wolfbait also reduces plastic use by using recyclable, hand-stamped paper packaging. The company is dedicated to being eco-conscious and many of the displays and products come from up-cycled items to reduce waste.
Interview
Shirley Kienitz, Owner
Keep this story going! Share below!
Wolfbait & B-Girls, a female-owned and operated business, first opened its doors in 2006 and since then has been a vital part of the Logan Square neighborhood of Chicago. Wolfbait is primarily a women's clothing store where you'll find apparel, accessories, art, and gifts that you won't be able to find anywhere else. Its owners try to make the world a better place through ethical fashion and sustainable business practices.