100km Foods Bringing Local Farms and Chefs Together
Author
School
Professor
Global Goals
Keep this story going! Share below!
Summary
100km Foods helps create a food economy between local, small farmers and the urban wholesale marketplace (e.g. restaurants, hotels). They provide a local food distribution network where chefs can log in to 100km Foods to select from a variety of fresh food choices and producers. In turn, they foster the growth of local farms and communities as well as encouraging well-being.
Innovation
"[We work with] Ontario products, that are source identified, meaning that it's full transparency… who and where the product came from… always right from the point of order to point of delivery. We really try to foster a genuine connection between the people who produce the food and our end-customers, which 99% of the time are chefs." - Paul Sawtell
Innovated by duo Paul Sawtell and Grace Mandarano, 100km Foods fills the gap between small to medium-sized farms and food businesses. Their business provides these businesses with close connection to high-quality and responsibly sourced products. They provide an e-commerce platform where chefs can pick and choose from unique Ontario food products and producers. With a click of a button, chefs are able to order and receive fresh produce, meats, and other foods.
100km Foods services Ontario-exclusive farms* and food businesses in Southern Ontario, where they distribute through the use of their own fleet of trucks. They provide a unique, close-connected experience where they are able to tell customers exactly where their food comes from while guaranteeing superior quality. On their website, all 100 producers are traced and profiled where customers can directly connect with them. When orders are placed, the ordered products are still in the ground before harvest. The producers harvest-to-order, where the products go from ground, to delivery, to the chef's hands within 24 hours.
*: There are a few exceptions with Fogo cod and other fish coming from outside Ontario
Inspiration
After leaving their careers in pharmaceutical sales to focus on personal values and reinvention, Paul Sawtell and Grace Mandarano set off on a 7-month journey throughout Asia, came back to embark on a new journey of meaningful work. In the fall of 2007, they attended a Toronto-based food discussion, Politics to Local Food, that sparked the inspiration for 100km Foods. When they listened to the panel discussion between Toronto chefs and local farmers, they discovered an underlying insight. Although both groups wanted to buy and sell food products to each other, they both did not possess the resources and capacities to deal with deliveries and purchases. Hearing this need expressed between chefs and farmers, Sawtell and Mandarano pitched their innovation to top Toronto chefs where they expressed interest in their single delivery channel that would bring fresh produce and ingredients to their doorstep. They started out with one truck and now 100km Foods has grown to work with farms all around Ontario.
"We found farmers, bought the truck and called [the chefs] back, 'we were ready'… [and] our first delivery ever was April 1, 2008 and we've been growing steadily ever since." - Paul Sawtell
Overall impact
100km Foods closes the gap between fresh, local food and urban customers. With the harvest-to-order concept, chefs are able to use ingredients that were in the ground less than 24 hours earlier. They not only enable chefs to work with fresh, high quality products, but also provide benefit to their end customers via improved and healthier meals. Unlike other local food suppliers, 100km Foods provides genuine, personal connections between all three parties - chefs, farms, and 100km Foods. By providing full transparency, both chefs and farms know who is buying and selling their products, where chefs know exactly which producer their orders are coming from. 100km Foods also allows chefs and producers to have meet and greets to have better understanding of the products and each party. Curious consumers and interested food businesses can read profiles of every producer through 100km Foods' website and can even contact each producer for further inquiries. They truly provide an award-winning service where they go the extra "kilometre" to better transparency and local food economy.
"For every $1 local food spent, it was 3$ [more] benefiting the local economy." - Paul Sawtell
In the short term, economic growth is the main effect from their innovation. By opening up a new distribution/production channel for both farms and food businesses, they help grow them both economically. Through the certification logo, "Certified 100km," food businesses gain competitive advantage by promoting and using local and fresh food products. In addition, these local food producers are able to expand their distribution and growth with the addition of new clients in the urban marketplace.
In the long term, 100km Foods help create and maintain a local food economy throughout Ontario. With the mindset, "as we grow, they grow," they provide better accessibility to local Ontario food which connects farms and consumers all over the province. Especially with the "Certified 100km" certification, they encourage consumers to support certified food businesses and allow local food to become mainstream.
100km Foods also aims to help solve some of the UN Social Development Goals:
Good Health and Well-being - high quality and fresh food products

Decent Work and Economic Growth - opening new distribution, production channels for farms and food businesses
Sustainable Cities and Communities - growth and development in local farms and food businesses
Responsible Consumption and Production - full transparency and source identification for food products
Business benefit
The foundation of 100km Foods began with a new market opportunity of providing a wholesale market access to small, medium-sized producers. The founders identified a new need in the food distribution industry and created value through a network of producers and food businesses. Their new distribution service helped grow Ontario's local food economy by fulfilling this new market of not just chefs and farms, but everyday consumers who want to help support local producers and responsibly sourced food. Also, by working directly with producers and chefs, they are able to reduce costs and foster closer connections between parties. This innovation is fundamental to 100km Foods' business, where it has provided their main source of revenue and created 28 full-time jobs throughout the company.
Social and environmental benefit
"As we grow, they grow." - Paul Sawtell
Through 100km Foods, Satwell and Mandarano have been helping farm partners grow and develop their businesses. With new revenue streams from faraway food businesses, the partners are able to increase production and workforce. As a result, the involved local communities flourish through increased local workforce and economic development. In addition, 100km Foods allow their partners to set their own produce prices. As local farms and food products do not have fair-trade certification, 100km Foods wants to provide and encourage fair pricing on their own. This allows for fair wages for farmers and other farm employees where they can continue to provide the best quality and products to their end-customers.
From an environmental standpoint, the encouragement of a local food economy helps reduce ecological footprint and food waste. With customers and food businesses supporting from local food producers and 100km Foods, they are able to reduce their 'food miles.' With less transportation and pollution, compared to other food imports from further regions, everybody does their part in reducing negative environmental impact. In addition, farm partners with 100km Foods harvest-to-order, meaning no produce goes to waste. All chefs are able to reduce throwing out products that have gone bad, by receiving ingredients that have just been harvested and are of high quality and freshness.
Interview
Paul Sawtell, Co-founder and CEO
Business information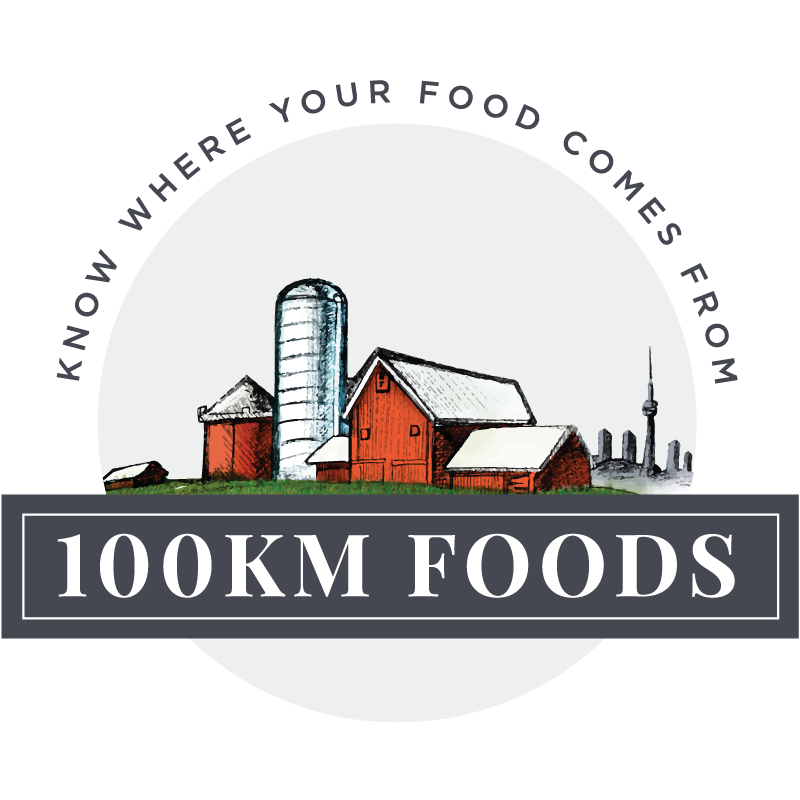 100km Foods
Toronto, Ontario, CA
Year Founded: 2007
Number of Employees: 11 to 50
100km Foods is an award-winning local food distribution company that connects local farms and chefs, one click at a time. They bring fresh produce, meats and other bounties Ontario has to offer to food businesses.