Afishionado Bridging the Divide Between Local Fishers & Their Communities, One Fish at a Time
Authors
School
Professors
Global Goals
Keep this story going! Share below!
Summary
Afishionado's most significant and most apparent Sustainable Development Goal is Life Below Water. With their sustainable fishing practices, there is no doubt that this is their greatest strength. Second, they are engaging in the Climate Change reduction goal due to their local business. The fish is caught locally and is sold locally, thus reducing the transportation time, which is one of the most considerable contributions to CO2 production. Finally, they contribute to the SDG of Decent Work and Economic Growth. They support the local fishers of Nova Scotia and the other companies in their supply chain management, such as Ocean Wise.

Innovation
Afishionado has a very straightforward business model; to provide fresh and fresh-frozen seafood to local consumers and restaurants. Many companies in the world offer seafood products, but not many exist that provide locally sourced and sustainably fished seafood. The company was founded in 2007 by Hannah Nelson. Harrison explained that when Hannah completed her study and came back home, she realized that in the Halifax farmers markets, "there seemed to be a huge absence of selling fish." As we know, these local farmers' markets are often where you can find food that was locally sourced, so this didn't make much sense to her. They quickly moved away from the farmers' market, as they now provide their products to restaurants and have two locations opened in Nova Scotia. As the company grew, they always wanted to keep the local feeling to their customers.
Afishionado has partnered with Ocean Wise, who is very critical for them because they provide the information of whether their seafood was fished sustainably. For example, from the moment a fish is caught and brought back to shore, Ocean Wise determines if it was sustainably caught. From there, Afishionado has partnered with multiple companies that fillet and portion the fish for them, so once it arrives at one of their distribution centers, they can quickly deliver the orders to their customers. Harrison described the deliveries as having a "very local vibe," which is something that he enjoyed. They are also partnered with companies that produce fish on land and aquacultures. Harrison explained that most of their seafood supply came from these partners, which is much more ideal than fishing fish in the wild because it prevents the threat of overfishing and affecting the population.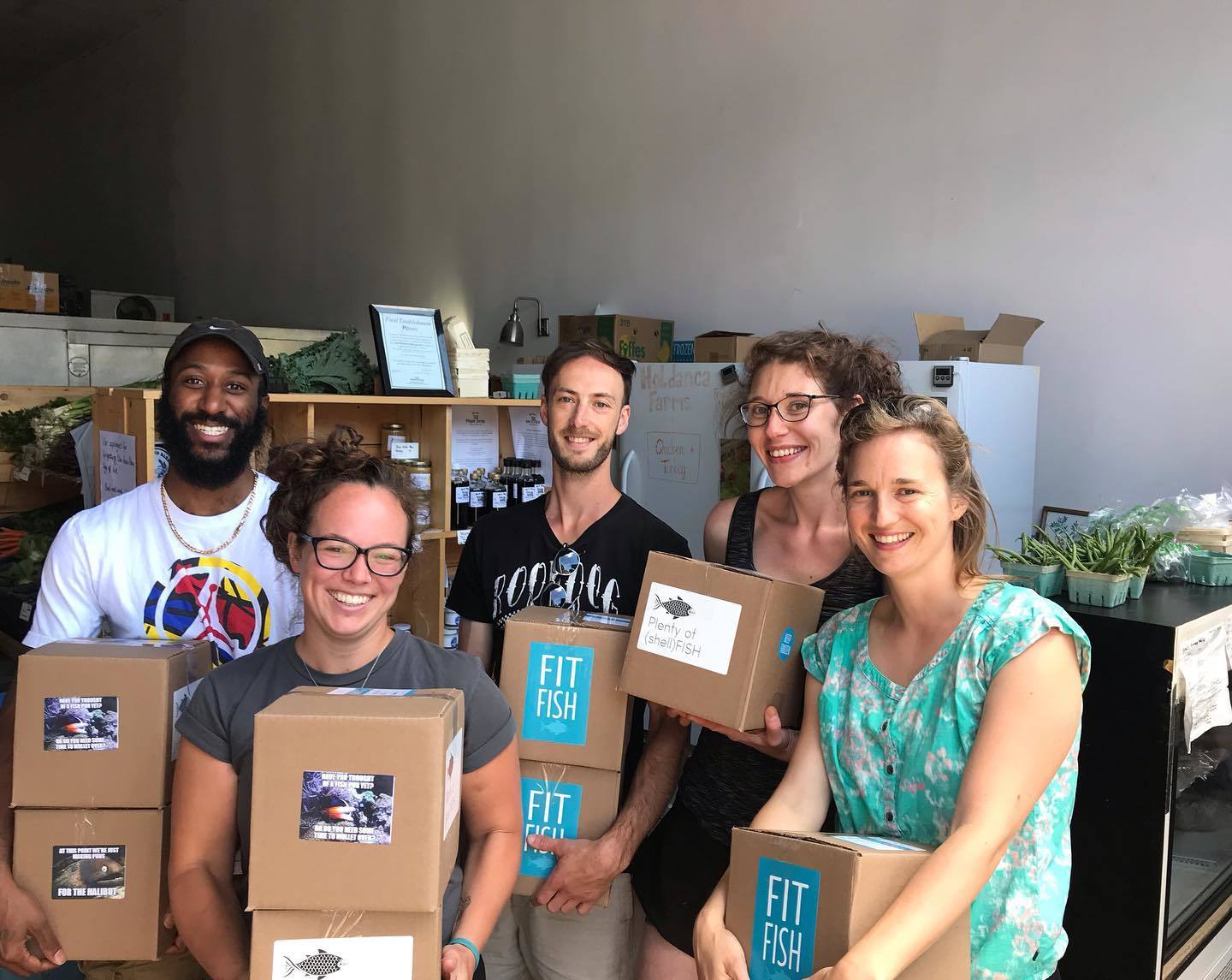 Inspiration
The inspiration behind Afishionado is an amazing example of an individual who recognized an issue in her community, and became a part of the solution. When Hannah Nelson came home from her schooling, she noticed that although "Nova Scotia had a huge culture of fishing", there was a massive disconnect between what her province was known for in comparison to what she was seeing in local farmer's markets. Her original idea came about addressing the very simple question, How can we create opportunities to connect locals with traceable and sustainable fish options?.
Hannah Nelson was motivated by this disconnect between the local consumer and retailer, compounded by the fact that this is in a province that has strong historical, geographical, and economic ties to the fishing industry as well as the ocean as a whole. With her background and masters in agricultural ecology, Hannah has rooted herself in a position where she can use her knowledge, experience and expertise in order to foster real, meaningful change. It was evident in the interview with one of her employees, Harrison, that she was truly passionate about her community and exploring how we as consumers can navigate the complex industry of fishing through a more sustainable lens. Ultimately, the inspiration and motivation behind the creation of Afishionado is a product of where Hannah grew up, the people she grew up with, and her unwavering drive to be a difference maker in an industry that needed one.
Overall impact
Afishionado is able to create a very significant impact to the surrounding communities. Firstly, since they produce a local product using local suppliers, this greatly benefits the economy of Nova Scotia. They are also able to provide employment for the local fishermen and women and are able to continuously support their partners in their supply chain. They not only produce local and sustainable seafood, they also want to be able to educate and inform the communities through people visiting their distribution centers, but also mainly via their social media platforms. Harrison mentioned, "that we are definitely not at the impact level that we want to be at right now". They really want to continue to increase awareness on the importance of sustainable fishing and how it can conserve the fish population in the wild. If the world continues to overfish like we are at the moment, this will greatly affect communities who heavily rely on fishing as their primary source of food. This is also one of the reasons why the United Nations came up with this specific goal of conserving sea wildlife. Afishionado is growing at a significant rate, and they soon hope to be able to educate people across Canada. Another important factor to consider is that they help make the local restaurants increase their positive image as they are able to promote the food they serve is local and sustainably fished. Our world is trying to move towards a more sustainable future, using sustainable food products can make a significant difference when it comes to returning customers.
Business benefit
The business model and innovation of locally sourcing sustainable seafood offers quite the benefits to the business of Afishionado. First off, we live in a world where the spread of information offers a look into the "evil" business practices of many products we buy. This is why the boom of products deemed to be environmentally friendly, organic, and sustainable has been so successful; it's a very marketable value proposition for a product. Afishinado has done this very well. They have set up a supply chain that is certified sustainable by a trusted organization. This makes an attractive buy for restaurants and consumers because they can use sustainably obtained fish. They also have the advantage of sourcing their fish locally. This not only provides the benefit of tapping into the "support the community" market, but it also provides proof that their fish is fresh and not transported several days while frozen. Overall, Afishionado took the fundamental problem of unsustainable fishing and provided a solution for the environmental factor, and the positive business aspect is a great added benefit.
Social and environmental benefit
While Afishionado, at its very core, addresses the environmental challenges that impact the fishing industry, the company also prides itself on several other factors that continue to burden fishers and the industry as a whole, and social sustainability is no exception, Afishionado's business model allows them to support and encourage local fisherman into reaching more local markets through sustainable means. From a social perspective, Afishionado benefits the local and provincial community by assisting the livelihood of fishing at the smallest scale, an industry that has greatly contributed to the social and economic growth of communities and Nova Scotians for centuries.
On a more environmental note, the company engages with companies like Ocean Wise, a company that is used as a guide that ensures the responsibility to a fishery's abundance and catching methods. This partnership helps further develop Afishionado's relationship with the small scale, community based fishers and supports them by offering products that are fished or farmed using low impact, environmentally conscious methods. In summary, Afishionado's benefit to the to both society and the environment is addressed by their passion for the province's fishing industry at the the smallest level, as well as their ability to source and provide a product to consumers that has been classified as both sustainable and traceable.
Interview
Harrison Callaghan, Retail and Marketing Manager
Business information
Afishionado
Halifax, Nova Scotia, CA
Year Founded: 2007
Number of Employees: 11 to 50
Afishionado is a local seafood provider based out of Nova Scotia. Their main objective is to provide communities with fresh and fresh-frozen seafood that was locally and sustainably fished. Afishionado works with local fishers and aquaculturists to offer the highest quality seafood products to restaurants and consumers across local provinces. They also want to educate and raise awareness about sustainable and traceable seafood, which is achieved with their partnership with Ocean Wise.