Speaking City An Inclusive and Comfortable Urban Environment for Everyone!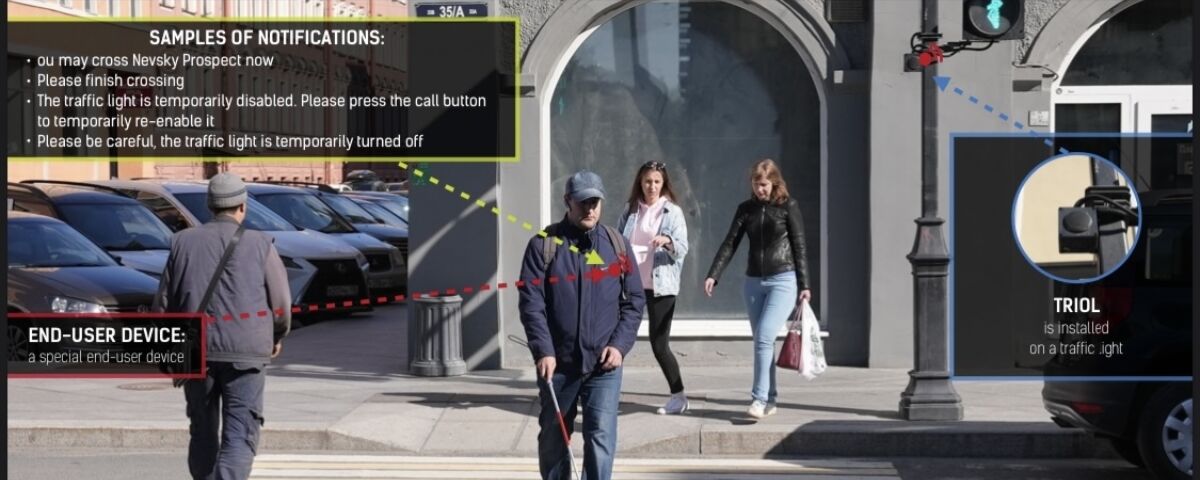 Authors
School
Professor
Global Goals
Keep this story going! Share below!
Summary
"We have a rule: we don't do anything without our clients (visually impaired or people with low mobility) first requesting it. There is a problem whereby companies continue to produce products that people do not actually need, but for some reason they think that since their company made them, people must use them", told us Pavel Bakanov, Manager of the social IT project Speaking City.
This mindset of care and compassion allowed Speaking City to introduce unique and innovative features that gave them a competitive advantage over other devices, that wanted to achieve the same functionality. Speaking City´s research and development process is based on close collaboration with and requests from the community of disabled and visually impaired people. Speaking City's ability to listen to customer needs is the foundation of their business success.
Because the company attentively listens to requests from people with disabilities it is able to regularly upgrade the devices it produces. As a result, the final device meets their customers' special needs and does not contain unnecessary functions. These devices are called "user devices": special end-user device with buttons or smartphones with a free app "Speaking City". User devices receive and send radio messages from transmitters. This allows the users to get information about any facilities in which transmitters have been installed.
Innovation
After intensive stakeholder dialogs with the blind community in St. Petersburg, Speaking City project was launched in 2008, but in 2012 it was reinvigorated with an extra impulse from the new general director – Maria Romashova. With the launch of the project, support devices are now installed on public transport such as buses, trams, trolleybuses, and pedestrian crossings. The pilot project for Speaking City was launch in 2011 in St. Petersburg in parallel with the installation of support equipment, aimed to help blind and visually impaired people to get around the city more easily. The company developed the TRIOL device that produces audible signals at traffic lights that indicate street names and crossings, provide warnings about the end of the green pedestrian traffic light signal, and offer other orientation signals.
Initially the operating system worked utilizing a push-button device. In 2019, new functionality was introduced that allows the equipment to interact with smartphones via mobile app. The latest versions of the TRIOL now allow the visually impaired to switch signals on traffic lights using special end-user device with buttons, whereas previously this could only be accomplished by pushing a button. Currently, this can be done remotely. The target audience for Speaking City are the blind and visually impaired, wheelchair users, people with other musculoskeletal system challenges, the elderly, and representatives of other groups with mobility problems. This system can be also used in different languages, which means that tourists and foreigners can potentially use this device and get around the city. In comparison to similar devices, Speaking City sends audio signals through the user's headphones instead of through loudspeakers, which limits unnecessary noise pollution. Thus, it is a win-win situation, both for the users and for the people surrounding them who are not hearing impaired. The key electronic innovation behind all these new features is Sound Orientation Guide. This guide is equipped with varying levels of frequencies of sounds, depending on the different types of urban space the user is located and was designed by specialists from the Moscow Rehabilitation Centre for the Blind People.
"Previous solutions worked in such a way that the person would just turn on his speaker and loud noise would come out of it, which made it uncomfortable for others. But Speaking City modified the device and now the sound goes straight to the user's headphones," Pavel Bakanov, Manager of the social IT project Speaking City, explained.
The device or app informs its users about arriving transport, names of the stops, routes, and timetables. Disabled people are also given information about specific transport features, such as the availability of low floors on buses and wheelchair accessibility. Getting information on whether or not low-floor transport is really relevant in St. Petersburg as 80% of the total number of trams are high-floor. Furthermore, a help call function has been added to alert public transport drivers in advance of special needs, so he or she can be warned about special needs of passengers. Moreover, the user can trigger a sound beacon in order to get the exact location of the entrance of the building or alternatively call for assistance in entering the building. To our big surprise, we discovered that this innovation developed in Russia has not been yet replicated around the world.
Inspiration
"Working here means really helping people. This project is truly important. It makes our users' lives easier. It gives people the opportunity to live independently", told us Pavel Bakanov, Manager of the social IT project Speaking City.
What inspired the company to create this project? As we described above, this project was a response to actual demand from the All-Russian Blind Community, whose mission it is to enable people to live an ordinary and independent life. The company simply took note of the needs of these people in order to constantly improve the Speaking City's navigation systems.
What personally motivated our hero Pavel Bakanov, Social IT Project manager of the Speaking City, to embark on this adventure three years ago? He wanted to make a significant contribution to the community and to simply make a difference that mattered. Before starting to work for this project Pavel was a communication manager and he has also an international background because Speaking City gave Pavel an opportunity to participate in Russian Business Leaders Program (is a program for young Russians engaged in business leadership positions to gain exposure to work in the US private sector) although for now because of the COVID-19 restrictions he cannot go to the United States, but already have online induction meetings. This program will help Pavel develop his skills, knowledge, and inspiration to foster entrepreneurship, engage in new forms of innovation, strengthen leadership abilities. Pavel's purpose is to support people in need by giving them the chance to have a better quality of life and addressing a vital subject while working in an innovative hi-tech sector. In this regard, his work focuses on expanding and raising awareness about the possibilities of urban environment for EVERYONE.
Overall impact
Following its purpose, the company has already improved the lives of over 10.000 people. In 2021, after just 10 years of being on the market, more than 8.500 devices are operating in 29 regions of the Russian Federation. In one of the regions the device is exceptionally widely spread. In the Krasnodar region, 146 pedestrian traffic lights and 848 public transport are equipped with this device. Speaking City was successfully implemented in the transport infrastructure of Sochi during the 2014 Olympic and Paralympic Games. In 2020 activist for the blind Sergei Fadeev complained to the Governor of the Leningrad region that accessibility and navigation around the city is very challenging for low mobility people like him. Despite working in conditions, where the government emphasizes the attention to low mobility people only when it is directly addressed to them, like in the case of Sergei Fadeev, Speaking City is able to come up with innovative solutions, which are unique even in comparison with similar foreign companies. After Fadeev`s speech, the company was tasked with equipping the region of Leningrad and its social facilities with their devices. Today, only in St. Petersburg, this device is found on 2.369 public transports, at 3.900 pedestrian traffic lights, and on more than 200 public buildings. Speaking City makes an impact and simplifies the life of low mobility people by purely listening to their problems and needs.
Business benefit
Speaking City enables effortless navigation in public transport, buildings, and traffic lights. However, not only infrastructural facilities are equipped with Speaking City´s devices. Even though around 90% of their sales are subject to public funding (directly or through public benefit corporations), private companies such as McDonald´s, Raiffeisenbank, and Sberbank also benefit from this business idea. Speaking City improves the users' quality of life in urban environment by decreasing the number of accidents involving pedestrians. Furthermore, this device increases the accessibility of the city and transport infrastructure. It also boosts the image of the organization, city, or region that uses such smart technologies. By having these devices installed, cities are becoming truly smart and inclusive for the locals and in addition more attractive for the tourists. There is nothing stopping this system from being scaled across Russia and into other countries.
"The system has no similar competitors in the world in terms of functionality. However, there is one company in Israel that slightly duplicates Speaking City's functionality on buildings and structures", told us Pavel Bakanov, Manager of the Speaking City Social IT Project. The main attribute that differentiates this company from Speaking City is that speakers are used and that no maintenance is required throughout the system's lifetime. Moreover, Speaking City can remotely monitor whether the device is working effectively, and its software can be remotely updated to the latest version. In comparison to the competitor product, Speaking City eliminates unnecessary background noises. The transmitted information can be spoken in any language. One additional benefit of the technology is that users are not required to be online to employ it. The Speaking City system is included in the Russian Railroads technical requirements for transporting people with various disabilities. In addition, the system is certified as fully compliant for providing a barrier-free environment for the impaired and other categories of people with disabilities. In 2019 the project was named the best creative technical innovation at the international "Inclusive Practices of the Future" competition. One year later it became the winner of the international #SocialIdea2020 competition held by MTS in the Smart City nomination. In 2021 company won numerous awards, including 2nd place in «Мой проект — моей стране!» (My project – to my country) contest for "social entrepreneurship" category, 3rd place in International Award #МЫВМЕСТЕ (#WEARETOGEHTER) in the category "Comfortable City " and became winner in the regional stage of the competition "Best Social Project of the Year 2021".
Social and environmental benefit
The agenda for social equality within urban environment accessibility is becoming more popular and widely discussed. This is especially sensitive and important topic for Russia, as social equality issues are not at the forefront of public discourse as they are as in Europe, for example. It is crucial to raise awareness about the struggles that people with disabilities face on a daily basis. Physically healthy people find their building entrances or enter public transport routinely as for them it is trivial as they can't imagine NOT being fully independent to move around the city. "Speaking City is the solution for people with low mobility. Helping people to live an easier and especially independent life", points out Pavel Bakanov, Manager of the Speaking City Social IT Project. The system is quite broad in terms of its scope. Speaking City provides benefits to six different groups of people: blind or visually impaired people, wheelchair users, people with disorders of the musculoskeletal system, the elderly, representatives of other low-mobility groups of the population, who, for instance, were injured for a long time, and tourists, as this application supports foreign languages.
Besides the application for blind people, importance was placed on functions for wheelchair users.
Moreover, the implementation of the Speaking City system on public transport as well as city and transport infrastructure will decrease the spreading of COVID-19. Using the system makes any contact with other people unnecessary as users will use public transport and city objects on their own without the need to ask anyone for guidance. This is especially important for the elderly and impaired, who are at the greatest risk as they are prone to have chronic illnesses. This is also the reason why the Speaking City system is included in the international start-up map and innovative solutions for fighting the pandemic map published by the Start-up Blink agency. Speaking City is changing the way people access city services and giving them more freedom to move around the city. This it not only good for the users, but also the cities as their images as smart and inclusive places improve with the application of such advanced technology. It also puts Russia on the map for making cities more accessible and inclusive. The low-mobility people are among us and we will never understand the challenges they face while they get around the city. Our goal is to raise the awareness about this challenge and Speaking City innovations will do the rest.
Interview
Pavel Bakanov, Manager of the social IT project
Business information
Speaking City
Saint Petersburg, RU
Year Founded: 1992
Number of Employees: 11 to 50
We rarely think about how hard it is to live without the ability to see or move freely, but most of us know how hard it can be to not be heard. Speaking City has made its purpose to support low mobility people by listening to their essential needs, which allowed them to create innovative business solutions. The company was found in 1992 in Saint Petersburg, and at the beginning they were producing electronic devices designed to monitor the speed of escalators and its handrails. However, everything changed in 2008 when the all-Russian Community of Blind and Visually Impaired People addressed the company with a request to enable a more accessible transportation and navigation for them around the city. That is when the life-changing innovative project Speaking City, which provides radio information and sound orientation systems by giving the names of the buildings, the locations of the entrances, and navigation inside the buildings (e.g. location of the cloakrooms, cafés, stairs, etc.) through portable end-user receiver, was born. The system is designed to help the blind, visually impaired, disabled, and even elderly people who have difficulties moving independently in an urban environment, and throughout the years the company implemented a lot of additional innovative features to the system all of which were made in accordance with the requests from low-mobility people (including mobile app in 2019). Pavel Bakanov, Manager of the Speaking City Social IT Project believes that "A disabled person is just like an ordinary person, they just need a little extra help".