A safe and sustainable way of cleaning
Clenli Direct
Overview
The latest innovation of Clenli Direct is 'Tersano lotus pro,' which is a sustainable cleaning solution that has completely disrupted the marketplace for traditional cleaning chemicals.
The company's mission was to provide a system that delivers effective, innovative, and sustainable cleaning, sanitizing, and deodorizing solutions that would contribute to the health of people and the planet by eliminating harsh chemicals in the atmosphere. This would reduce the carbon footprint associated with cleaning products while being environmentally friendly and harmless when dispersed.
Author
Conor Halpin
School
Dublin City University Business School
Professors
Gavin Brown

Roisin Lyons
Innovation
Tersano is an innovative solution that converts ordinary tap water into a powerful sanitizing solution. With a single cartridge, up to 6,000 liters of sanitizer can be produced onsite and on-demand. In essence, it converts the mineral composition of water, via a stabilization module, into a stabilized aqueous ozone solution that kills bacteria and viruses upon contact.
Tersano also includes several safety benefits: it is a chemical, carcinogen, and allergy-free solution and is safe for the environment. More specifically, it requires no mixing or pouring and scores 0-0-0-A on safety data sheets.

Safe and sustainable way of cleaning
Inspiration
Aqueous Ozone naturally occurs in the environment when ozone becomes infused into raindrops, but it is an unstable molecule in nature that quickly splits and reverts to water and oxygen. However, Aqueous Ozone is shown to be one of nature's most powerful cleaners.
Before creating the Tersano unit, Stabilised Aqueous Ozone had not been used in a commercial setting. Still, thanks to advancements in science, researchers were able to stabilize this compound, and thus it became a viable cleaning product.
From the interview, we learned that a Director at Clenli discovered the product in its early development. Having recognized its potential to reinvent the cleaning product market, they decided to invest in its development and become a Pan-European partner.
Overall impact
The product greatly reduces the carbon footprint associated with producing and transporting bottles of cleaning products. In one example provided, a Dublin based company saved having to purchase 42,000 liters of diluted chemicals in one year - once this unit was installed.
It also reduced the health and safety risks associated with using cleaning chemicals - given that this produces a non-toxic, environmentally friendly solution that is free of carcinogens, dangerous fumes, or toxic residue (sometimes left behind after cleaning).
In terms of providing sustainability, the company aimed to save trees, reduce packaging, reduce plastics, reduce chemical wastes, and reduce environmental impacts. According to the interviewee, Clenli Direct wanted to give their clients more sustainable, effective, and safe solutions, and Tersano was one of those solutions. And they also commented that it's a natural sanitizer; It's on the level of 300 times more powerful than bleach; It is an activation cleaner; It doesn't leave any residue on the surface: It's non-corrosive: Non-toxic; Non-carcinogenic, and Food safe. With Tersano, it's actually the equipment that is sustainable and is driving sustainability and the other innovations.
Business benefit
The evidence above sourced through our group's research and our meeting with Patrick Crawford shows the depths that Clenli is going through to achieve a sustainable future within the cleaning market.
We believe that the Tersano product, in particular, is one which could be scaled worldwide for cleaning companies or facilities management companies as its advantages are endless. Patrick stressed that Tersano provides further enhanced sustainability for companies, but even with minimal use, it provides a "cost-neutral" purchase.
In addition, as a distributor, clients of Clenli Direct are constantly looking for more cost-effective ways of completing their daily cleaning. This product is both cost-effective and sustainable, which in turn has driven up sales for Clenli Direct. Tersano has also opened up multiple new clients for Clenli Direct.
Social and environmental benefit
As previously stated, Tersano is cost-effective, sustainable, and safe. Tersano saves trees, reduces cardboard use, omits single-use plastics, omits chemical waste, and saves sea lives.
In addition to this, Tersano, when supplied, provided a much safer solution for a cleaning team as it requires no mixing or pouring of dangerous chemicals.
Tersano is not just another sustainable cleaning solution. This unique system improves health, safety, and well-being while significantly reducing damage to the environment.
Interview
Patrick Crawford, Sales executive involved with innovative and sustainable products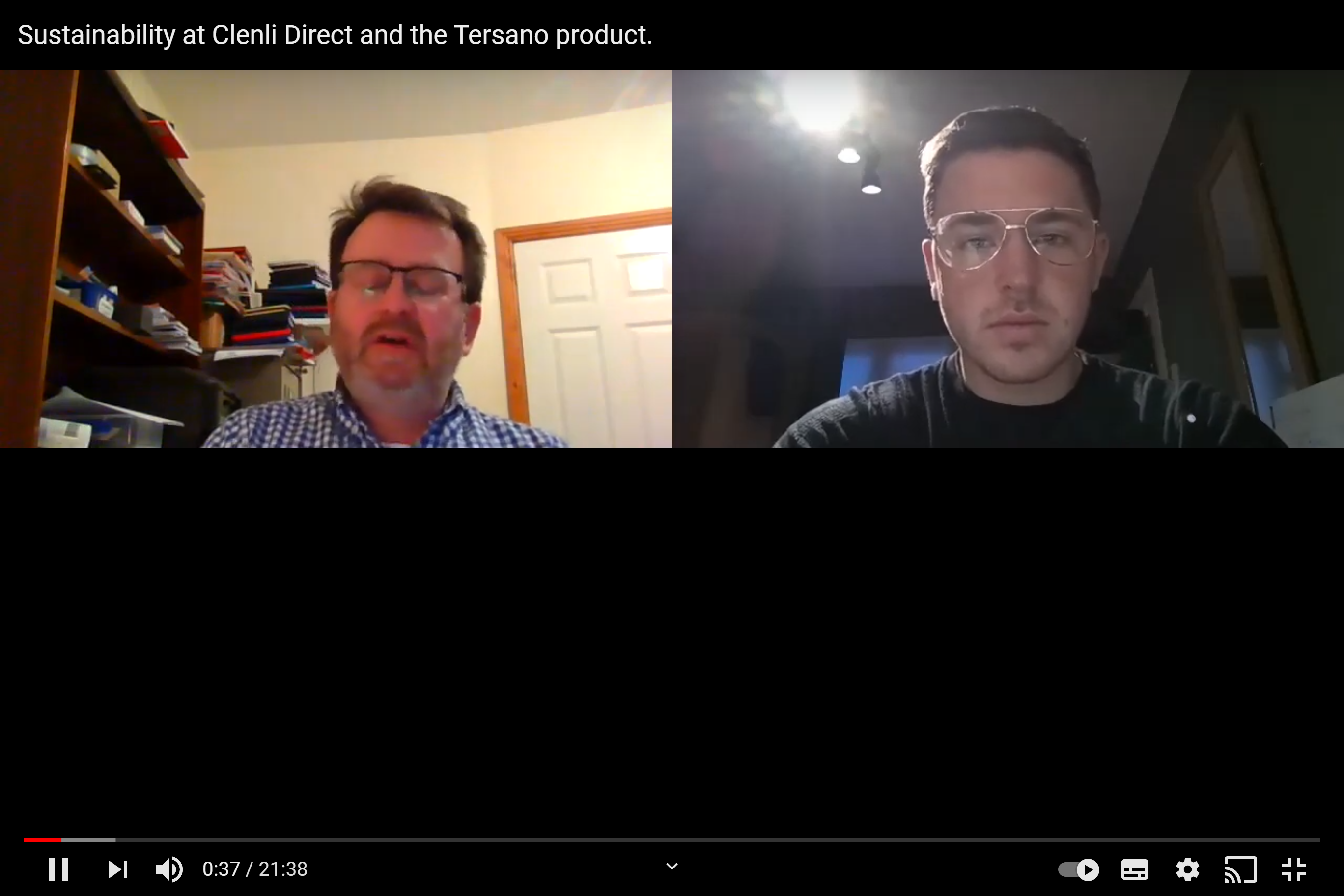 Keep this story going! Share below!
Clenli Direct is the exclusive Irish distributor for numerous premier manufacturers of cleaning equipment in Europe. These include Comac, Tornado, PACVAC, iMop & Victor. They also represent manufacturers such as Truvox, Pioneer, Unger, and Klindex.