ChopValue A New Life of Chopsticks
Authors
School
Professor
Global Goals
Keep this story going! Share below!
Summary
Established in 2016, ChopValue is a startup company in Vancouver that upcycles single-use bamboo chopsticks, and gives them a new life as furniture and much more. With the participation of about 32 local restaurants, ChopValue manages to upcycle averagely 800,000 pairs of chopsticks per week. Through this innovation, ChopValue helps local restaurants to reduce landfill wastes and creates a new business model, which advocates the green practices towards the UN goals.
Innovation
ChopValue is a product development and design startup, which analyzes resources that can be harvested and put to beneficial reuse. Felix Böck, founder and CEO of ChopValue, focuses primarily on bamboo as their main material. ChopValue creates high-performance materials for both commercial and residential spaces, made entirely from recycled chopsticks. This is achieved by turning used chopsticks into functional pieces creating a circular economy and extend the material's life-use. ChopValue provides an innovative solution that helps solve six of the United Nations Sustainable Development Goals. ChopValue's mission is to upcycle chopsticks using a novel production process by creating an innovative and high performance composite materials that minimize solid waste. As an organization ChopValue's mission is to guide and inspire communities to lead a greener and more sustainable life through urban harvesting and resources efficiency. Overall, ChopValue strives to set an example and encourage others to redefine waste to resource.
Part of the innovation is the process that transforms the lifecycle of a common utensil such as chopstick, from short and linear to unlimited and circular. This starts by recycling chopsticks from local restaurants in Vancouver. By maintaining a local radius of restaurants, ChopValue is able to minimize its carbon footprint. The recycled chopsticks are delivered to ChopValue every two weeks where they are disinfected and sorted. The Chopsticks are placed in a rolling cylinder that groups and aligns them evenly, and prepares them for the succeeding steps. The following step is to add the adhesive that will allow each chopstick to stick to one another. Each chopstick is dipped into water-based resin that will allow the product to be recycled and gives off no emission during the process. Once the chopsticks are dried, they are transferred to a hydraulic hot press where the resonated raw material is compressed into the new material. After this material is created, they are cut into standard dimensions and later customized depending on the specifications of the new product. Finally, the new products are covered with a food-safe wax that emphasizes the material's texture.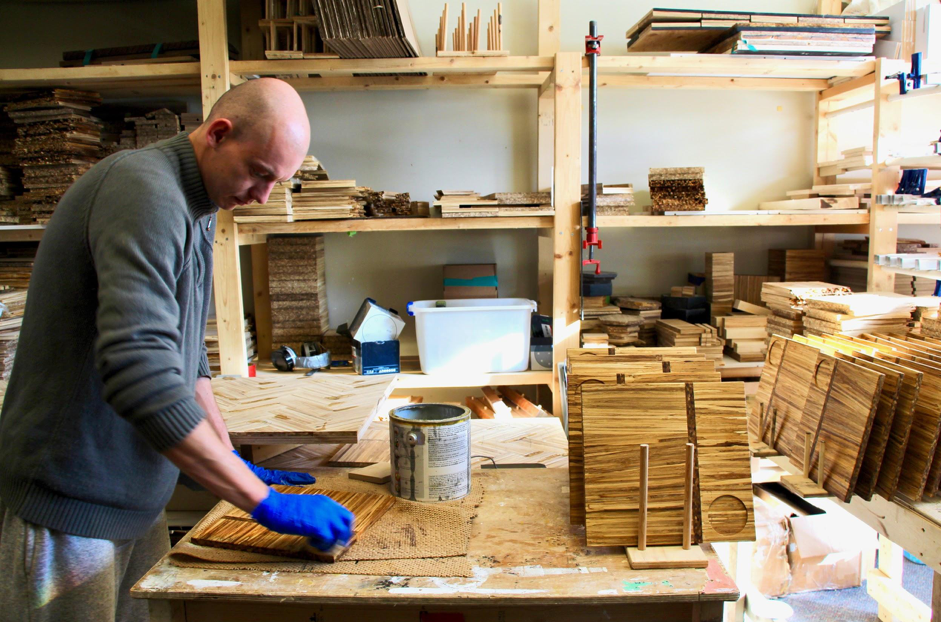 Inspiration
ChopValue was founded by Felix Böck in 2016. The idea arose over dinner when Felix Böck realized how chopsticks were used for 20 minutes and then disposed. The first thought that cross his mind was, "Hey these chopsticks are made of bamboo, and bamboo is my expertise". Felix explained how, "there was a huge potential for a really cool story, I did not want to create a business but I wanted to create a cool story about how much waste we have in our cities". With the help of his intern at that time, he shared his innovative idea, and decided to start this new business endeavor that would tell a great story. When asked about why bamboo, Felix explained the following, "bamboo is the fastest growing material in the world. It's the fastest growing wooden grass, if you want to truly think about sustainable forest management program or develop a new product with a durable material, bamboo is the way to go". ChopValue aims to set an example in the industry as Felix explained, "we want to create something good, we want to do good".
Overall impact
For economic impact, ChopValue reduces the cost of raw material, which its primary source is from recycling used bamboo chopsticks from 32 local restaurants in Vancouver such as Jinya Ramen Bar (2120 W. 41st Avenue), BC Sushi (2126 W. Broadway), and Little Sheep Mongolian Hotpot (1788 W. Broadway). These restaurants are placed a bin for used chopsticks which are collected every week or every other week by ChopValue. In addition, partner restaurants can also decrease the cost of waste collection.
The used bamboo chopsticks are granted a second life which is reused, re-engineered, re-designed, and re-produced into upscale furniture products with high performance and beautiful designs for long term use. Furthermore, its furniture product may also be recycled again for a possible third life.
ChopValue uses disposed chopsticks as a local resource combining with local community (restaurants) to create a model of local business (bamboo furniture products). This business model is wished to be repeated and copied by other local people. There is a chance that they can also start doing a new business by using other recycled resource.
Business benefit
Their business model stimulates a level of awareness, and ingenuity by extracting value from common waste like chopsticks. Through this process, they are able to sustain a micro-industry on their own that allows them to responsibly develop high-performing, and functional products from used chopsticks. Their business model engages the participation of industry partners to carry out more effective strategies, and ultimately gain global competencies to advocate a unified brand image.
In this case, ChopValue is able to carry out a circular economy by extracting value from commonly neglected wastes, which essentially becomes the business's main agenda to contribute in providing practical, sustainable solutions in reducing municipal wastes.
ChopValue has created 24 jobs so far and there will be more jobs generated. During the interview with Felix Böck, he mentioned about the concept of "Micro-Factory" of ChopValue and said, "We can establish six to ten jobs in every city where we will expand to, so we will probably directly or indirectly employ more than 1,000 people in next three years". He expects to grow the business and need more employees through franchising to 75 cities worldwide such as Canada, USA, Mexico, Brazil, Japan, China, Taiwan, Indonesia, Vietnam, and Korea in near future.
Currently, there is no manufacturer producing bamboo chopsticks in Canada. The majority of bamboo chopsticks is imported from China because they are much cheaper. Böck also talked about his future plan for the next five years and said, "We will integrate into the business that we are producing chopsticks locally.". ChopValue is expected to manufacture bamboo chopsticks in Vancouver then sell chopsticks to local restaurants, and recycle the used chopsticks for producing decorative product designs. Consequently, ChopValue will use the same resource two times to enlarge its circular economy of the sustainable business.
Social and environmental benefit
Looking from the social perspective, ChopValue generates jobs for the local community of Vancouver with equal opportunities for every gender. Moreover, the firm creates, connects, and engages a community of recycling restaurants through a free of charge recycling program. The participation can enhance green restaurants' brands, and thanks to this, the awareness of upcycling can be spread wider for the goal of a greener society.
In association with the United Nation goals, ChopValue's objective is to reduce the volume of wastes by treating used bamboo chopsticks as a valuable resource instead of a waste. In doing so, ChopValue contributes to the run against climate change and its impact by reducing carbon emission. To illustrate, ChopValue upcycles approximately 800,000 pairs of chopsticks per week, which sums up around 124,800 kg of chopsticks and equivalent to about 57.8 tons of carbon gas storage.
After deducting the carbon emission from their operations, ChopValue is considered as a carbon negative operation. ChopValue also uses used chopsticks instead of raw wood in their production. By being innovative, ChopValue avoids the use of natural resources, which is a step further in sustainable environment.
Interview
Felix Bock, CEO and Founder
Business information
ChopValue
Vancouver, British Columbia, CA
Year Founded: 2016
Number of Employees: 11 to 50
ChopValue is a product development and design startup, that utilizes resources that can be harvested and given a second life. Felix Böck, founder and CEO of ChopValue, focuses primarily on bamboo as their main material. ChopValue creates high-performance elements, made entirely from recycled chopsticks.