The Plastic Flamingo A Clean Earth Needs Everyone's Help, Especially Yours
Authors
School
Professor
Global Goals
Keep this story going! Share below!
Summary
The Plastic Flamingo, also known as The Plaf, is a social enterprise founded in the Philippines back in 2018 with both environmental and social goals. Although they are a for-profit company, they have committed to combating marine pollution by collecting and recycling ocean-bound plastics and converting them into eco-lumbers to construct transitional shelters for post-disaster communities. With their leading values of awareness, determination, and ambition, they can simultaneously respond to plastic environmental issues and post-disaster emergency response social issues.
Innovation
The Plastic Flamingo spearheaded the collection of consumer plastic wastes. They have a network of 200 collection points within Metro Manila. Once collected, the plastic waste is transported to their warehouse, located in Putatan, Muntinlupa, to be stored, segregated, and conditioned to recycle. To utilize and maximize the plastic waste donated to them, they send the collected plastic to their recycling partners to be sorted.
The products they produce out of these recycled plastics are eco-lumbers used in emergency shelters and outdoor furniture. Government agencies have also partnered with the company for emergency shelters because the Philippines gets hit by around 20 typhoons a year. So building and producing emergency shelters is like hitting two birds with one stone for the company: collecting plastic waste and turning it into something useful for different communities.
Flexibility is also one of the company's best attributes since they can partner up with different companies to help them build various products for homes or their own company. The Plastic Flamingo makes sure that all the plastic used is 100% post-consumer plastic waste. To uphold transparency, they give donor certificates to certify how much plastic has been collected and how many eco-lumbers were made that contribute to its advocacy.
The company was established in hopes of helping or being aligned with the SDGs, and according to Ms. Olivares, the company is aligned with eight out of the 17 goals. These are No Poverty, Gender Equality, Decent Work and Economic Growth, Reduced Inequality Sustainable Cities and Communities, Responsible Consumption and Production, Climate Action, and Life Below Water.
Plastic Flamingo is more than just a company that collects and recycles plastic wastes. Ms. Olivares proudly states that, "the environment of the company is inclusive. Women make up 80% of our workers, in the warehouse and office." They ensured the safety of their workers by providing PPEs and vaccination during the COVID-19 pandemic. All the workers are equally paid and receive more than the minimum wage. When it comes to sustainable cities and communities and consumption and production, the company promotes a circular economy by conducting webinars to increase awareness about how plastics impact the environment and communities. Lastly, when it comes to climate action and life underwater, Ms. Olivares envisioned "having coastal cleanups and educating people regarding climate and life below water."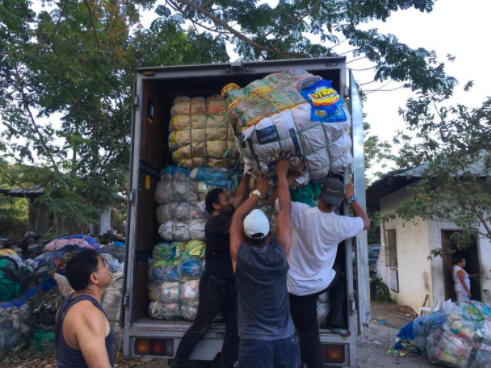 Inspiration
The company's CEO and founder, Francois and Charlotte Lesage, traveled around the world and found a love for the Philippines. Still, they saw the growing plastic waste crisis, especially on beaches and even in Manila Bay. So they started Plastic Flamingo to become a company that would help create more job opportunities and advocate holistic development for the stakeholders. As stated by Ms. Raya Olivares, who is the company's business development and partnership associate, "The Plastic Flamingo is considered one the most innovative companies because of the variety of products that we can produce with the tools and manpower that we have."
Overall impact
Plaf's innovation provides immediate and actionable solutions to an alarming environmental issue in a country that lacks adequate plastic waste management. As a company creating a replicable solution to combat marine plastic pollution in developing countries such as the Philippines, they can empower not just their own employees but, more importantly, other for-profit enterprises to act on their environmental obligations.
With the help of community members who have volunteered to take part in their innovation and over 200 collection point networks within Metro Manila, they can produce various recycled plastic products, including eco-lumbers which are used to create transitional shelters for remote communities affected by natural disasters. Ms. Olivarez remarked during the interview that "being able to collect post-consumer plastic waste and turn it into something more beneficial is like killing two birds with one stone," as it allows them to have an impact on both society and the environment.
Business benefit
The company began as a team of five to six members, consisting solely of the founders and its board directors. Throughout the years, the company has grown as they've added an additional 20 to 30 members to their team. With their shared mission and passion for combating climate change, the people involved feel a sense of belongingness as they work together to provide solutions that help the environment and the community. Witnessing the success of their innovation through the participation and volunteerism of community members gives the company a sense of fulfillment that they are serving a greater purpose other than simply earning profit.
In addition to their commitment to having a sustainable business model, they have committed to providing a healthy, collaborative, and inclusive working environment. Regardless of gender, age, or job description, all company members are given opportunities that will help further develop their knowledge and skills. During the interview, Ms. Olivarez shared how some warehouse workers are open to trying new things and seeing other parts of the business. As she states, "The company provides and is willing to provide adequate training and workshops for warehouse workers and other employees who want to try out various areas of the company, such as finance or human resources."
Social and environmental benefit
Plaf's innovation of collecting and transforming consumer plastic waste into recycled plastic profiles such as planks, lumbers, and boards has contributed to preserving the environment. It also improved the welfare of local communities whose lives have been affected by either natural disasters or plastic pollution. These recycled planks, lumber, and boards are either utilized to create outdoor furniture or donated to other companies for their CSR projects. Some are given to government agencies to build emergency shelters for local communities.
Developing this innovation has created a general sense of communal engagement and collaboration amongst Filipinos across the country, empowering the people to do their part in recycling to make more significant impacts on the environment and the local communities
Newsletter
Get stories of positive business innovations from around the world delivered right to your inbox.
Interview
Raya Olivarez, Business Development and Partnership Associate
Business information
The Plastic Flamingo
Muntinlupa City, Metro Manila, PH
Year Founded: 2018
Number of Employees: 11 to 50
The Plastic Flamingo, also known as The Plaf, is a social enterprise and collaborative company established in the Philippines. It was founded in 2018 to develop a practical solution to combat marine plastic waste, particularly in the Philippines. They are the sole collector of all types of plastic wastes here in the Philippines, and the core mission is to collect all types of plastic wastes with maximum social impact. The company operates by a sustainable and circular business model wherein they have created networks with over 70 organizations comprising schools, universities, companies, stores, and municipalities to recycle consumer plastic waste and turn these into eco-lumbers for the construction of transitional shelters for local communities affected by natural disasters.